As a student on this course, you will be challenged to investigate a diverse range of art and design media, develop your own innovative visual language and realise your creative potential, both as an individual and as a collaborator.
You will learn to develop your ideas through a wide range of specialist media and expand your creative outcomes through a series of vocationally relevant projects. Professional practice elements include presentation techniques, career planning, marketing and exhibition opportunities.
The course is structured to support and develop your confidence and individual strengths, exploring areas such as drawing, painting, printmaking, textiles, illustration, photography, ceramics and sculpture, allowing for a broad and creative approach to art, design and communication.
Small Classes
Excellent Tutor Support
Outstanding Facilities
Live Projects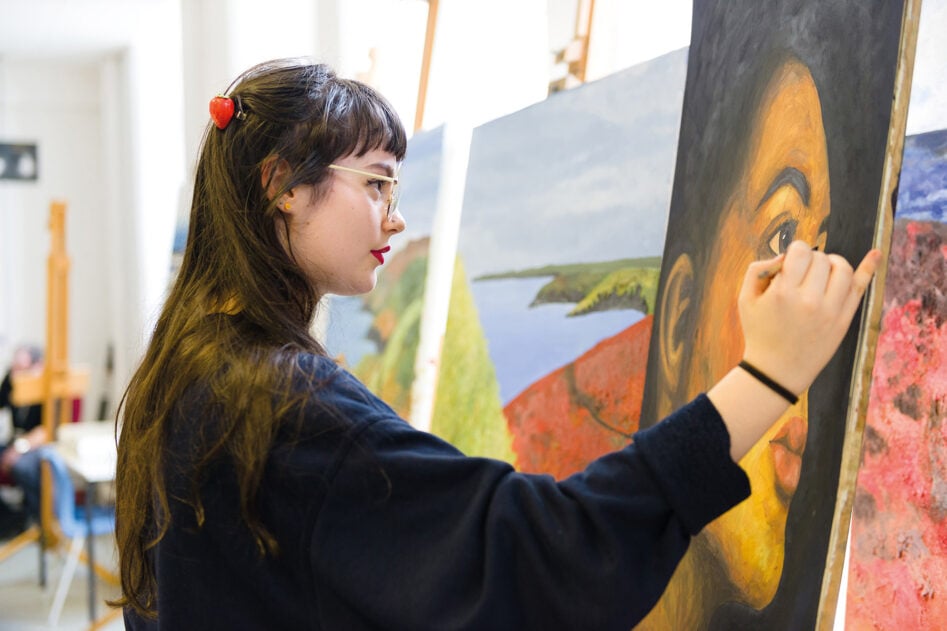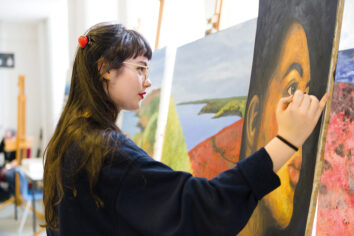 Friendly and creative staff
The Art Department is friendly, supportive, ambitious and hardworking. Our staff are experienced educators and have their own areas of expertise alongside being practicing artists and designers in their own right.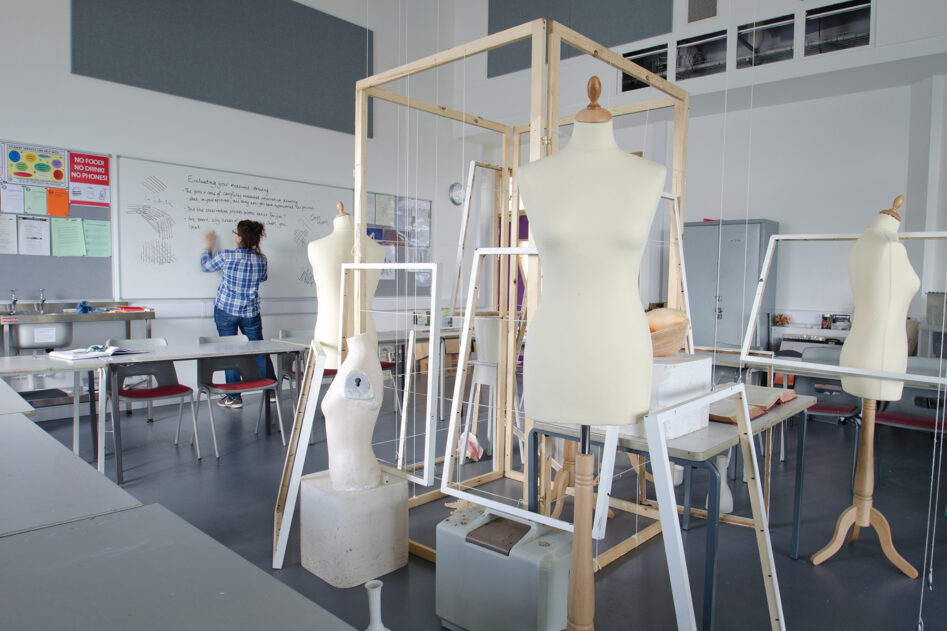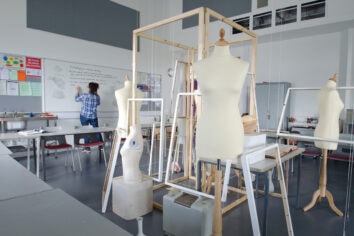 Specialist studios and equipment
Enjoy specialist studios and equipment including a 3D workshop, ceramics studio, ceramic and glass kilns, printing presses and screen-printing facilities.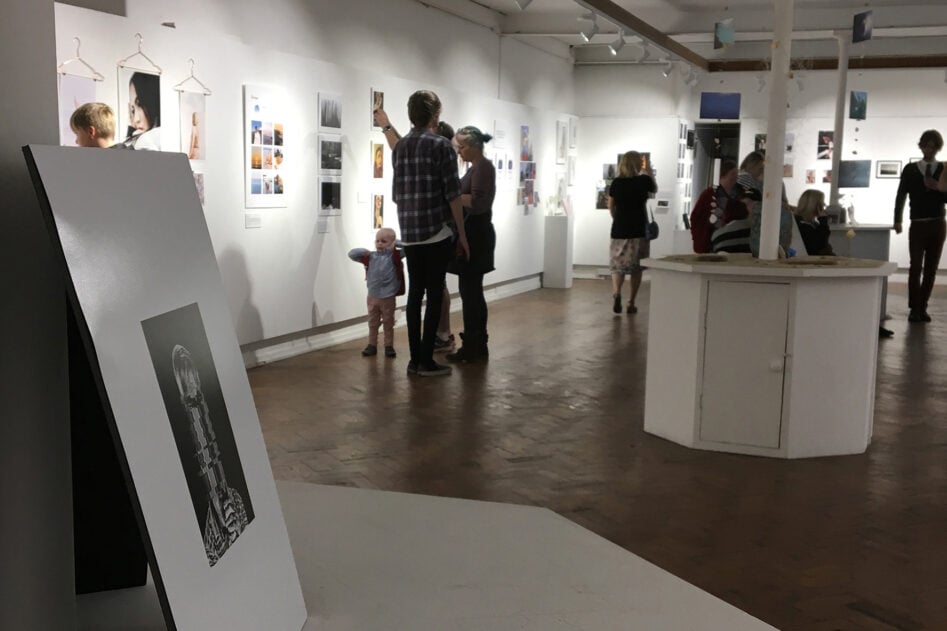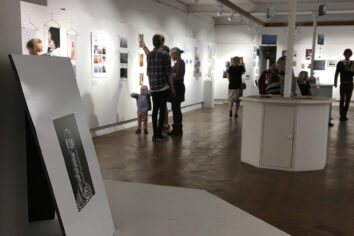 All students can exhibit their work at the end of year exhibition. Other exhibition opportunities are possible through our collaborations with external galleries, arts organisations and project specific outcomes.
What Will I Learn?
Encouraged to explore and develop skills through practical engagement with materials and processes, students will experiment with a range of practices such as contemporary painting, drawing, installation and site-specific work, sculpture, printmaking and ceramics, all of which are underpinned by cultural and contextual studies. Curatorial and professional practice is also integrated throughout the course in conjunction with local and international artists, designers, curators and galleries.
Year 1 Modules:
Professional Development
Contextual Studies
Individual Project (Pearson-set)
Techniques & Processes
Media Practices
Material Practices
Art/Craft Production
Surface Design
Year 2 Modules:
Professional Practice
Applied Practice Collaborative Project (Pearson-set)
Advanced Art Practice Studies
Advanced Life Drawing
Conceptual Practice
Material Selection & Specification
Read More
Where Will It Take Me?
Careers: Employment within the creative industries is as varied as it is challenging. Many of our alumni have progressed into careers such as print and textile design, animation, designer-makers and design crafts such as ceramics or jewellery and silversmithing, graphic design, fashion design, illustration and commercial photography.
Progression: Students can apply for a third year at any Higher Education institution to gain a full BA(hons) degree.
Assessment Arrangements
Each unit has its own assessment criteria. Each completed practical project is graded against one or more units.
Entry Requirements
48 UCAS points including a minimum equivalency of one A Level, in addition to GCSE English and Maths at Grade C/4 or above.
Information & Support
Independent practice will be supported through PowerPoints, worksheets and other guides available through our Moodle course. College trips to visit museums and galleries will be offered and we encourage our students to visit galleries both locally and nationally to support their work.
Additional Information
Duration: Two years full time, part time route available.
Awarding Body: Pearson
How to Apply:
UCAS Course Code: 2KWT
Do you have a question that we haven't answered so far? Talk to our admissions team. We're here Monday-Friday 8.30am-4.30pm.
What you could earn
Artists
Arts Officers, Producers and Directors
Textiles, Garments and Related Trades
Textile Process Operatives
Graphic Designers
Advertising Accounts Managers and Creative Directors
Architects
Product, Clothing and Related Designers
Annual openings in Cornwall
2
Annual openings in Cornwall
9
Annual openings in Cornwall
7
Annual openings in Cornwall
4
Annual openings in Cornwall
45
Annual openings in Cornwall
7
Annual openings in Cornwall
5
Annual openings in Cornwall
27