The primary focus of this course is how we present ourselves, particularly in an ever-changing fashion-conscious world. The course will also help you to develop your skills in communicating knowledge about hairdressing and beauty therapy to non-specialists and the general public. You will be exploring and learning how different kinds of hair styles are created, you will learn how to communicate with a variety of clients that visit a salon and the range of hairstyles that they have. You will also be introduced into a range of make-up techniques and skin care, learning about the different skin types and conditions and the variety of looks a client may request in the beauty salon.
You will develop your spoken and written language to enable you to communicate in a professional salon manner with clients, friends, and family that you will be working with. You will discover how English, and Maths play an important part in everyday life, and you will learn how important these skills are to enable you to gain employment. You will investigate how you can adapt socially, looking at different accents and cultures that you will be dealing with on a daily basis in the salon. You will undertake independent coursework and assignments on hairdressing and beauty therapy covering different topics within the course.
Experienced tutors
Realistic working environment
Beautiful views
Progression opportunities.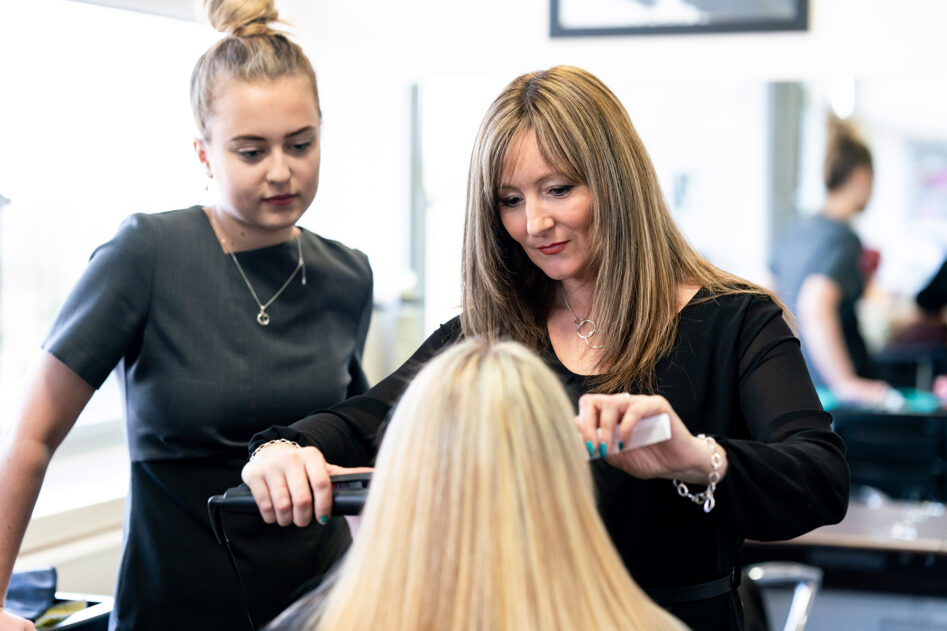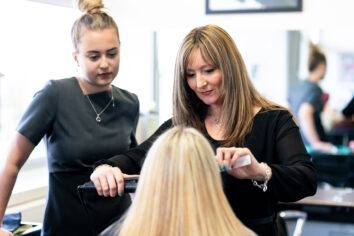 You will be able to choose from a wide variety of activities including hairdressing, media make-up, gel polish application, and body massage to name a few, this will give you an insight into the various aspects of the profession not covered in your first year.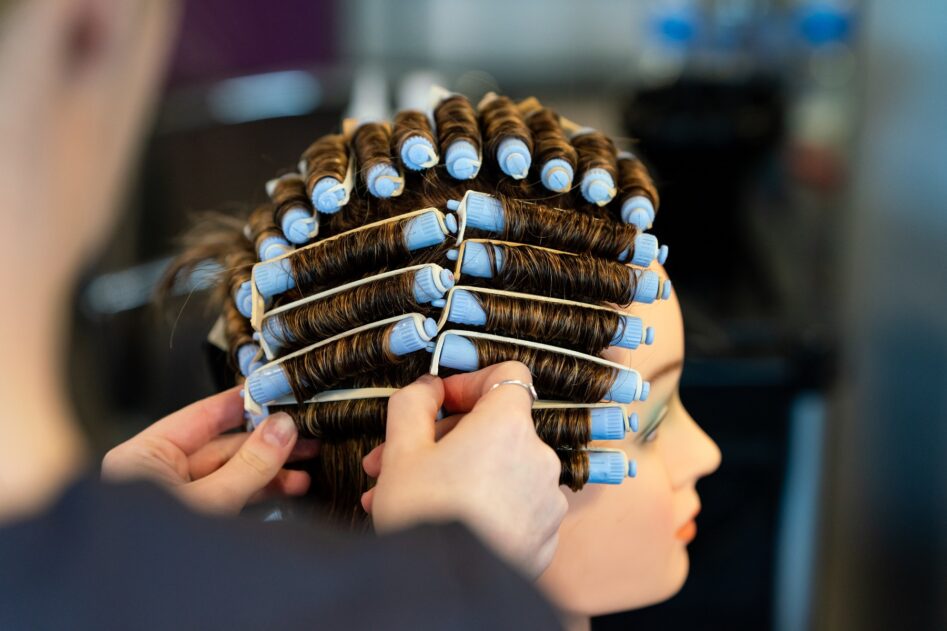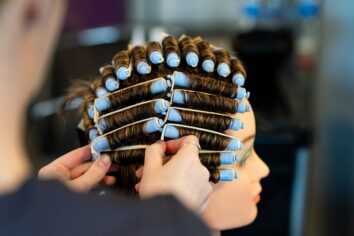 Learn from Industry experts
The staff that you will be taught by have extensive knowledge of the industry as well as employer engagement opportunities to prepare you for the real working environment.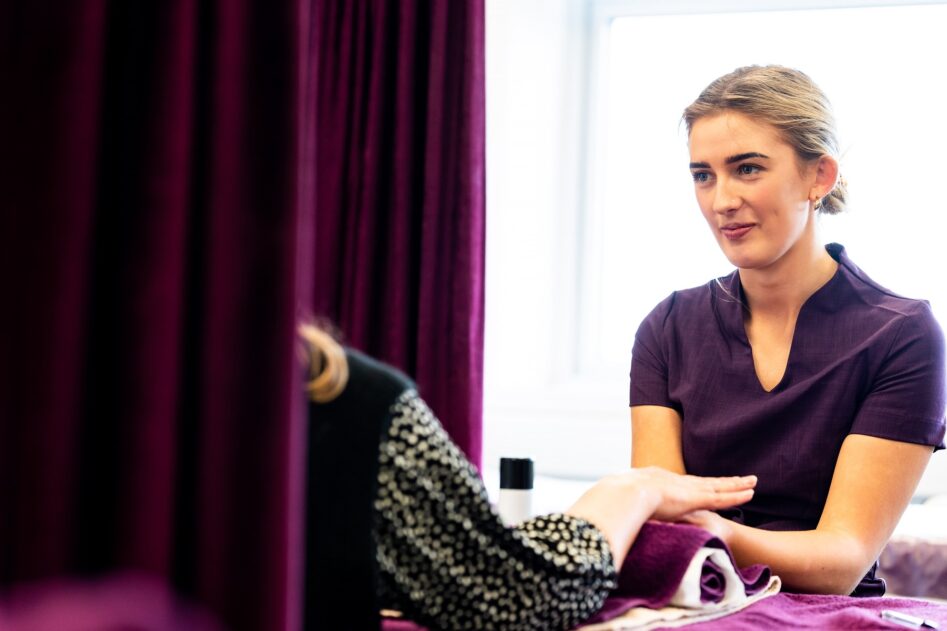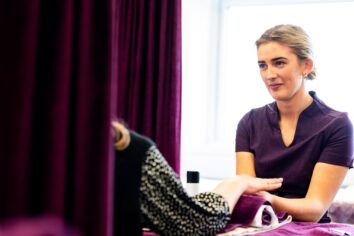 Enjoy professional surroundings
Our working hairdressing salons all contain the latest industry-standard equipment and resources.
WHAT WILL I LEARN?
Modules may include:
Create a Hair & Beauty Image using colour
Presenting a professional image
Shampoo and Conditioning
Styling and Finishing
Skincare
Make-up application
Hand and Nail Care
Maths and English
WHERE WILL IT TAKE ME?
This qualification's primary purpose is to prepare you for progression into the hair or beauty industry. On successful completion of Level 1 Hair and Beauty skills you could progress onto a Level 2 Diploma in either Hairdressing or Beauty Therapy or gain employment as a supervised assistant or Apprentice.
Entry Requirements
You must attend an interview with the course manager, no prior qualification is required, however a good aptitude for working in the sector is essential.
Assessment Arrangements
Your achievement in this subject is dependent upon excellent attendance, punctuality and effort. You will learn in a friendly salon atmosphere, using a variety of assessment methods:
You will be assessed regularly on you written assignment work that is conducted either as homework or under timed conditions in class and given feedback on your progress.
Discussions and presentations are a vital part of our assessment process and you will be expected to contribute to those with presenting your work to your peers and tutor.
Your performance will be reviewed 3 times during a 1:1 session with your personal tutor. Mock examinations will also be undertaken on each unit throughout your course.
You will undertake practical assessments on each unit in the salon show casing your skills.
You will be formally assessed on each unit that you study. The assessments are completed on a regular basis so there is no end of year exam, your work is presented in a portfolio either in a ring bind folder or electronically.
Mock exams will be administered in Maths and English towards the end of the year and your final exams will also be set to ensure progress on to a higher level. Coursework and assignments are compulsory.
Information & Support
Working within the Student Services area, the Student Support team will see you on a 1:1 basis and offer advice and guidance on financial, personal and emotional issues. A professional team of staff work together with your personal tutor to support you so that you can successfully complete your course and recognise pathways to progression after leaving College.
Do you have a question that we haven't answered so far? Talk to our admissions team. We're here Monday-Friday 8.30am-4.30pm.
What you could earn
Hairdressing and Beauty Salon Managers and Proprietors
Hairdressers and Barbers
Beauticians and Related Occupations
Customer Service Managers and Supervisors
Annual openings in Cornwall
2
Annual openings in Cornwall
26
Annual openings in Cornwall
15
Annual openings in Cornwall
66