This is a new industry-led qualification. The relatively new style of programme is selected by Barbers from the industry and aims to focus all training on commercial service needs. This course is perfect for passionate and driven, up and coming stylists wanting to embark on their Barbering career. The balance of taught sessions and industry experience received will further support, aid and enhance the learning and progression journey. Throughout the qualification, you will develop an understanding of all relevant industry skills, alongside developing interpersonal skills to assist you in your effective communication with clients and professionals.
Small Classes
Experienced Tutors
Industry-Standard Facilities
Modern Equipment
Industry Links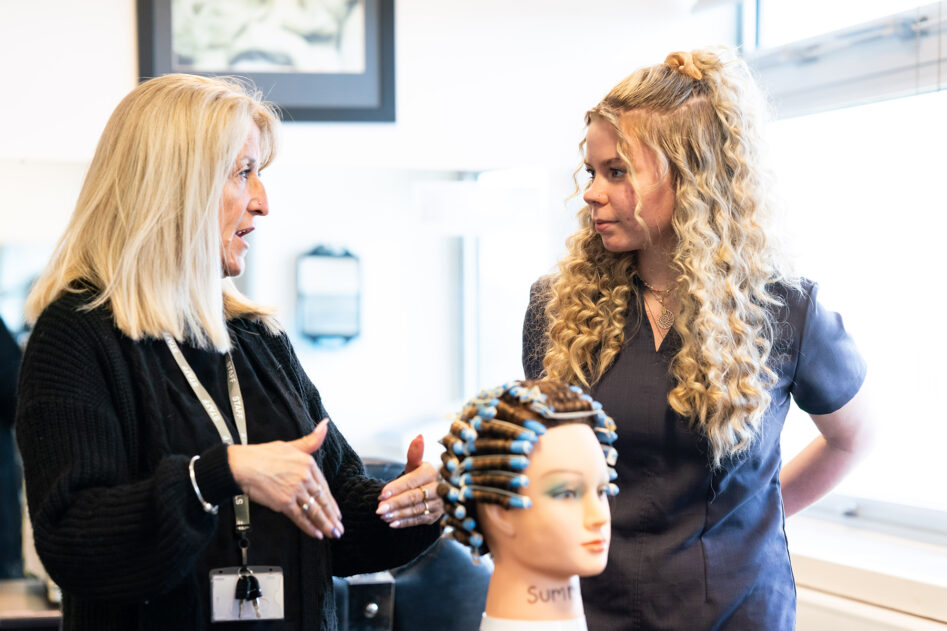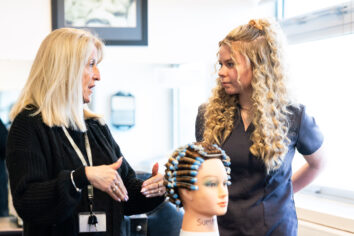 Learn from sector experts
You will be taught by current industry-based Barbers with extensive experience, who will help advance your knowledge and skills to meet the expectations of the course and industry needs.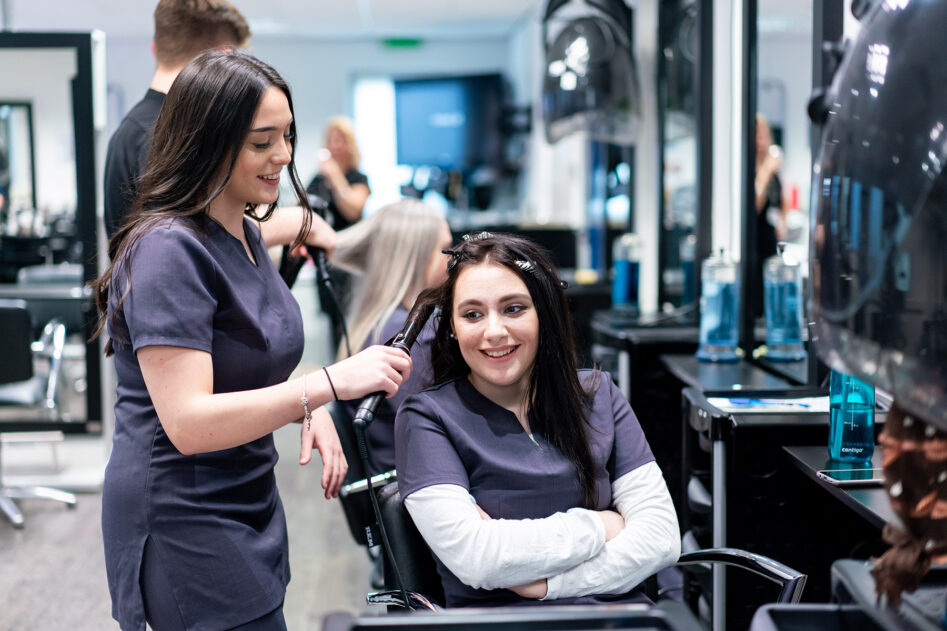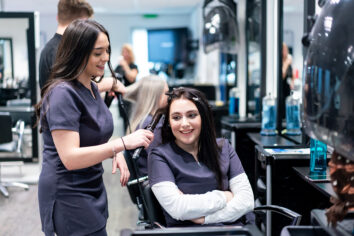 Enjoy professional surroundings
As well as working in a local salon setting as part of your work placement, our College salons all contain the latest industry-standard equipment and resources as well as teaming with high end product companies such as Blue Beard Revenge.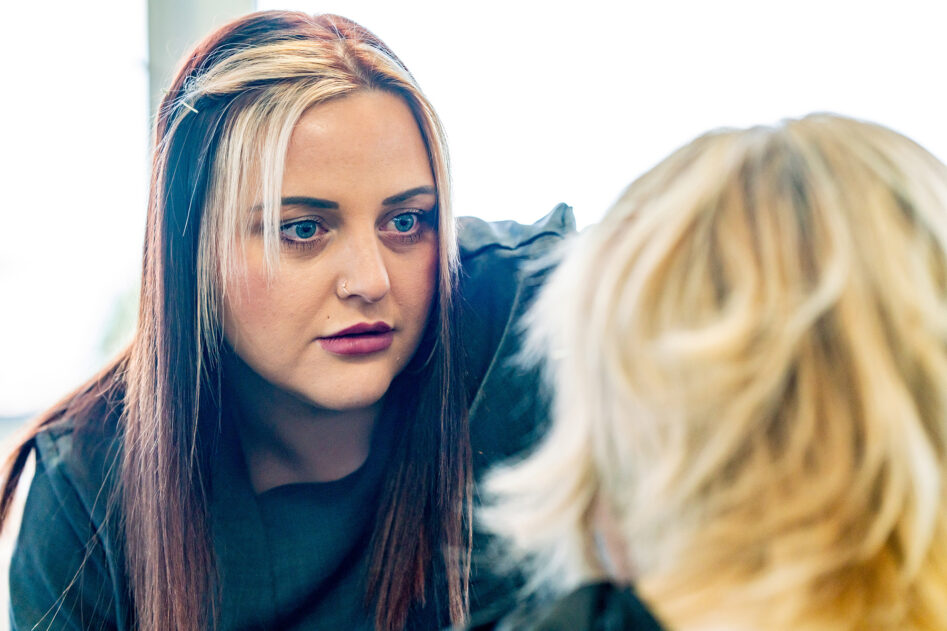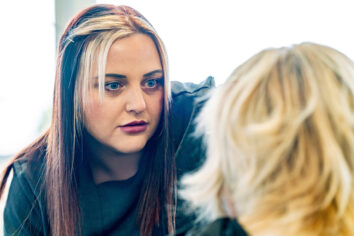 You will learn all aspects of barbering including cutting, styling and shaving services in line with current trends as well as business skills such as communication, professionalism, personal presentation, time keeping and customer service.
What Will I Learn?
This qualification is practical skill focused with embedded knowledge targeted throughout. A variety of teaching methods including discussions, demonstrations and presentation are used to enhance learning experiences and prepare you for your chosen career path. You will work independently, in pairs or small groups, practicing techniques in a realistic working environment to improve skills knowledge and personal confidence, ready for the introduction of clients and professional observations.
Where Will It Take Me?
Progression onto Level 3 Barbering would give you more advanced knowledge and skills. Alternatively, you could look for an Apprenticeship with a local employer. Employment options for the enterprising barber include working in a salon, starting your own salon or business, or working in television, film and theatre.
Assessment Arrangements
Your achievement in this qualification is dependent upon excellent attendance, punctuality and effort. You will study in a friendly atmosphere, using a variety of assessment methods:
Most assessments are completed through practical observations of skills and techniques. This will be carried out throughout all your units, as you continuously strive to work towards a competent level within services.
You will be assessed regularly on written theory work that may be conducted within the class or as a homework activity, and feedback will be continuously provided on your progress and preparation for the mandatory multiple question exams for required units.
Your performance will be reviewed during 2:1 sessions with your Training advisor and Employer as part of your apprenticeship reviews.
Mock examinations will also be undertaken on each unit element throughout your course preparing you for your final End Point Assessment which will take place towards the end of your programme and be monitored by an independent assessor provided by the awarding body.
All units in the attached qualification are graded Fail/Pass/Distinction in preparation for the End Point Assessment:
Externally set and internally marked, graded practical assessment through observation
Externally set and marked online examinations
The Final End Point Assessment, graded by an independent assessor provided by the awarding body, includes a practical assessment of a full range of commercial skills within an industry setting which must be completed within the agreed commercially viable timings. Targeted oral questioning is used to establish your knowledge and understanding of the services offered and all contributing factors. You will be assessed on your professional approach to your clients and peers, values, behaviours, communication, safe working practices and consultation skills as well as your technical ability. Your grade (Fail, Pass, Distinction) is then awarded based on the marks given for each element.
Entry Requirements
Grade 2 GCSE (E) or above in English and Maths
Information & Support
We encourage you to observe others and practice your skills development as much as possible within the College and your work placement and utilise these experiences and learning resources provided by the College and your employers to personally target your learning needs. In addition, we expect you to conduct your own research during set home study activities to enhance your understanding of services, products and techniques. However, we will also offer you opportunities to conduct this research at College with use of our Learning Resource Centres.
You will be required to attend all College taught session in full uniform, with full kit ready for the delivery of the skills and services needed; full advice will be given on these before the start of your course.
Attendance of the weekly College taught session is a mandatory requirement for this course and will make up the majority of your 20% off the job training allocation, the further required hours will be as part of your in-salon work placement and are to be agreed with your employer.
Awarding Body: VTCT
Do you have a question that we haven't answered so far? Talk to our admissions team. We're here Monday-Friday 8.30am-4.30pm.
What you could earn
Hairdressing and Beauty Salon Managers and Proprietors
Hairdressers and Barbers
Beauticians and Related Occupations
Customer Service Managers and Supervisors
Annual openings in Cornwall
2
Annual openings in Cornwall
26
Annual openings in Cornwall
15
Annual openings in Cornwall
66