The course is structured to support and develop confidence and skills in a professional kitchen. Students who enjoy cookery, creating their own dishes and have a desire to learn more about becoming a professional chef will be stretched and challenged, gaining valuable insights into the qualities needed to work in the busy but rewarding Hospitality industry.
Industry-standard facilities
Highly experienced specialist lecturers
315-hours of work experience
Gain three qualifications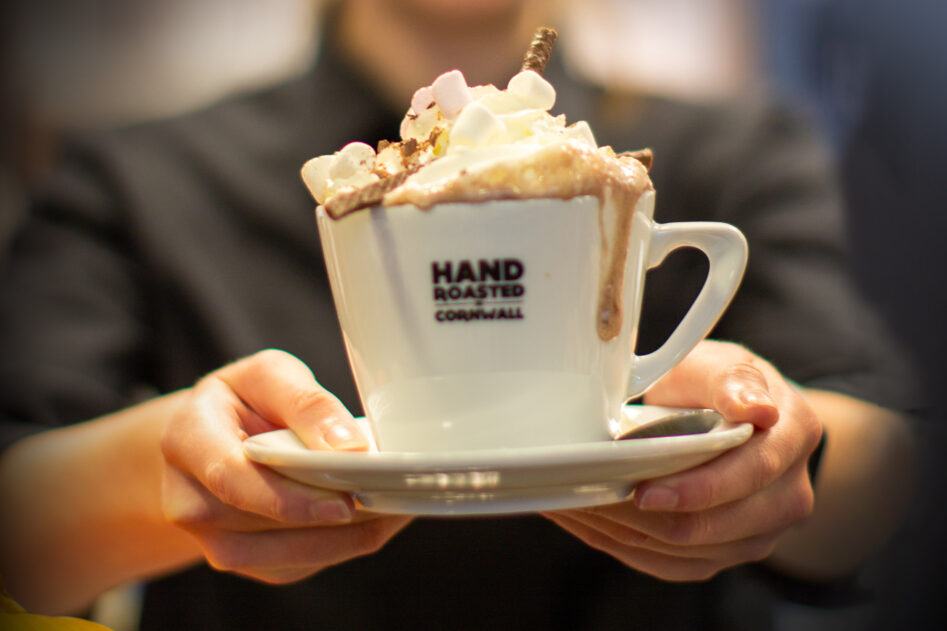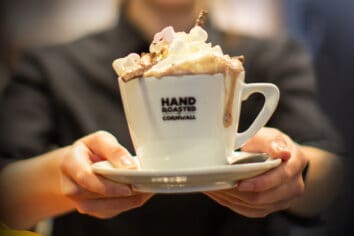 Previous students have gained employment opportunities in a wide variety of roles with companies such as the Paul Ainsworth Collection, Rick Stein Group and St Austell Brewery.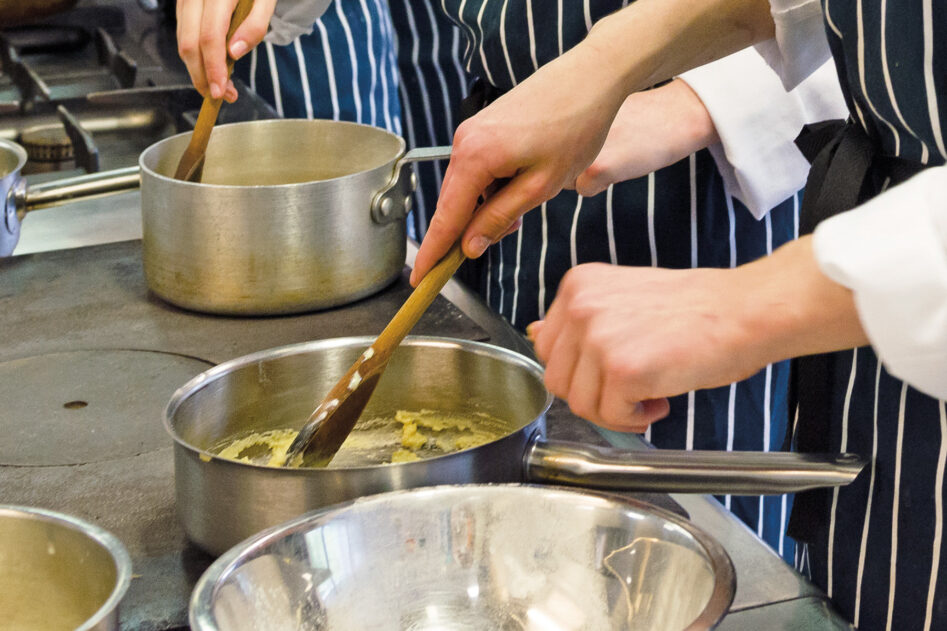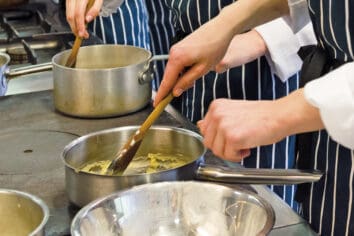 Students develop personal and work-related skills throughout the course and an industry work placement that will help prepare them to start a quality career in the sector.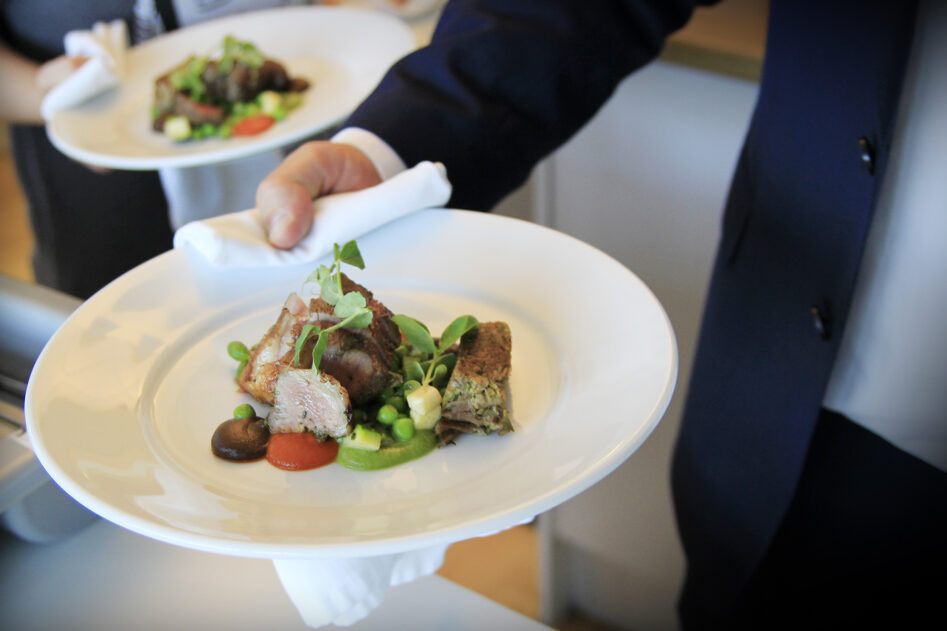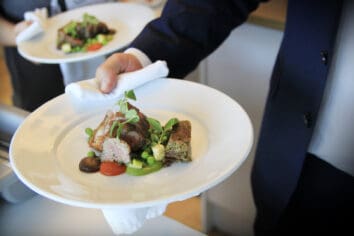 Professional training environments
The College's 50-cover Spires Restaurant, Coffee Shop, Bar and Spires Express outlets will provide practical experience to meet all requirements of the course, in a real working environment.
WHAT WILL I LEARN?
The course will introduce students to the basic principles of cookery used in professional kitchens including; meat, fish and vegetable preparation, roasting, baking, poaching, steaming, frying, stewing and braising, areas of pastry and bakery work, and essential knife skills. Theory classes will underpin the practical preparation of food and support students to learn how chefs make basic ingredients more palatable and appealing.
Students will work in the College's Spires training restaurant as part of a team, preparing, cooking and presenting fine dining food to paying customers during lunchtime service, gaining valuable, real working environment skills.
Students will also undertake a one-day-a-week (7 hours) mandatory work placement with a Hospitality and Catering employer during the course to the total of 315-hours.
WHERE WILL IT TAKE ME?
Upon successful completion of this course students will be well placed to progress to the Level 2 Commis Chef Apprenticeship, the Level 2 Professional Cookery Diploma or gain employment within the Hospitality industry. Progression opportunities continue with the Level 3 Chef de Partie Apprenticeship or Level 3 Diploma in Advanced Professional Cookery.
Past students have gained employment opportunities with companies such as the Paul Ainsworth Collection, Rick Stein Group and St Austell Brewery.
Assessment Arrangements
Practical assessments will take place throughout the course along with a final practical exam to test skills. Written assignments and short answer question work is ongoing throughout the year to test understanding and knowledge within the units of study.
Entry Requirements
At least two GCSEs at grade 3 or above, ideally including English and Maths or appropriate level 1 Functional Skills qualifications.
Students must be willing to study for additional qualifications in English and/or Maths if the above is not achieved at GCSE.
Applicants will be invited to attend an interview and will have all of their literacy and numeracy needs supported throughout the programme.
Information & Support
The Student Services team can arrange one-to-one meetings with students and offer advice and guidance on financial, personal and emotional issues. A professional team of staff work together with tutors to support students to successfully complete their course and understand progression pathways after College.
Additional Information
All students will need the the following equipment:
Chef and restaurant uniforms
Chef knives and small equipment including knife box
Safety footwear
The above will be the student's personal property and will cost approximately £300.00. Knives will be locked away safely after each kitchen session for the duration of the course.
Do you have a question that we haven't answered so far? Talk to our admissions team. We're here Monday-Friday 8.30am-4.30pm.