The recent Learning on Screen
awards saw two Truro and Penwith College alumni from the UAL Level 3 Extended Diploma in Creative Media Production & Technology nominated for the Student College film award, and one of them took home the winning trophy. 
Arianne's documentary film "A Drag Queen Story", which covered the career of Jack, a drag queen who was born in Cornwall but now lives and works in Liverpool, won the College Award. Learning on Screen commented on the film: "The judges praised [Arianne's] film for its eloquence in storytelling and described it as an astonishingly assured piece of filmmaking with every element well executed. They marked it particularly highly for its sound recording and editing."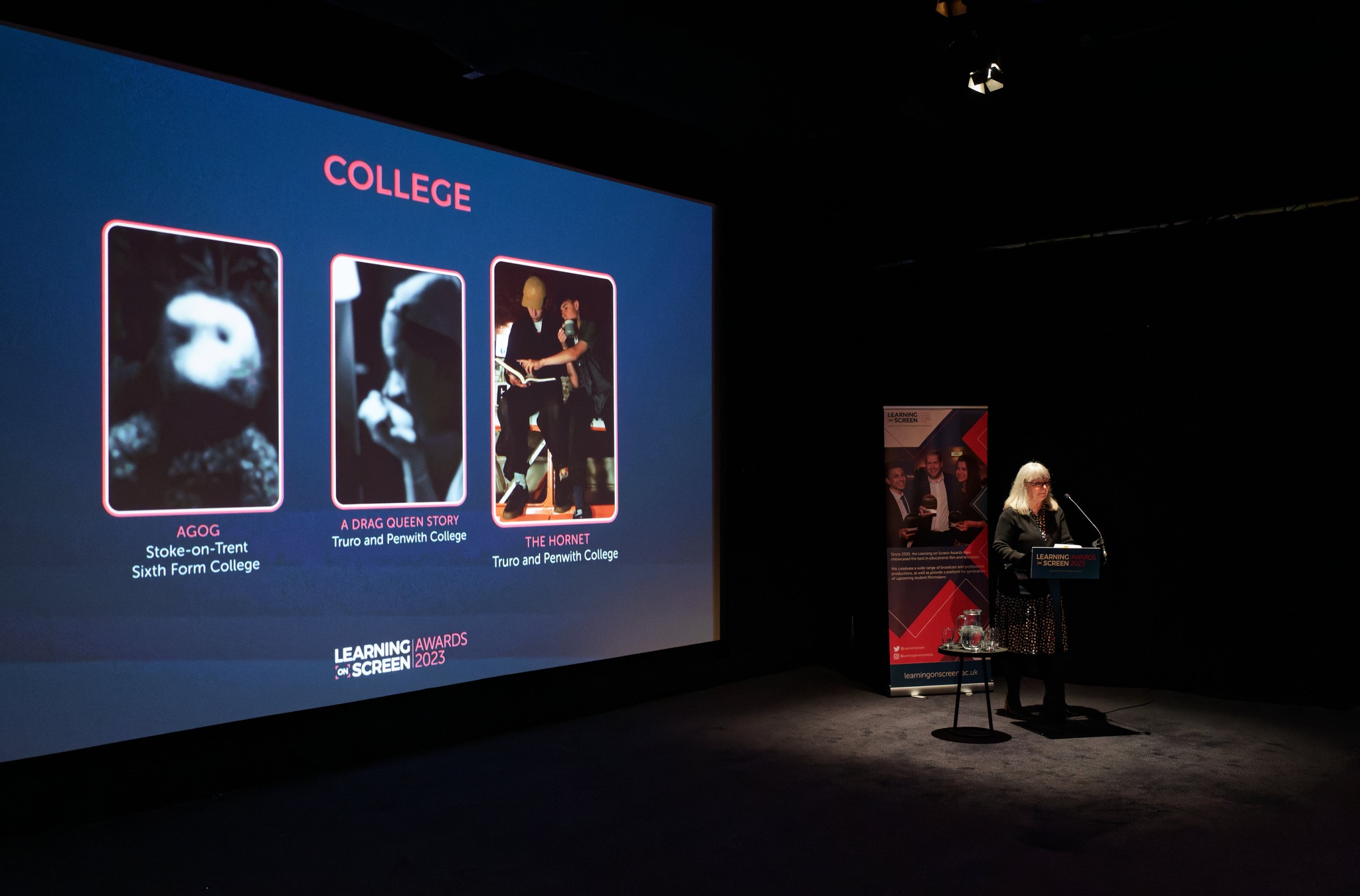 Arianne was elated when she won the award, saying: "When they called me as the winner I was completely giddy, I was so shocked but so over the moon! A feeling I've definitely not experienced before. But knowing that I have the capability to create something so good [that] it wins awards is the biggest boost."
"The college helped me with a lot. Firstly the equipment, if it weren't for the colleges supplies, I wouldn't have been able to get any good audio for my documentary. The College let me borrow a professional clip mic, zoom and a microphone. Secondly, Truro College is where I learnt everything over the past year and a half, if it wasn't for what I was taught while there, the documentary would not have been half as good. Lastly, support at the College is incredible, knowing that your tutor and the other tutors within that course all believe in you is an amazing feeling, it really made me want to push myself to show them how much I can do."
Arianne's lecturer Cleo congratulated her on the award: "Arianne worked really hard on an ambitious project which became feasible because of her dedicated attitude. I'm really proud of Arianne and what she achieved, and this award is very well deserved. I look forward to hearing from Arianne about her career updates as I'm confident she will do well in an industry role."
Cristo's film "The Hornet" was also nominated for the College award. The film told the story of the rejuvenation of a race car named The Hornet. The judges praised the film's "vibrance, exuberance and depiction of friendship", and said that the film was "engaging and told the story with elements of comedy, drama and emotion", and praised the film's production design and originality.
Congratulations to Arianne and Cristo for their achievements. We can't wait to see what you do next.