visit us at a truro college open event
The Truro College campus can be reached by a number of public bus operators who will drop you off inside the College grounds before the day starts at 9.15am and pick you up at the end of the day after 4.15pm. College staff are on hand at both drop-off and pick-up times to help students.
More details about the bus pass scheme and bus routes and timetables can be found on our transport page.
Free car parking is available at the Truro campus but students must apply for a permit and conditions do apply.
Students are encouraged to take the healthy choice where possible and walk or cycle to College. The campus has cycle storage, a free cycle maintenance facility and showers for students to use.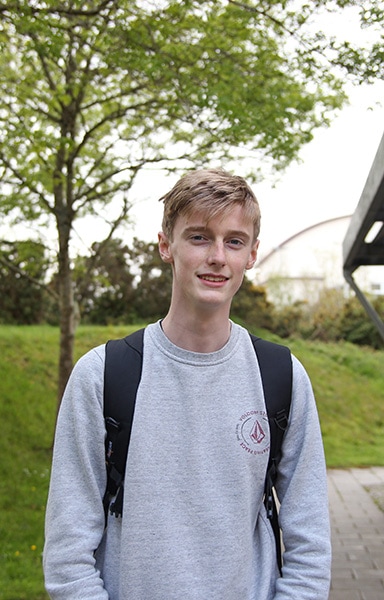 I like the method of teaching at the College. The class sizes are small which makes learning much easier and means there's lots of support.
Harry - A Level Maths, Chemistry and Biology
what you'll find as a student
Truro College is a vibrant and energetic place to study and our large student population is positive and enthusiastic about learning here. Students are encouraged to take pride in their College and this is reflected in the high-standard of facilities on offer, the continued investment in buildings and resources and outstanding support services on offer.
Our Learning Resource Centres provide a range of learning environments for quiet work, group work and access to support. There are print resources available for loan and an expanding collection of online resources. There are open-access computers in each and Wi-Fi is available across the campus.
As a student you'll have the opportunity to join one of our many Academies, in Sport or elsewhere, or use our award-winning Health, Wellbeing and Sport service.
A wide variety of reasonably priced main meals, breakfasts, sandwiches, drinks and snacks are available in cashless refectories and our on-site restaurant and snack bar across the campus. All dietary needs are catered for.
The College shop offers many materials needed for your course at very competitive prices including a wide range of art and stationery materials as well as photographic, electronic and computer consumables.
sign up to keep up to date with the latest news & announcements