If you want to find out about how electronic devices work and want to design your own circuits then the A Level in Electronics is for you. You may also be interested in computers and programming. Most modern electronic circuits have programmable chips, and you will learn how to program some of these on the course. A Level Electronics will help those students wishing to study electrical and electronic engineering at university and those that want to go directly into electronic industries.
You should already have a good knowledge of the maths, especially algebra and trigonometry and be happy using scientific notation of numbers. No prior knowledge of electronic circuits and components is necessary but having some experience of the electronics used in design and technology would be advantageous.
Small classes
Excellent tutor support
Outstanding electronic test facilities
Electronics industry links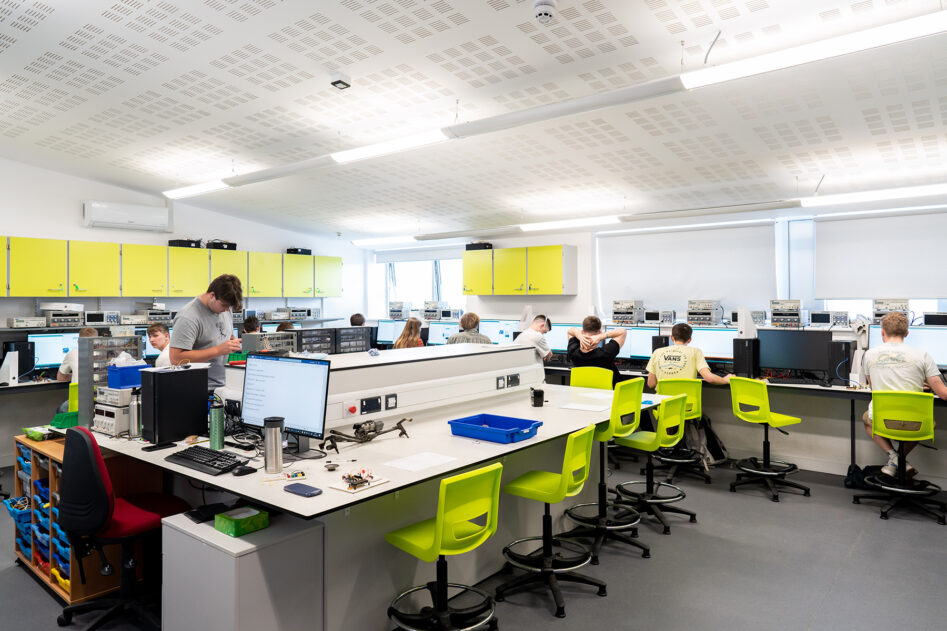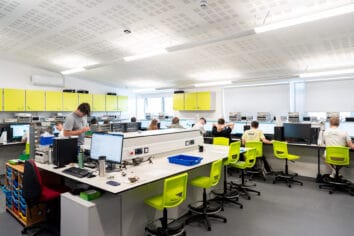 Software and hardware skills
Industry standard test equipment and software to help develop a broad range of skills. Software and hardware skills are important for electronic engineers.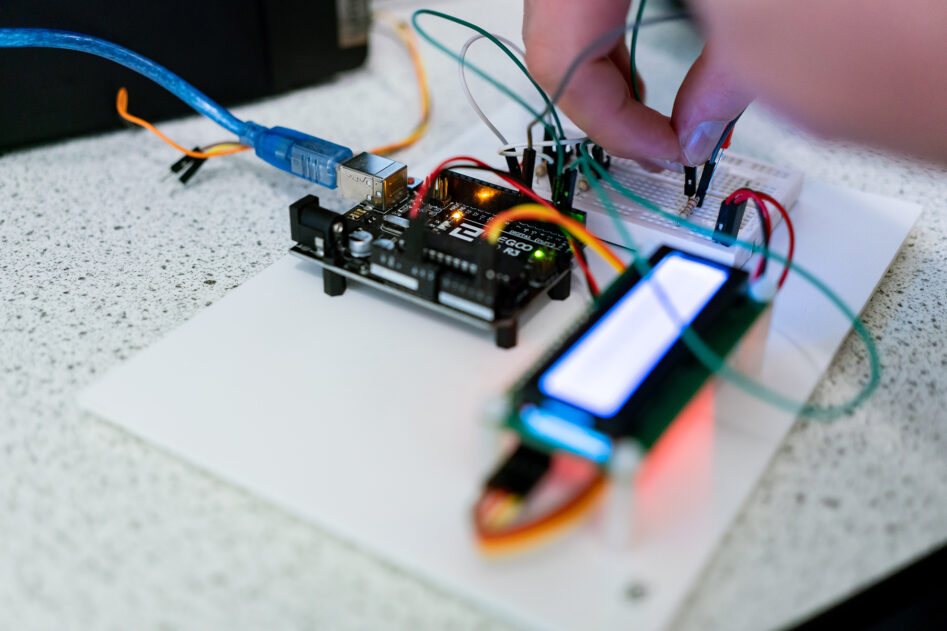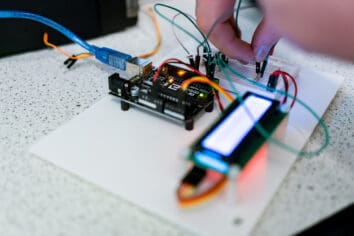 Electronics is an essential part of our engineering department. A Level Electronics students benefit from sharing resources with engineering students.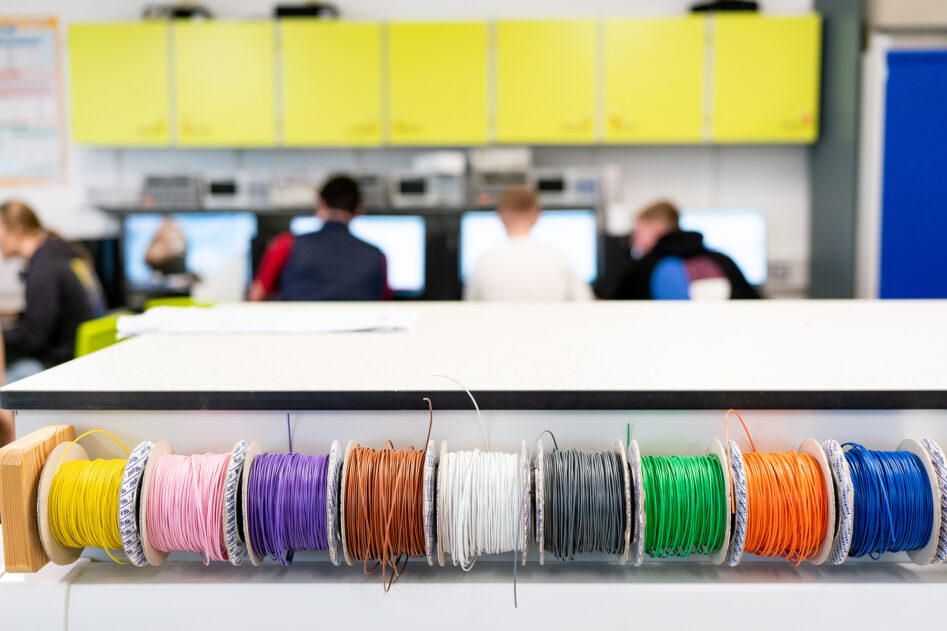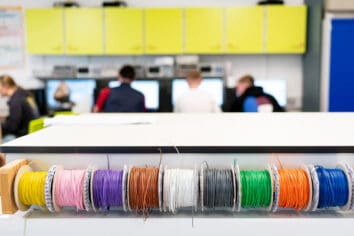 industry experienced tutor
The tutor has over 10 years of industrial experience designing and manufacturing electronics for a wide range of industries.
what will i learn?
You will learn about the basic building blocks of circuits from the humble resistor to the multifunctional Integrated Circuit. You will start by understanding simple circuits with batteries, resistors, switches and diodes, constructing circuits and testing voltages and currents. The practical work is supported by a large range of modern test equipment, including digital oscilloscopes to display signals, multimeters and software to analyse circuit function.
You will look at timing circuits and how using capacitors and timer chips help us keep regular time and switch things on and off. The world of digital electronics is explored looking at logic gates and logical functions.
Next you will discover how the basic microcontroller circuit, that used in most modern equipment, works. You will learn how to program the chips to perform tasks such as reading sensors, displaying information, and controlling robots! This is the world of servos and stepper motors.
Later, we look at amplifiers that provide gain for all kinds of signals. You will spend some time designing and testing simple power amplifiers as used in hi-fi and radio.
Finally, we look at how radio circuits and systems work, broadcasting both digital and analogue waveforms. Here we will see simple transmission principles using aerials, cables and even optic fibres.
Read More
Where will it take me?
After studying electronics, you can progress to university to study a wide variety of electrical and electronic based courses – from Robotics to Control systems, Medical Electronics to Artificial Intelligence, or general Electrical and Electronic Engineering. It is essential that you have Maths at A Level to be able to study electronics at university.
Career opportunities include Apprenticeships or employment in a wide range of Industries and Commerce. Electronic engineering is a vast industry covering everything from robotics and software design to electrical power generation and digital communications. Every year some students find employment directly after the A level Electronics course in local companies testing, designing and building electronic circuits.
assessment arrangements
Component 1: Principles of Electronics
External Exam – 40% of A Level
The topics for the first exam are the foundations for all the other elements of study. You will become confident with using breadboard and test equipment. Your knowledge of applying formula to solve circuit problems and troubleshooting begins. You will appreciate the numerical values used in electronics from tiny nano-amps to large megaohms and recognize and use components like resistors, relays, switches, transistors and capacitors.
You will be able to design and build simple logic circuits using logic elements like AND, OR and NOT gates as the building blocks. The course aims to get you up and running with amplifiers using integrated circuits. The most important of these is the Op-amp. You will learn the incredible range of functions this chip has, it is in almost every circuit from mobile phones, TV and radio.
Component 2: Applications of electronics
External Exam – 40% of A Level
You will learn about the technology used in industrial control systems such as robots. The hardware part that is achieved using stepper motors and servos, and the software programming that makes it all work. You will learn about basic artificial intelligence used in many robotic systems.
You will learn how to interface with sensors for temperature, light and movement. You will also use a variety of modern microprocessor systems and interfacing circuitry.
This unit also covers how radio works. You will experiment with modern digital communication circuits and discover how signals can be broadcast via radio waves from aerials and digital signals in optic fibres.
Modern communications are now nearly all digital. You will discover how these systems operate – encoding digital information for radio broadcast.
You will study power supply design and high-power switching systems used to control DC and AC power loads.
Component 3: Extended system design and realisation tasks
Internally assessed project work – 20% of A Level
In the first year you will complete a design project. Usually completed over 3 weeks it is a practice run for the more substantial second year project. The second-year project concentrates programmable control, and with a higher expectation of the practical design, testing and theoretical aspects. You might build a robotic system controlled by a microprocessor for example.
Throughout the year regular homework tasks are set giving you an opportunity to check your progress. Every lesson usually contains a practical element, and these are often assessed by completion of building and testing a circuit in class.
Entry Requirements
In addition to general A Level entry requirement a keen interest in maths, engineering and design is desirable. You should have at least a grade 6 in Maths GCSE. Although you do not have to have studied electronics at GCSE level it is useful to have some knowledge.
information & support
The Engineering Department is friendly, supportive, ambitious and hardworking. Achievement in this subject relies heavily on your attendance, punctuality and commitment to learning, both independently and within lectures.
There is lots of different types of classwork to do in electronics. Including electronics practicals, programming and computer aided circuit design. Some of the software is available to the students at home as well, allowing you to study in your own time.
Independent work is an important part of studying electronics. Not only is it needed for the project work but also helps you too strengthen your core knowledge of electronics. There is regular homework, and this marked and graded helping you to know how you are getting on. You will get regular updates and advice on how to improve your grades.
There is a collection of course material in the form of videos, web resources and quizzes to help you develop your knowledge of electronics. There is a comprehensive eBook produced by the exam board that covers every topic you will study.
Independent practice will be supported through eBooks, videos, PowerPoints, worksheets, and software available through our Moodle course. Check out the eBooks used for the first-year study here.
Do you have a question that we haven't answered so far? Talk to our admissions team. We're here Monday-Friday 8.30am-4.30pm.