Students can register their attendance at Graduation and purchase guest tickets, gowns and photography from 6pm on Results Day, Wednesday 12th July 2023 until 10pm on Friday 22nd September 2023.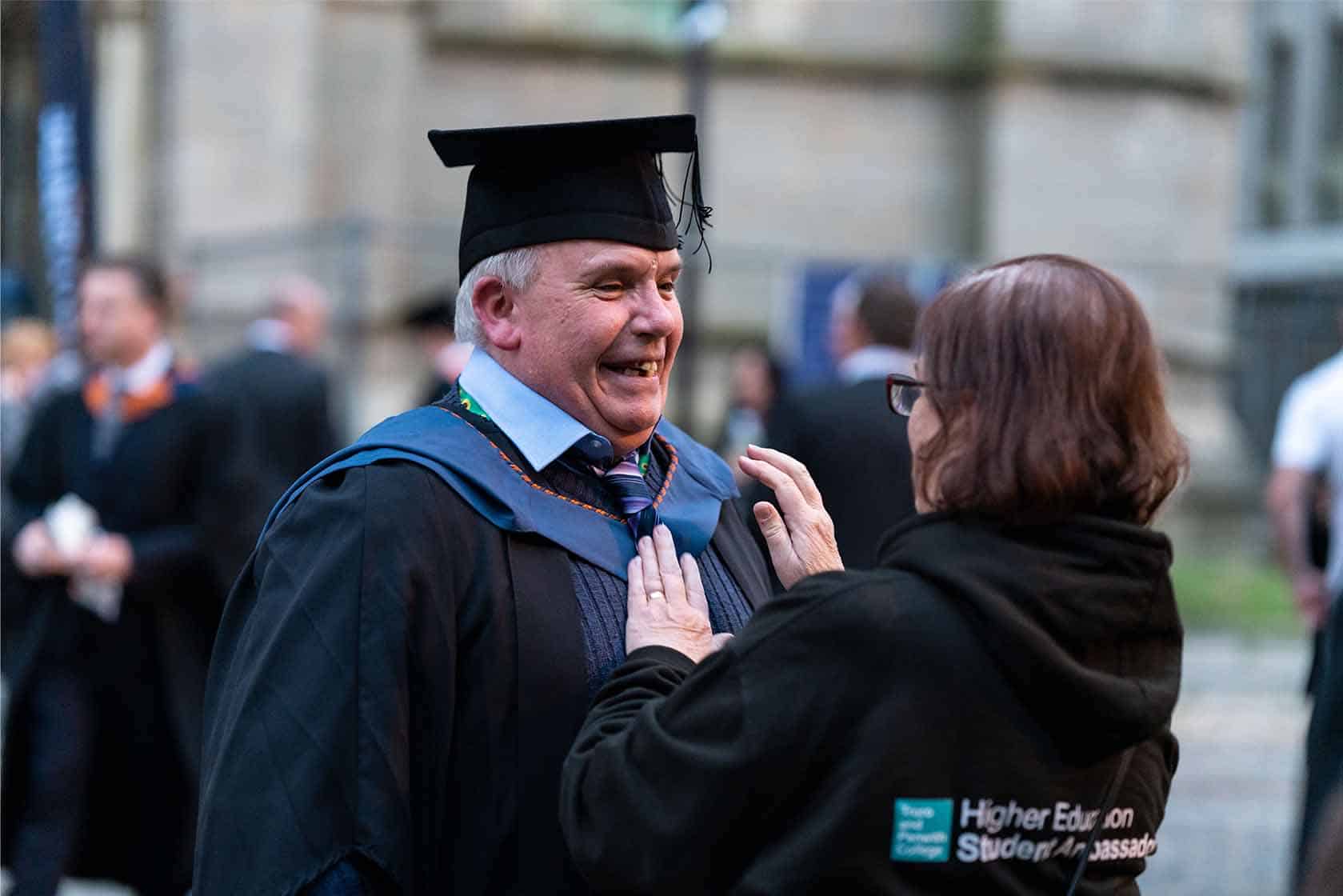 Six simple steps to Graduation success
Student arrival times are staggered to minimise queuing, please check the time your course is scheduled to arrive. Please report to the West Door (front, main entrance) and register immediately. If you do not register, your name will not be read out in the ceremony.
Saturday 14 October 2023 - Truro Cathedral
Course Title (A-Z)
Arrival Time

BA (Hons) Applied Media




BA (Hons) Business, Enterprise and Leadership




BA (Hons) Education and Training




BA (Hons) Human Behavioural Studies




BA (Hons) Silversmithing and Jewellery




BSc (Hons) Applied Computing Technologies




BSc (Hons) Applied Social Science



11:00am
BSc (Hons) Applied Sport and Health Science
BSc (Hons) Archaeology
FdA Business
FdA Childhood Education
FdA Film, Media and Photography
FdA History, Heritage and Culture
FdA Silversmithing and Jewellery
FdA Teaching and Learning
FdSc Computer Technology
FdSc Cyber Security
FdSc Health and Nutrition
FdSc Nursing Associate
11:50am
FdSc Public Services
FdSc Sports Therapy
FdSc Youth, Social and Community Studies
HNC Hospitality Management
HNC Mechanical Engineering
HND Applied Psychology
LLB (Hons) Law
Postgraduate Certificate in Education
Certificate in Education
12:30pm
If you are unsure about your arrival time or have any queries, please email HEENQUIRY@TRURO-PENWITH.AC.UK.
Click HERE to purchase tickets from Ede and Ravenscroft, which is supporting the University Centre with ticketing, gowning and photography at Graduation. Student tickets are free of charge and each has the opportunity to purchase up to two guest tickets. Tickets are available from 12 July 2023 at 2pm (HE results day) until 10pm on Friday 22 September 2023. 
Search for 'University Centre Truro and Penwith' as the institution (not the University of Plymouth) and use your student ID to log in. Your student ID is the numbers in your College email address (without your initials at the start). Please note that when prompted to provide an email address to receive your tickets you do not have to use your University Centre email address.
Only students who have fully completed their course and achieved their qualification are eligible for Graduation. If you have any referred work then this must be completed and signed-off by your tutor before you are able to register. If you owe library resources or tuition fees, you may also not be eligible for Graduation.
A new account has been created for you this year - please register as a new user.
Yes, all graduates need to book a ticket to reserve their seat, the ticket is free of charge.
All ticket sales are online and can be booked HERE
The capacity at Truro Cathedral is limited and to give everyone a fair chance we initially restrict each graduate to two guests. Any unsold tickets will be made available to purchase at Midday on 25th September 2023. Graduates can log back into their account and purchase up to two further tickets (further details will be emailed out regarding this nearer to the date). Unsold tickets will be limited and sold on a first come, first served basis with the deadline being 10pm on Friday 30th September 2023 (dependent on availability). If any guest tickets remain unsold they will be available on the door at £6 each and must be purchased with cash, however booking tickets in advance is highly recommended.
Simply register your place at the Graduation and claim your free student ticket HERE
You will be asked at the ticket checkout if you have any special requirements such as disabled access, seating arrangements or assistance required and we also invite you to contact HESTUDENTSUPPORT@TRURO-PENWITH.AC.UK to make us aware of your situation.
Students will be seated at 1pm for a 1:30pm start with the ceremony due to close at 3:15pm. Drinks will be served to students and guests after the ceremony closes.
Graduates and guests must all remain seated throughout the ceremony, except for collecting certificates and awards.
Your tickets will arrive via email. It is important that you provide a correct and current email address when booking your tickets as this is the email address that your tickets will be sent to. You will receive your e-tickets 10 days before the graduation ceremony. 
Go to the Ede and Ravenscroft website HERE or call 01223 861 854. Once you have ordered your gown, you will collect it from inside Truro Cathedral on the day of the ceremony at your designated course arrival time. Booking for gowns closes one week prior to the event.
Gowns are optional but recommended. The vast majority of students choose to wear them and all Programme Leaders, Senior Management and VIPs will be wearing ceremonial dress.
Go to the Ede and Revenscroft website HERE or call 01223 861 854. You can book photography at the same time as booking your gown.
When you get to the Cathedral, you will register to ensure that your name is called out during the ceremony. You will then head to the back of the Cathedral where you will pick up your gown, hood and hat and if you have booked photography, you will have your photographs taken. 
Registration arrival times for courses are staggered to minimise queuing - see course arrival times above. You must arrive on time at the West Door (front, main entrance) and register immediately. If you do not register, your name will not be read out during the ceremony.
No, graduates will arrive at designated times for registration, gowning and photography and are free to enjoy enterainment outside the cathedral from 11am - 1pm when they wil be encouraged to take thier seats ahead of the ceremony starting at 1:30pm.
Guests can arrive with students and will be encouraged to take thier seats from 1pm ahead of the ceremony starting at 1:30pm.
Graduates sit together in their courses groups, seperate from family members, but there is plenty of time before and after the ceremony to spend time with friends and family.
Yes, there is a ramp to the left of the West Door (front, main entrance) next to the shop. Please contact HESTUDENTSUPPORT@TRURO-PENWITH.AC.UK so we can arrange appropriate seating for you.
Young children that are in a pushchair or need to sit on a lap do not require a guest ticket. If children need their own seat, a guest ticket will need to be purchased. 
Certificates will be posted by recorded delivery once they have been received from the University of Plymouth, which is usually in November. Please ensure the College has the correct address for you when you complete your course.
Our higher education Student support advisor can help with special requirements for graduation