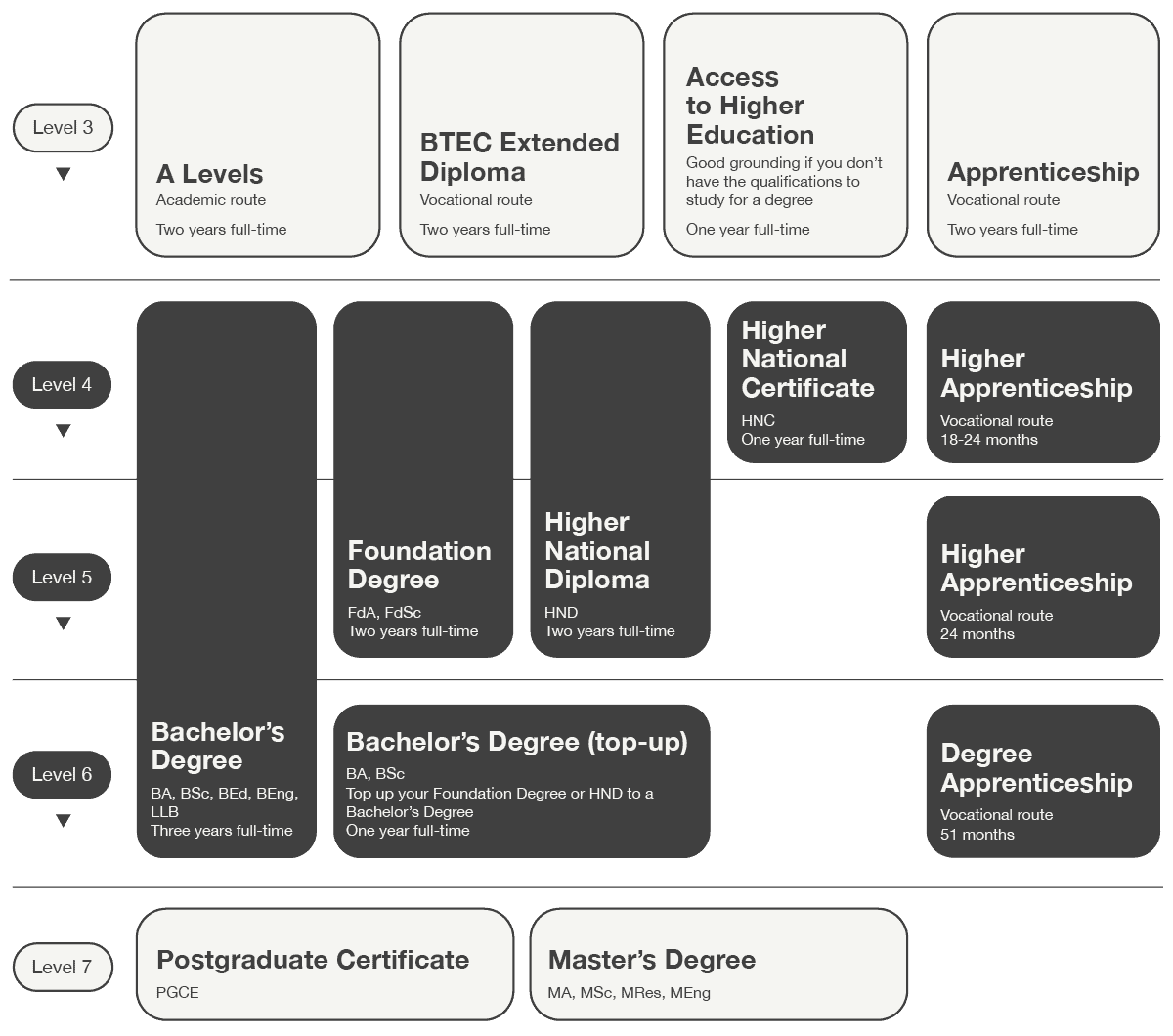 If you need a Level 3 qualification or you've been out of education for a while and just need to build some academic confidence before enrolling on a university course, our Access to Higher Education courses are designed to prepare you to progress. We offer a large variety of Access courses at both Truro and Penwith campuses. 
Higher National Certificates (HNC) are like the first year of University study and aim to meet the needs of employers. When completed, you can apply for stage two of a related Foundation Degree or HND.
Higher National Diplomas (HND) help develop essential career skills and are equivalent to the first two years of University study, meaning that you can then progress to a top-up year in a similar subject.
Foundation Degrees (FdA or FdSc) are similar to the first two years of University study, but usually include a work placement to encourage practical, work-based learning in preparation for a career within the industry. Upon completion, you can progress to a top-up course or the third year of a full Bachelor's Degree (BA or BSc).
Top-up Degrees allow you to top-up your completed Foundation Degree, HND or an equivalent qualification to gain a full Bachelor's Degree (BA or BSc) and are similar to the third year of University study.
Bachelor's Degrees cover all three years of University study and are completed in one specific subject area. You can be awarded either an ordinary degree, or an honours degree if a dissertation or self-directed piece of work has been completed in your final year. After graduating, you can then progress onto a Master's Degree, PhD or a postgraduate initial teacher training course.
Postgraduate Level 7 courses cover a range of qualifications from Master's Degrees, which explore research-based study in specific subject areas, to PGCE courses where you can study your initial teacher training.
The College offers quality Apprenticeship programmes in 40 exciting job roles in partnership with Cornwall's top employers. Many of these programmes are available at University Level with the University Centre Truro & Penwith in areas such as Nursing, Finance, Hospitality, Business and IT & Digital.
The continually expanding range of Apprenticeships is designed in partnership with Cornish employers to address the skills needed and career routes available at local businesses, perfect for those wishing to earn while they learn and progress in a quality career here in Cornwall.