Truro and Penwith College has opened nominations for the next highly anticipated Cornwall Apprenticeship Awards due to take place during National Apprenticeship Week on 09 February.
Alongside opening nominations, the College has announced a brand-new Mentor of the Year Award that will recognise Cornwall's top colleagues, lecturers, training advisors and teaching assistants who go above and beyond to offer apprentices exceptional levels of mentorship to develop both personally and professionally.
Nominations have opened following April's news that the Awards has outgrown its traditional venue at Truro College and will establish new roots at the Eden Project for the eighth annual Awards evening in partnership with nationally leading AI developer and apprenticeship employer, Hertzian.
Nominations are now being accepted for all seventeen categories (see foot of page), with the College again on the hunt for the very best apprentices, mentors and employer apprenticeship programmes across Cornwall and the Isles of Scilly.
The nominations are being accepted online at www.truro-penwith.ac.uk/CAA where information on all the categories, eligibility and the award's evening is also available.
The simple nomination process requires one 500-word explanation of why the apprentice, employer or mentor should win the award with up to 50 nominees due to be shortlisted after nominations close at 5pm on Monday 23 October.
Any Cornwall-based apprentice, employer or mentor is eligible for nomination, regardless of their College or training provider, provided they have been involved in Apprenticeship training since 21 June 2022.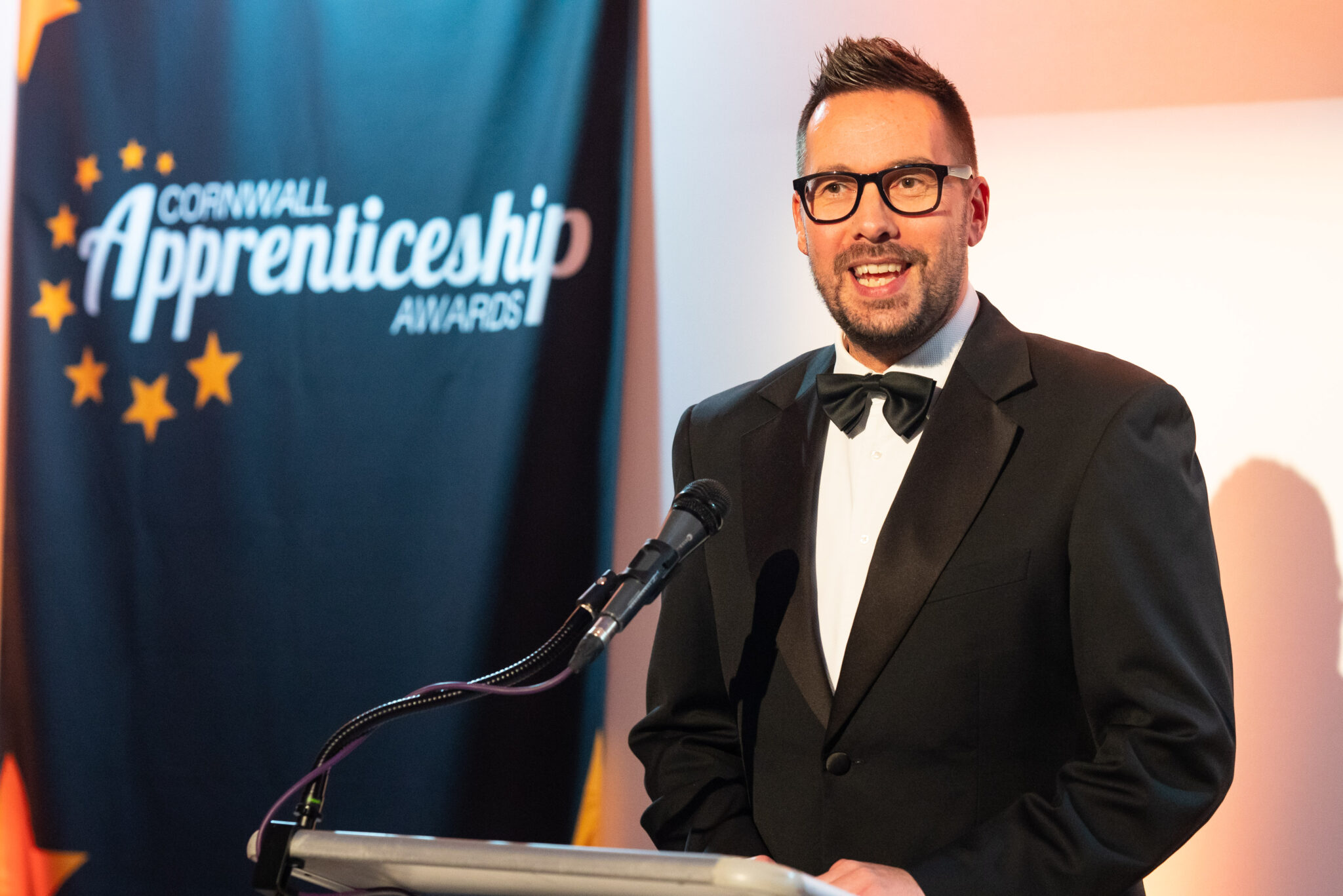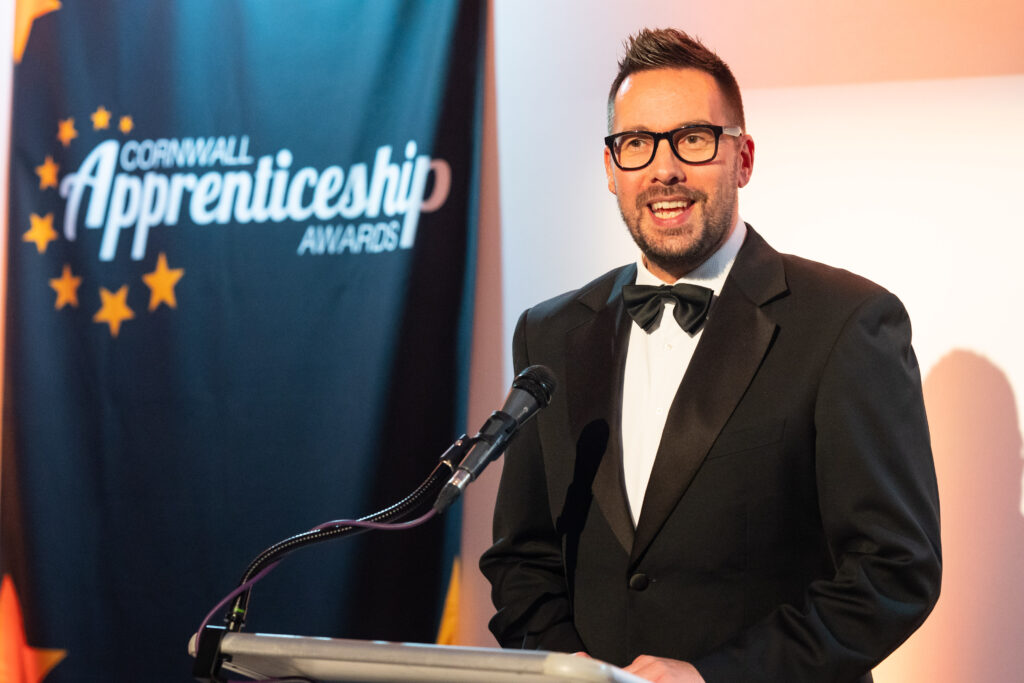 Truro and Penwith College alumni Holly Day and Neil Caddy from Pirate FM will return for the eighth year to present the awards at the Eden Project. Neil Caddy, Breakfast Show Presenter and Head of Content at Pirate FM, said: "The move is very exciting, this will be the eighth time that Holly and I have been involved and it's been lovely to see the event get bigger and better each year".
2022 was an historic year for the Awards as it crowned its first ever triple award winner, 36-year-old Lois Craze, Deputy Security Manager at FX Plus.
Lois scooped Management Apprentice of the Year, Apprentice Achiever of the Year and the coveted Cornwall's Apprentice of the Year 2022, described as 'invaluable and an absolute inspiration to her team'.
Lois was recognised in the Management category having not only recruited an effective team during a departmental restructure but implemented policies and procedures that improved services, working with the Police to the benefit of student safety at Falmouth University and launching a SafeZone app on campus which vastly improved response times to emergency and first aid calls.
The Achiever of the Year category is awarded to an apprentice who has overcome some form of challenge to complete their apprenticeship and is subject to a public vote that was heavily supported by Award Media Partners Business Cornwall. Lois picked up this award having moved from Customer Service Supervisor to Deputy Security Manager as a result of her apprenticeship and was described as 'blazing a trail' for professional women in an industry that is typically dominated by men.
Lois collected her unprecedented third award, Cornwall's Apprentice of the Year 2022, after her nomination received the very highest judge's score of all apprentice nominees across the whole event.
On the night Lois commented: "I'm over the moon, I feel absolutely overwhelmed, really happy and proud. I was just happy to be shortlisted. I'm really proud to be a women in a role that is traditionally male dominated and to be winning awards for that as well!"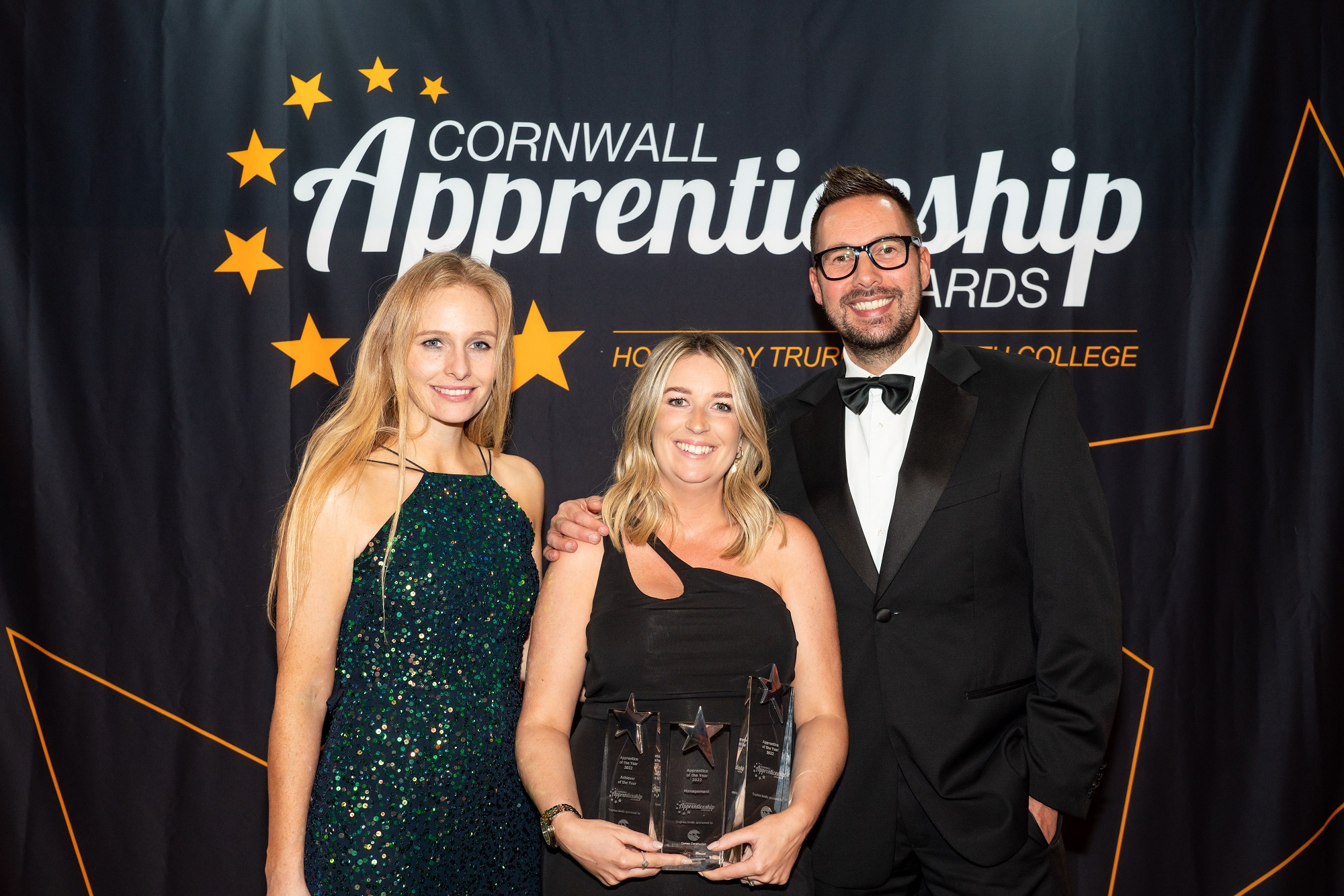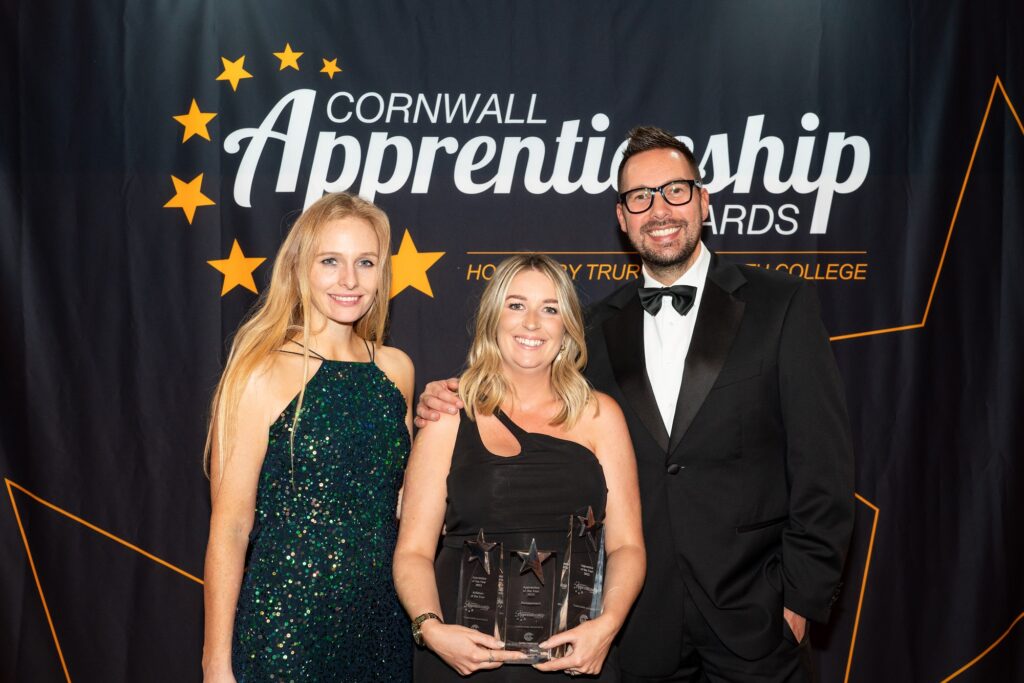 2022's Large Apprentice Employer of the Year was won by A&P Falmouth with a staggering 70% of its leadership team starting their careers as apprentices with the group and their recruitment and training process cited by judges as 'first-class'.
SME Employer of the Year was picked up by The Lost Gardens of Heligan with judges describing the organisation as 'a shining beacon of good practice in the apprenticeship arena that is setting a fantastic example for the Hospitality sector and employers across Cornwall, with a real commitment to learning and development making it well placed to retain and attract new talent'.
The 2024 Awards is in partnership with Hertzian who will also present this year's Achiever of the Year Award, Christopher Weavil, Co-Founder and CEO commented: "Eighteen percent of Hertzian's workforce is made up of Truro and Penwith College Apprentices, with thirty-six percent having studied an Apprenticeship with Hertzian at some stage of their career. We are very happy to be sponsoring the Cornwall Apprenticeship Awards as the Award Partner and presenter of the Achiever of the Year award."
Martin Tucker, Principal at Truro and Penwith College commented: "We are thrilled to open nominations for the eighth annual Cornwall Apprenticeship Awards. The College is incredibly proud of the Awards and the high regard in which it is held by employers and learners across the county.
"It's been a pleasure to host the event at our Truro campus, but it's clear it has outgrown our space. I'm pleased the event has found a fantastic new home with the Eden Project, a former Cornwall Apprenticeship Award winner and one of Cornwall's top apprenticeship employers. The move marks the event entering its next stage of growth and we're excited to see what the future brings.
"We look forward to a very enjoyable evening celebrating all the talent that exists across the apprenticeship provision in the county on 09 February".
Nominations for the Awards are being accepted online along with more information about the event and nomination process: www.truro-penwith.ac.uk/CAA. Anyone wishing to submit a nomination can also email nominations@truro-penwith.ac.uk for guidance.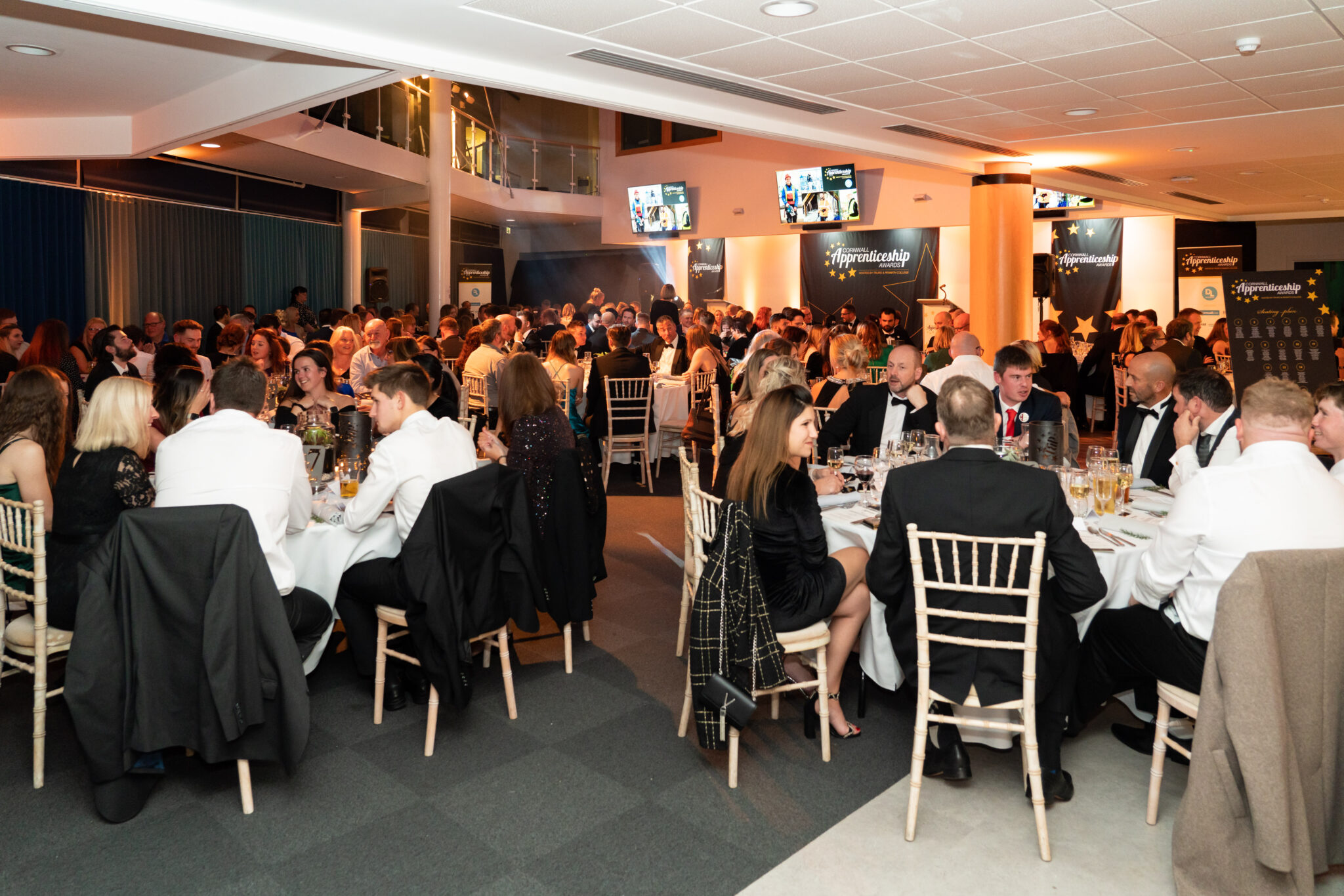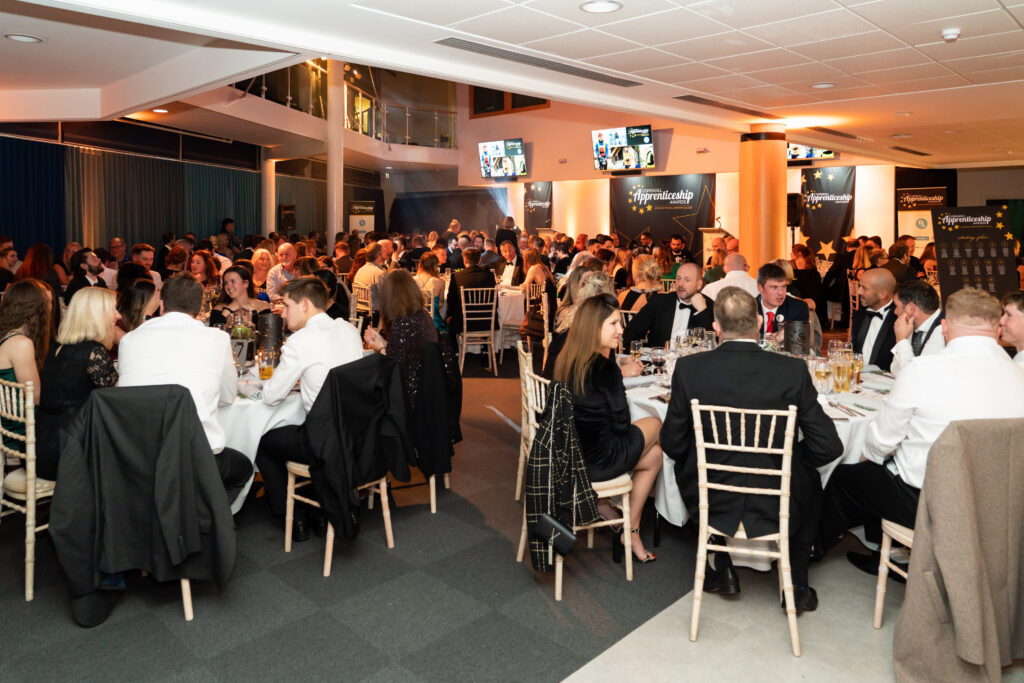 2024 Cornwall Apprenticeship Awards categories:
Large Employer of the Year (>250 employees) – Sponsored by Foot Anstey LLP
SME Employer of the Year (<250 employees) – Sponsored by Cornwall Opportunities
Mentor of the Year – Sponsored by Fox Construction Solutions
Hospitality – Sponsored by BIIAB
Accountancy – Sponsored by Cornwall Council
Construction and Trade Occupations
Health, Care and Public Services – Sponsored by – Costain Group
Digital and IT – Sponsored by University of Exeter
Business – Sponsored by Inn Cornwall Ltd
Management – Sponsored by Imerys
Marketing – Sponsored by Bull & Wolf
Hair and Beauty – Sponsored by VTCT
Motor Vehicle – Sponsored by Go Cornwall Bus
Engineering and Manufacturing – Sponsored by GetMyFirstJob
Land-based – Sponsored by Eden Project
Achiever of the Year – Sponsored by Award Partners Hertzian
Cornwall's Apprentice of the Year 2024 – Sponsored by Truro and Penwith College