Learning Centres are a staple across every Truro and Penwith College campus; they allow you to not only access a plethora of written materials across the physical and eBook library, but the friendly staff can help you with a huge range of requests. We spoke to Learning Resources Support Team Lead Jo Lapham to find out everything that Truro and Penwith College Learning Centres have to offer and to answer some frequently asked questions.
An Intro to Truro and Penwith College Learning Centres
Learning Centres across the Truro campus carry different material depending on the building they are in, to cater for the students using the Centre and subjects they study. For example the White building, which is home to many Art & Design courses, holds resources on art topics. The White Centre also has Engineering resources with state-of-the-art teaching facilities in the Seaton and Valency buildings close by. The largest Learning Centre on the Truro campus for 16-18 students is in Kenwyn, which is home to the majority of FE stock. There is also a dedicated Learning Centre at Tregye for University Level and Career & Professional Development learners.
At Penwith, the Sennen and Porthcurno Learning Centres cater for students who study in the respective buildings while holding stock from various other subject areas. There is also a mini Learning Centre at the Penzance School of Art for learners flexing their creativity. Porthcurno has later closing times on Mondays and Tuesdays, where it closes at 6pm and also holds University level resources.
The new Learning Centre at the multi-million-pound STEM and Health Skills Centre in Bodmin has a huge array of resources relating to all things STEM and Healthcare, as well as materials relating to leadership and marketing, to aid students with their studies.
HE and Access to HE students can use the dedicated University Level Learning Centre in the Fal building at Truro, which holds academic materials for degree level study. The Fal Learning Centre also has later closing times, with a 7pm closing time on Mondays and Tuesdays and 6pm closing time on Wednesday and Thursdays. All other centres will open and close alongside lecture times; 8:30am-4:30pm.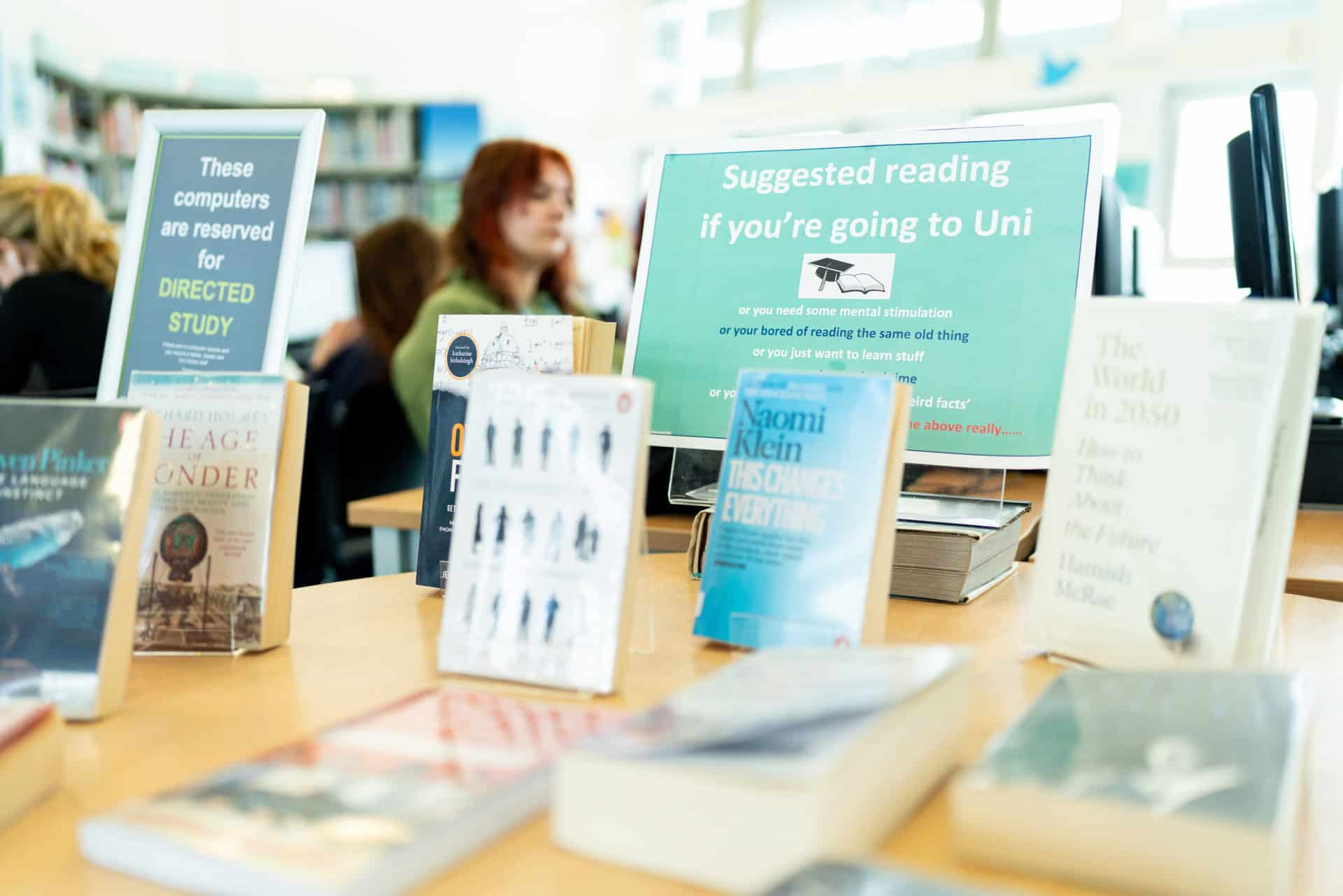 How to borrow resources
Borrowing resources at the College Learning Centres is simple. Learning Resources Support Team Leader, Jo, describes how borrowing resources works: "Every student's ID card is also their library card; you only need what is already on your lanyard! The amount you are allowed to borrow changes depending on course type, but an FE student can borrow up to 20 items at once. You can find books on the shelves and we can also show you how to use the online catalogue from the reception desk. We issue them for a couple of weeks and stamp them; textbooks can be taken out for a year.
"Students need to write their names on the date label as they need to return the specific copy that they took out; bringing back books for friends is not allowed."
Electronic Resources in our Learning Centres
Learning Centres are not only home to books, but a range of electronic resources as well. Jo gave some more information on the digital resources available for students to use to study from anywhere: "We loan laptops to students from Porthcurno at Penwith, as well as a limited amount in Fal at Truro.
"We also have loads of eBooks; you can access them through the Online Library Catalogue. There will be a little button that lets you access them. We're always trying to up our stock of eBooks to allow students to study from home."
There are also great electronic resources in the Learning Centres themselves, Jo says: "Every Centre has PCs that you don't have to book, they're free to use. Staffed Learning Centres will have books and PCs, and unstaffed Learning Centres will only have computers."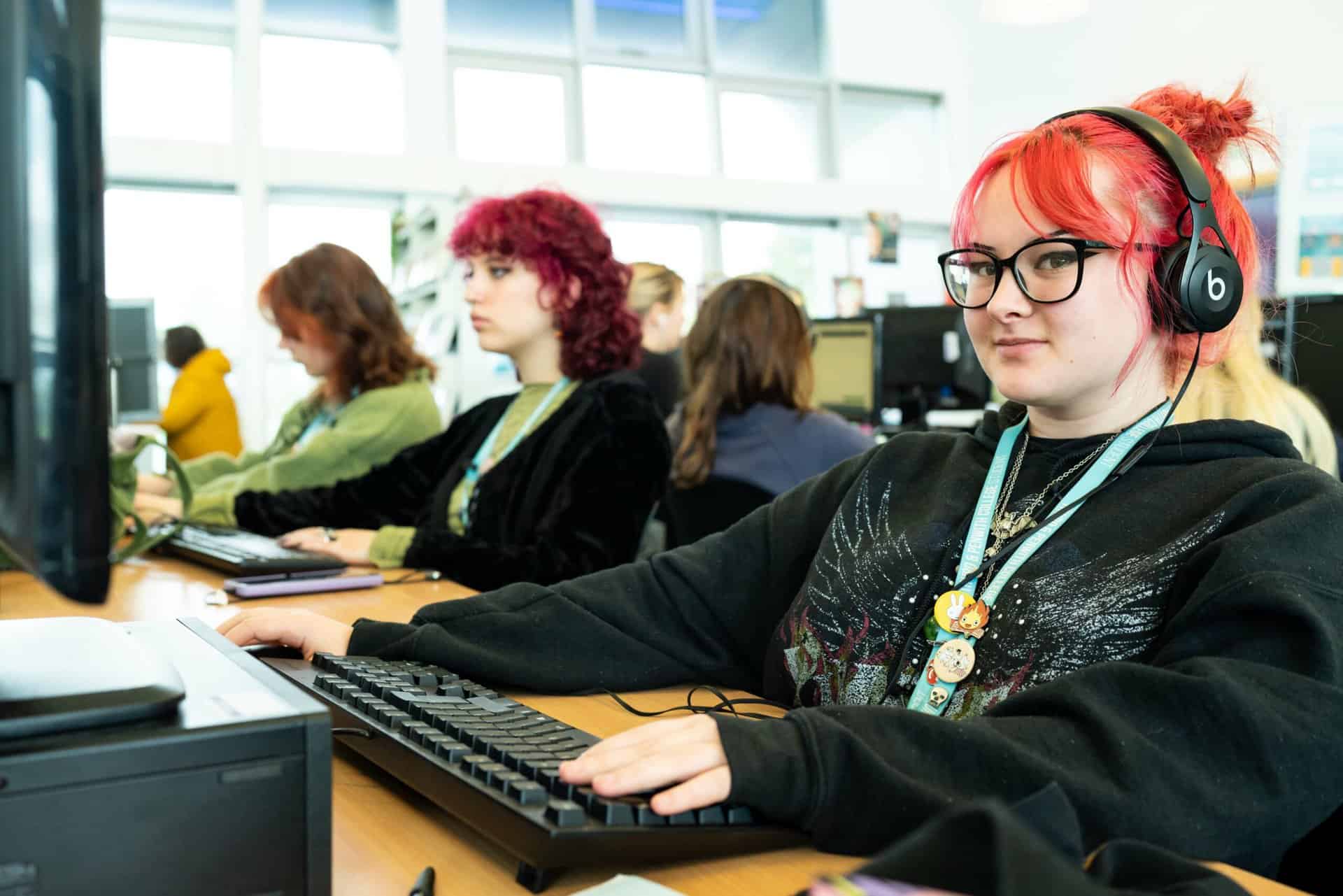 Accessible Resources
All Learning Centres also have excellent accessible resources to help all students with their work, Jo comments: "Every computer in the Learning Centres will have ClaroRead on it, so you can have things like a coloured ruler you can move up and down the screen and you can change the colour of the screen. On some websites, you can change the font and you can have the text read aloud to you if you have headphones.
"The eBooks will often allow you to change the font, page colour and will read aloud to you. You can also enlarge the text and print certain sections out.
"If someone has a visual impairment or Dyslexia, struggles to read physical books and we don't have an eBook copy, we have ways to get alternative versions which are enlarged. A lot of people don't know we offer these things; feel free to come to us."
What can the Learning Centre staff help with?
You will always find a plethora of resources available as well as friendly faces from the Learning Centre team. Jo explains the wide range of things that staff can help with: "We help with everything from basic IT assistance to study skills; if someone is struggling with an essay we can assist. In the University Centre, we can help with referencing. We help to find resources and buy them; if someone comes to us and asks for a book we don't have, we will try and buy it for them. You can give us book suggestions!
"We also sell print credit in the Centres, as well as helping with binding, laminating and printing, and the people to come to if you'd like coloured paper for printing as well."
As you can see, Learning Centres at Truro and Penwith College have a huge offering and are an integral part of student life. From borrowing books to essay help and printing, our friendly Learning Resources team can help you with a wide range of queries.
"If you have any questions, come to us," Jo says. "if we don't know the answer, we will know somebody who does."