Three Apprentices have secured quality careers at Brooks Financial Planning Limited, having all been offered permanent roles after successfully completing their training.
Brooks Financial Planning Limited is a Senior Partner Practice of the award winning and prestigious St. James's Place Wealth Management PLC, a national FTSE-100 organisation with offices in towns and cities across the UK.
Truro and Penwith College Apprentices, Olivia, David and Elle have successfully completed their Level 3 Business Administration Apprenticeships having developed their knowledge and experience at Brooks Financial Planning's Threemilestone offices, where they have played a pivotal role in supporting the business to excel while growing its own talent.
The trio have now accepted permanent roles at Brooks in readiness to support the business to tackle future challenges and goals, while continuing to develop their careers. Olivia and Elle have moved into Business Administrator Roles while David continues his career as a Paraplanner.
Day-to-day the versatile Apprentices have been offering valuable support to their employer, with the Apprenticeship training developing skills including social media marketing and IT, alongside experience in office support functions such as diary management and meeting support.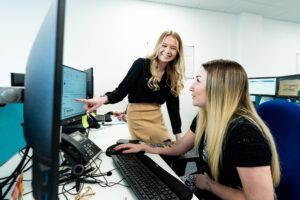 Katherine Clotworthy, Head of Operations and HR at Brooks Financial Planning commented: "All the Apprentices we have taken on have done really well and they have all been offered a job at Brooks Financial.
"It has been a massively rewarding process for me. The work that I have personally put in, to see them put their learning into practise, then get through it all and pass well, makes me proud of them all.
"We were always going to take on two Apprentices as we wanted them to go through the journey and grow together. Then, David came out of nowhere and we couldn't pass on an amazing opportunity, which is why we took on three.
"We all know recruitment in Cornwall can be difficult due to many factors and taking on an Apprentice isn't about cheap labour, it's about picking someone who will grow with the business and by doing so has helped Brooks Financial for the better, they bring a new dynamic and energy to the office".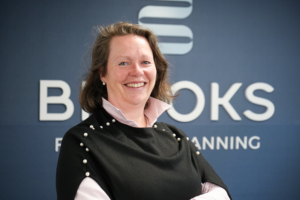 Olivia is incredibly excited to start her new career and said: "Brooks has been very supportive of my journey as an Apprentice. I look after one of the Adviser's' diaries and prepare client meeting packs for them. The skills I learnt in college lessons helped support me in my role. It's great to be offered a role at Brooks Financial and I'm looking forward to progressing. The Apprenticeship was definitely worthwhile."
Elle commented: "We learnt a wide variety of topics on the Business Administration Apprenticeship and here at Brooks, they have their own online training programmes provided by St James's Place and it all went hand-in-hand with each other and helped me get a role with Brooks Financial."
David said: "I really liked the lessons with different styles of tutors, who were experts in their field. They focused on their skilled subjects, which included social media, IT, leadership skills and more.
"The advice I would give to students looking to start a Business Administration Apprenticeship would to be to start building your showcase portfolio from the beginning as it will give you a step ahead when you come to the end of your Apprenticeship."
Truro and Penwith College accepts applications for Apprenticeships throughout the year while offering guidance and support. Interested employers and learners are encouraged to contact apprenticeships@truro-penwith.ac.uk or visit truro-penwith.ac.uk.