A Level and Vocational students at Truro and Penwith College have been awarded a record number of successful grades in this year's set of results, with pass rates above national averages.
A Level students in particular have trumped national averages for overall pass rate (99%) and success in achieving the top grades A* – C (78%)
With over 2,500 individual A Level entries this year, Truro and Penwith College is one of the largest providers of the qualification nationally. This year's results will see it confirmed as one of the best once again with a total of 144 A* grades awarded.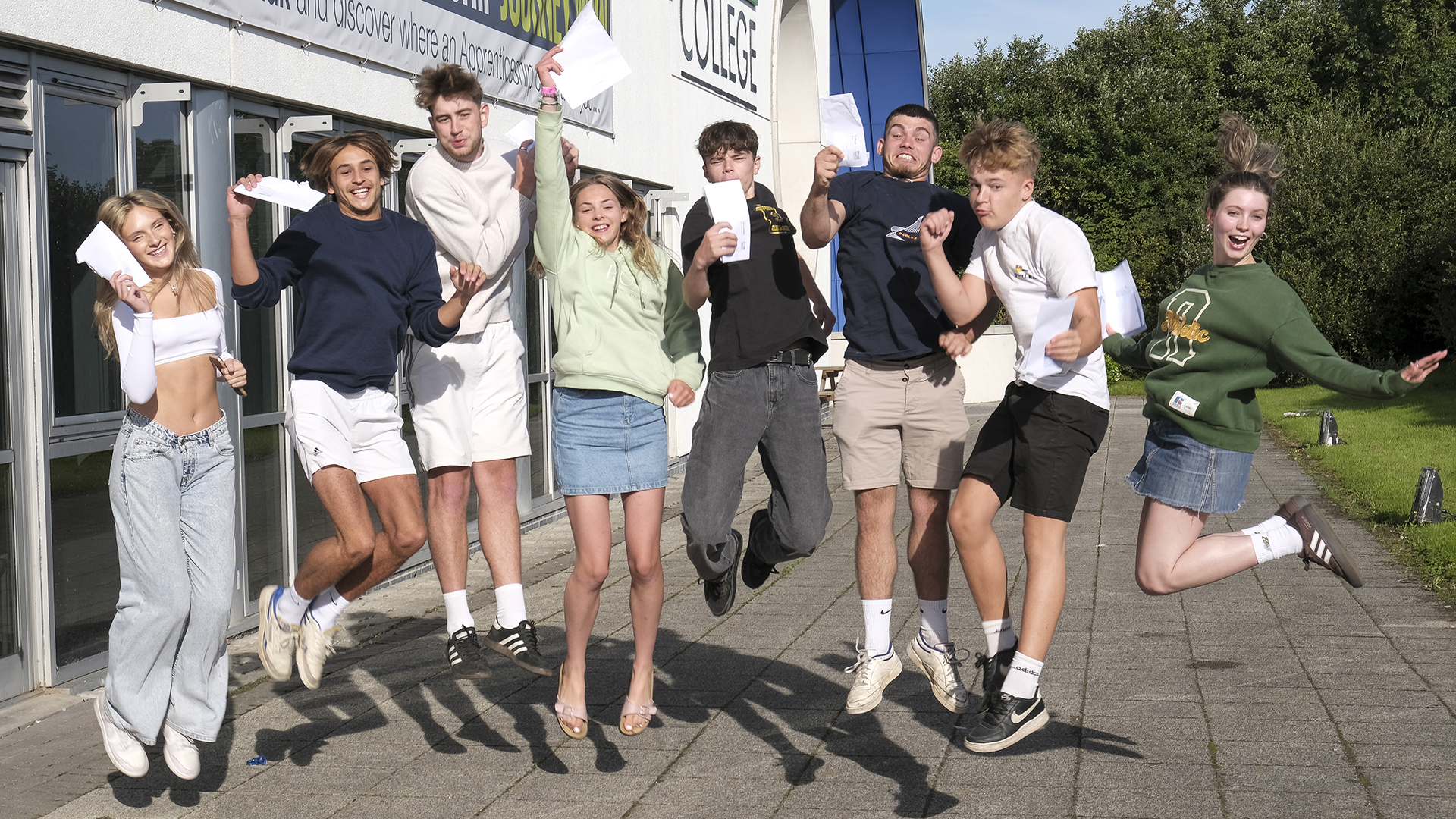 No fewer than 41 A Level subjects achieved a 100% pass rate, including Further Maths, Economics, English Literature and Computer Science. The College's leading local and national role in STEM (Science, Technology, Maths, Engineering) was evidenced once more, both in the high quality of student outcomes, and in the large and growing volumes of entries.
For example, Science students studying A Levels in subjects such as Geology and Physics enjoyed 100% pass rates, with over 75% achieving exceptional grades at A* – C.
183 (69 in Further Maths) Mathematics students gained an A level pass, 183 passed Biology, 132 were successful in Chemistry, and 89 in Physics. These successes followed earlier results in STEM subjects at the College on the International Baccalaureate and in Vocational Diplomas such as Applied Science and Engineering.
Lucy Bate from Falmouth previously attended Penryn College and achieved A*, A*, A in Biology, Chemistry and Maths. She is now set to study Medicine at the University of Exeter. Lucy said: "I did the Medics Academy alongside my A Levels, it was really good, really helpful for getting into Medicine. I probably couldn't have done it without that."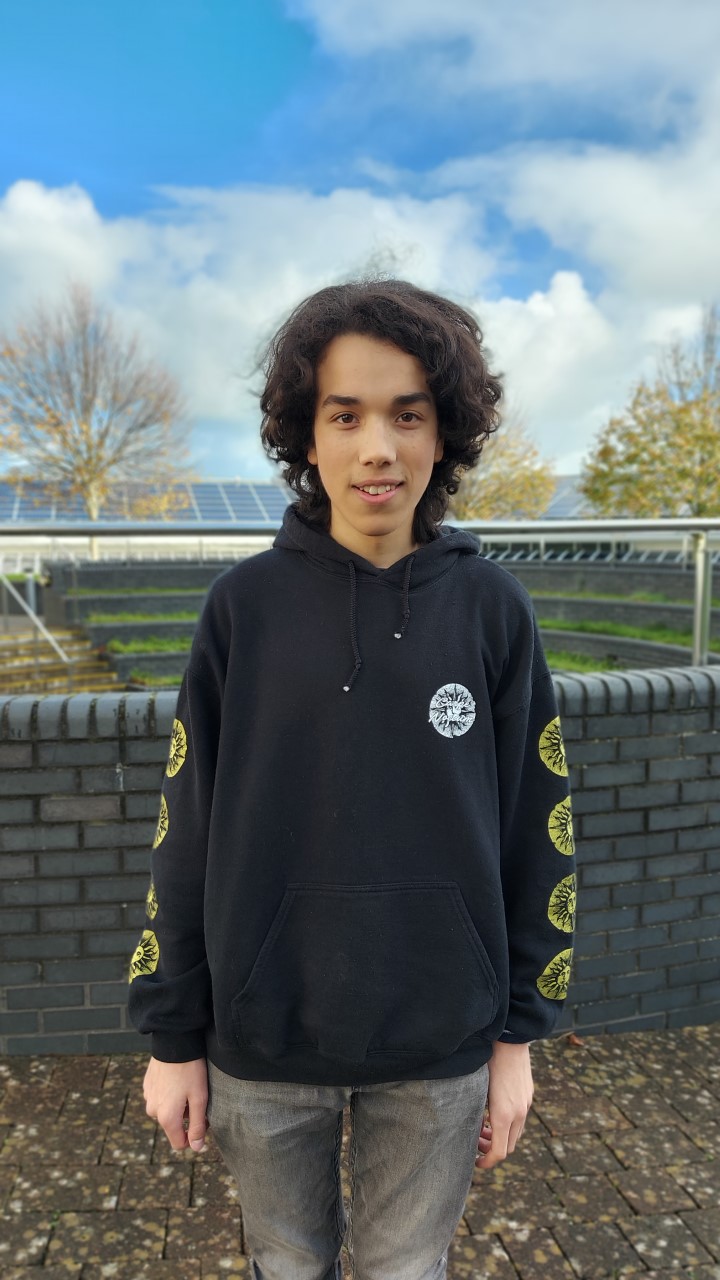 Former Mounts Bay Academy pupil Ziji Lee from Penzance has accepted his offer to study for an Integrated Masters in Mathematics at the University of Oxford. Ziji received three A* and an A grade putting him among the very top achieving students.
"I enjoyed the friendly adult environment and also had good teachers who helped stretch me with engaging classes," he said.
There was also a 100% pass rate in creative A-levels such as Photography, Music, Drama, Product Design, Media, Textiles and Graphic Design.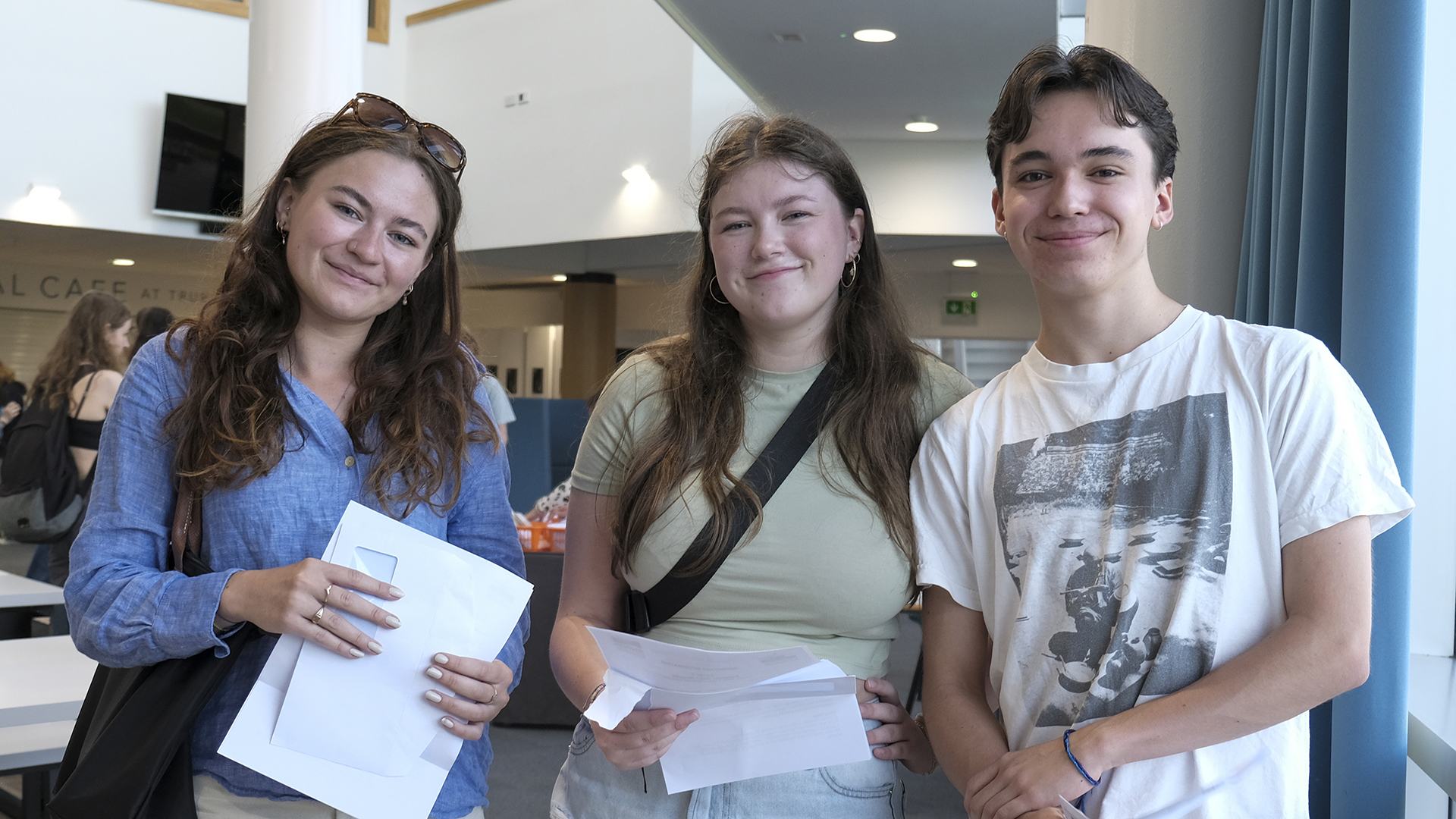 Among those celebrating was Millie from Perranwell. After declining an offer from her first-choice university as she was certain personal circumstances would leave her unable to make the grades, Millie's clean sweep of A's in A Level Biology, Economics and Geography is a testament to her determination.
Millie received support from the College and persevered through her exams doing better than she ever expected. "Don't give up", is Millie's advice to future students, commenting: "I can go anywhere now, I can do anything". As a result of her fantastic grades, Millie is now re-applying for her first-choice university, Loughborough, to study Geography with Economics.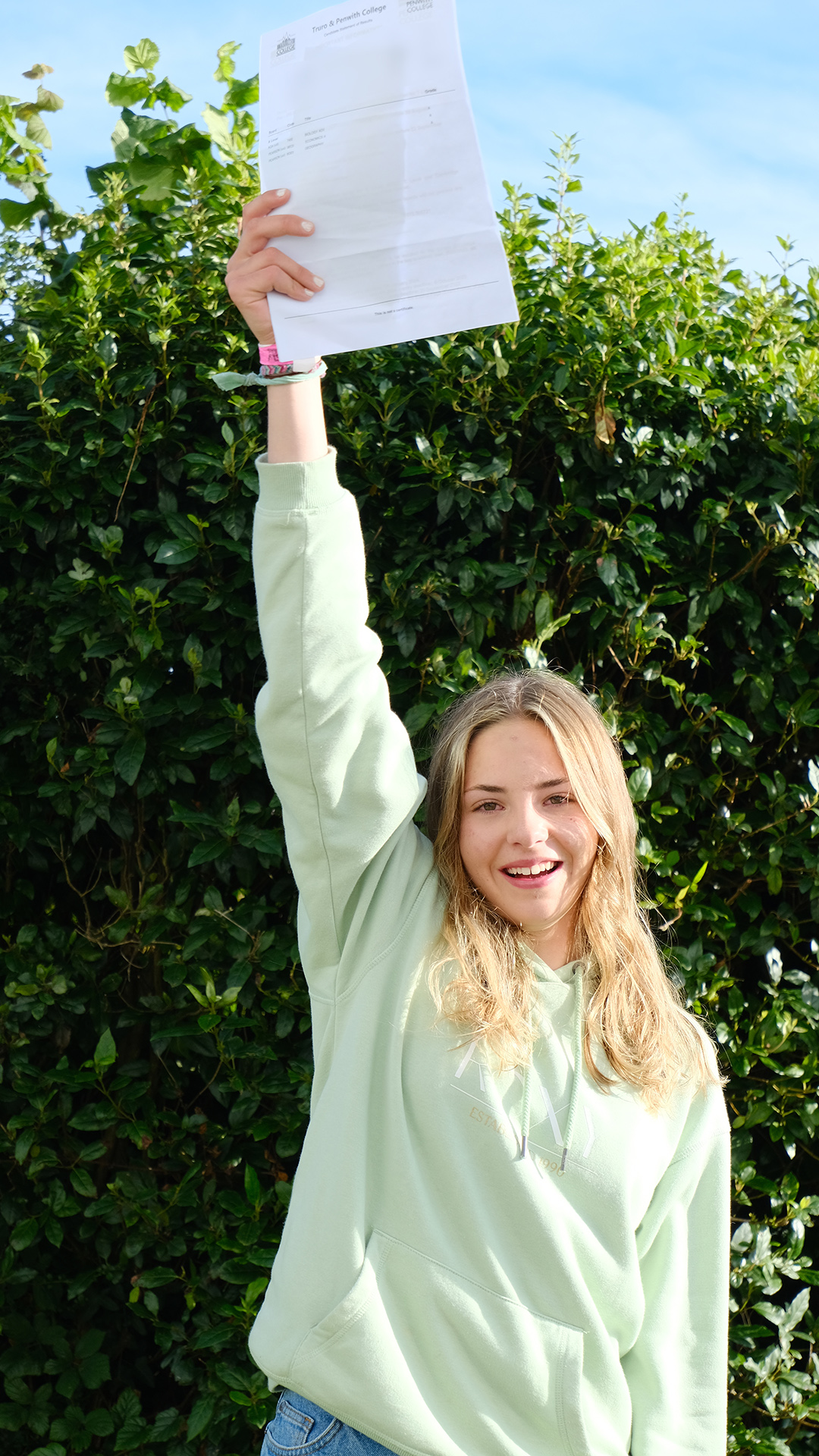 Over 600 students achieved their level 3 Vocational Extended Diplomas in subjects including Science, Engineering, Sport and Exercise Science, Information Technology, Art, Media and Health and Social Care.
75% of students gained high grades (Triple Merit or above, equivalent to three B's at A-level or above) for their Level 3 Extended Diploma.
In only their second year of results since the first cohort graduated in 2022, there was a 100% pass rate on T Levels at Truro and Penwith College, with 62% of T Level students achieving the top grade, equivalent to three A's or three A*'s at A Level.
Over 70% of our T Level in Early Years Education students gained top marks with a Distinction grade.
T Level Health student Jaz, from Threemilestone, achieved one of the top Distinction grades and is heading to Plymouth University to study Child Nursing. The College supported Jaz to complete 315 hours of work experience on the Children's Ward at Treliske Hospital as part of her studies, where she is now employed as a Healthcare Assistant and will continue gaining experience for her dream career one-day-per-week alongside her studies.
Jaz said: "I chose to study at the College as the T Level isn't available anywhere else. It felt like a natural progression from school."
Fellow former Richard Lander pupil Mia achieved a Merit in T Level Health having completed her work experience at a GP surgery and is taking a gap year before applying to continue to pursue her Healthcare career at University.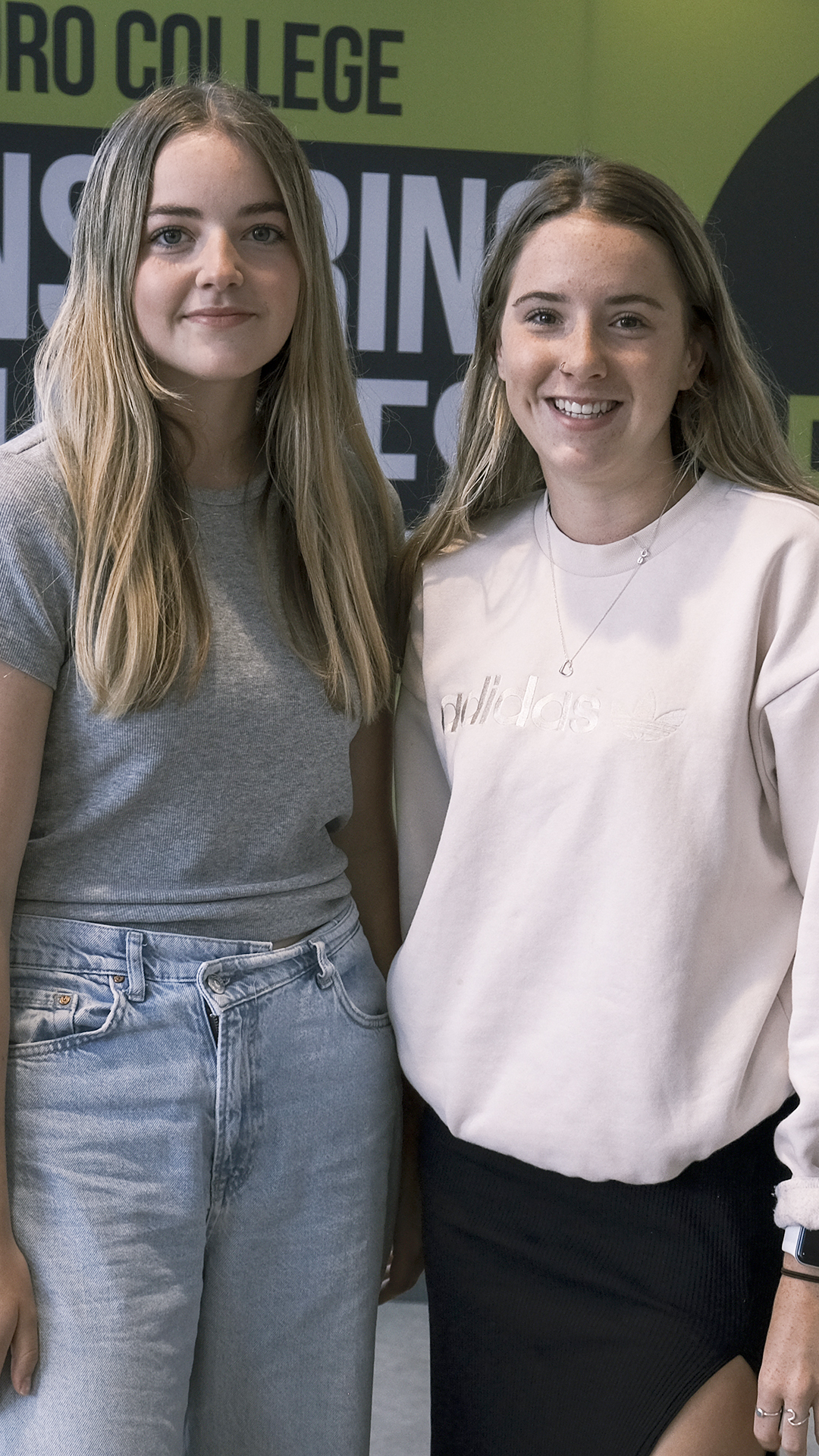 Earlier this summer, Truro College's IB Diploma students received their results and posted an incredible 100% pass rate with an average pass rate of 35, above the national average and five points above the global average.
Speaking as hundreds of students attended both Truro and Penwith College campuses to collect their results, delighted Principal Martin Tucker said: "All the hard work of the fantastic students and staff at Truro and Penwith College has been rewarded with another set of impressive outcomes for our students.
"To see so many students celebrating their successes and looking forward to the next stage of their education and training is wonderful, their educational journey so far as not been straightforward which makes these results even more remarkable."