An Autocare Technician carries out a range of services and repairs to cars, car derived vans and light goods vehicles, working in an Auto-care or "Fast-Fit" Centre, which may be part of a national chain or operated by a regional/local independent group/owner. An Autocare Technician requires a unique combination of technical, retail and customer service skills. They will use a range of tools, measuring and diagnostic equipment to identify and repair simple system faults. The Autocare Technician must demonstrate expertise in the technical elements of their role and have a good grasp of the practical and theoretical aspects of the vehicle systems they service.
They also need to have excellent telephone, customer handling (including how to handle difficult customers and deal with customer disappointment) and effective sales skills, as well as strong problem solving and self-organisation skills. They must be able to work as part of a team but also operate independently, understand how their centre operates from a commercial perspective and how their actions contribute to business results, whilst maintaining a high standard of workmanship.
Small class sizes
Highly experienced tutors
industry-standard facilities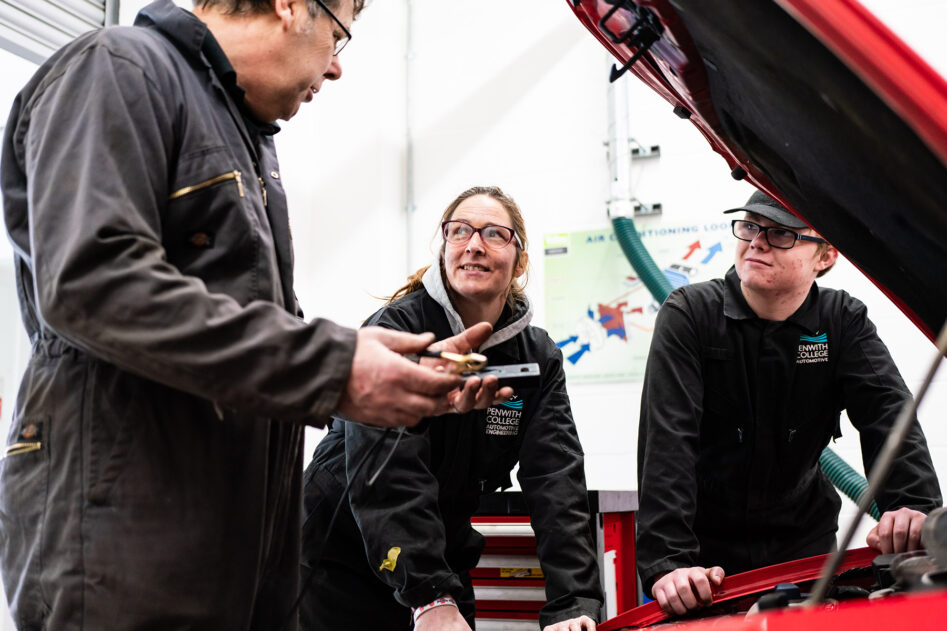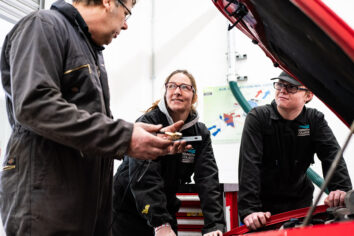 Learn from sector experts
Apprentices will be taught by staff with extensive experience who have all been tradespeople themselves. They will learn to advance their knowledge and skills to meet the expectations of the job role and the motor industry as a whole.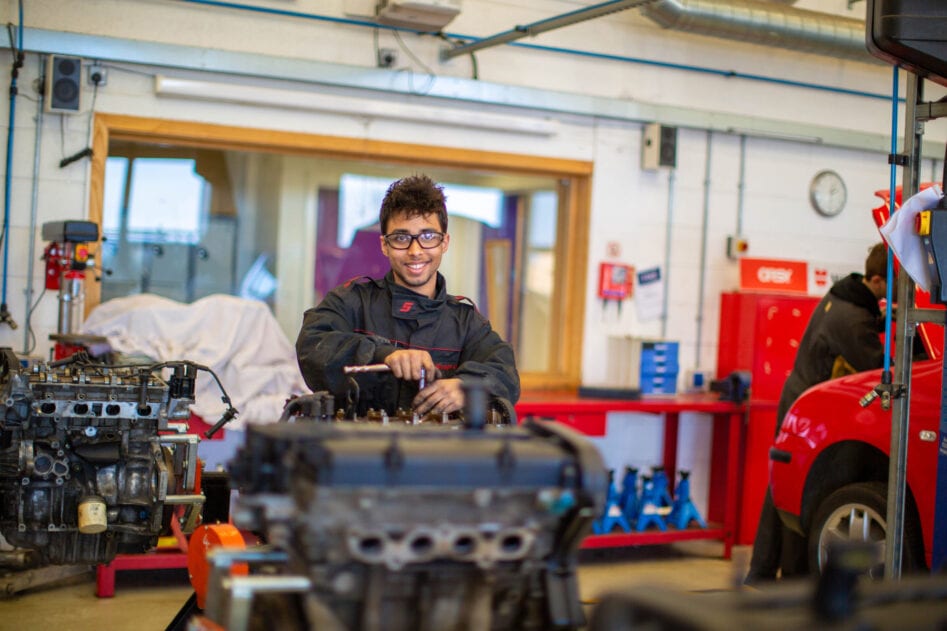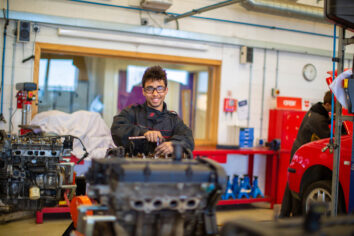 Develop work-related skills
Learners will develop complementary personal and work-related skills at College that will further enhance the skills they are developing in the workplace including communicating with customers and stock control.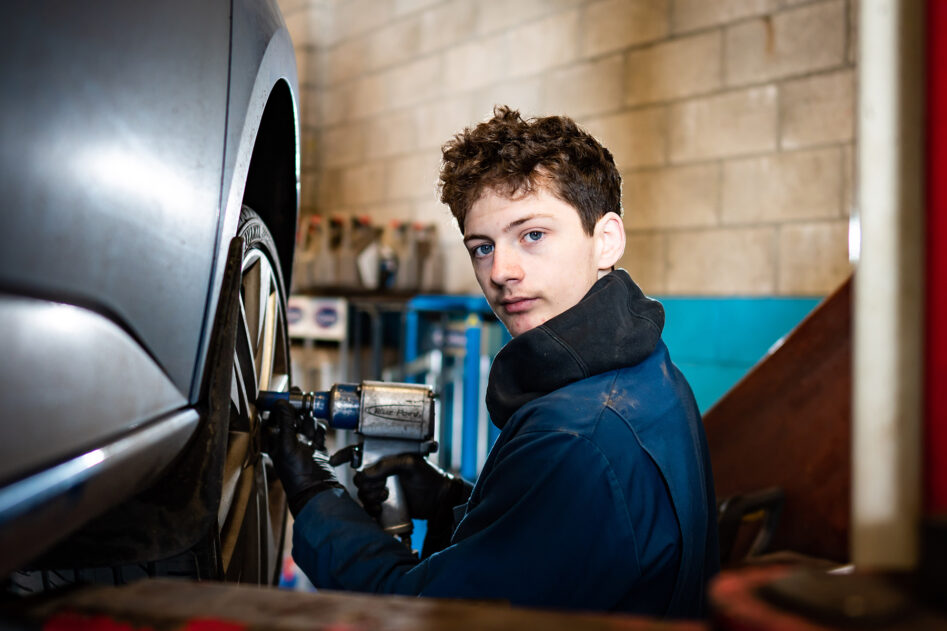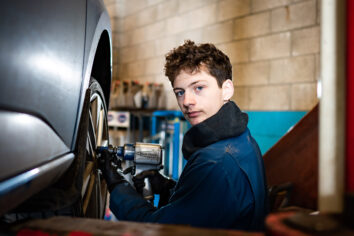 Enjoy professional surroundings
The College is equipped with the latest industry-standard vehicle maintenance and repair equipment and resources. Partnerships with many large suppliers and employers result in students experiencing a high-spec, industry-standard working environment.
What Will I Learn?
Knowledge
Tyre legislation and technical information including EU Tyre labelling, Tyre Pressure Monitoring systems, sidewall markings, homologated fitments relating to cars, car derived vans and light goods vehicles.
Fundamentals of specific vehicle systems including steering & suspension, braking systems, battery & charging systems, exhaust systems and Air-Conditioning systems.
Vehicle 4-wheel geometry principles.
Basic consumer legislation relevant to the occupation.
Appropriate Health & Safety legislation and requirements for the workplace.
Hybrid/Electric Vehicle system and safe working procedures.
Data protection requirements to protect customer and payment information.
General sales principles including, identifying customer & vehicle needs, presenting solutions, closing the sale, and dealing with buying resistance.
How the business works and how you contribute to the overall results, demonstrating commercial awareness.
How to carry out vehicle safety inspections and routine maintenance using manufacturers specifications or approved schedules, using vehicle specific data and meeting legal requirements.
The importance of following workplace procedures and the consequences of not doing so.
where will it take me?
After your Apprenticeship, you will be able to continue your career in the industry. Autocare technicians who undergo an Apprenticeship gain a qualification that is valued by employers and can, with experience, move into supervisory positions that can lead to a range of qualifications at various levels.
Assessment Arrangements
Before an Apprentice can pass through the gateway (decision point) for End-Point assessment, they must, in addition to being competent across the knowledge, skills and behaviours required by the Auto-care Technician standard, have achieved Level 1 in English and Mathematics. Those that have not already achieved Level 2 in English and Mathematics must have taken a GCSE or Functional Skills Level 2 accepted test/examination. For those with an education, health and care plan or a legacy statement the apprenticeships English and Maths minimum requirement is Entry Level 3 and British Sign Language qualifications are an alternative to English qualifications for whom this is their primary language.
End Point Assessment
Knowledge assessment – Part A: includes 50 multiple choice questions, each with 4
options, 1 mark will be awarded for the correct answer and 0 marks for an incorrect answer. Part A must be completed before Part B can be made available to the Apprentice.
Knowledge assessment – Part B: includes 20 Alternate format questions which will
have a total of 50 marks available. Alternative format questions, for example multiple
response, drag & drop and drop-down list formats, with no more than 10 questions of any single format permitted.
Practical Observation (with pre-set tasks): A one day practical observation of the apprentice in a controlled environment, which is reflective of their normal workplace. The observation will include a range of 5 practical observation tasks, which are specified by the End Point Assessment Organisation (EPAO) and set up in advance, providing an opportunity for the Apprentice to demonstrate their knowledge, skills, and behaviours.
Professional Review (supported by a portfolio of evidence): 60 minutes structured discussion between the Apprentice, and the independent assessor (with a 10% time tolerance).
– Apprentice portfolio is used to exemplify performance.
– Assesses selected knowledge, skills and behaviours defined in the Autocare Standard.
– Undertaken after the knowledge test and practical observation have taken place.
Entry Requirements
Grade 2 GCSE (E) or above in English and Maths.
Do you have a question that we haven't answered so far? Talk to our admissions team. We're here Monday-Friday 8.30am-4.30pm.
What you could earn
Mechanical Engineers
Vehicle Technicians, Mechanics and Electricians
Electrical and Electronics Technicians
Electronics Engineers
Assemblers (Electrical and Electronic Products)
Electrical and Electronic Trades
Electrical Engineers
Electricians and Electrical Fitters
Annual openings in Cornwall
12
Annual openings in Cornwall
64
Annual openings in Cornwall
12
Annual openings in Cornwall
3
Annual openings in Cornwall
5
Annual openings in Cornwall
20
Annual openings in Cornwall
11
Annual openings in Cornwall
48