Through this Apprenticeship you will gain a formal qualification while working within the industry. This Apprenticeship will suit individuals who are starting a role within a construction environment, offering a practical approach and a solid platform for anyone wishing to develop in this career path. The construction sector is the driving force behind the UK economy, employing three million people and contributing 6.4% of GDP. Not only that, the construction industry is central to delivering the homes, schools, hospitals, energy and transport infrastructure our society demands. A career in the construction industry is like no other, and bricklaying is a core function within the construction sector, particularly the house building sector.
Study Practical Skills
Outstanding Facilities
Supportive Staff
Hands-On Learning
Learn from sector experts
You will be taught by staff with extensive experience who will advance your knowledge and skills to meet the expectations of the construction industry.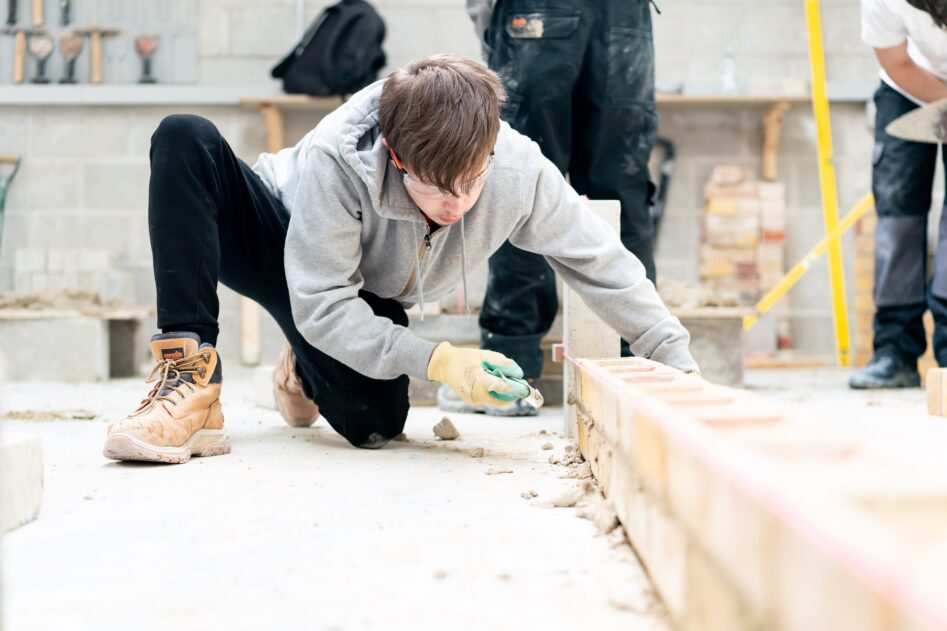 Enjoy professional environments
Enjoy workshops that replicate the world of work within industry, kitted out with tools and materials which meet those used on site.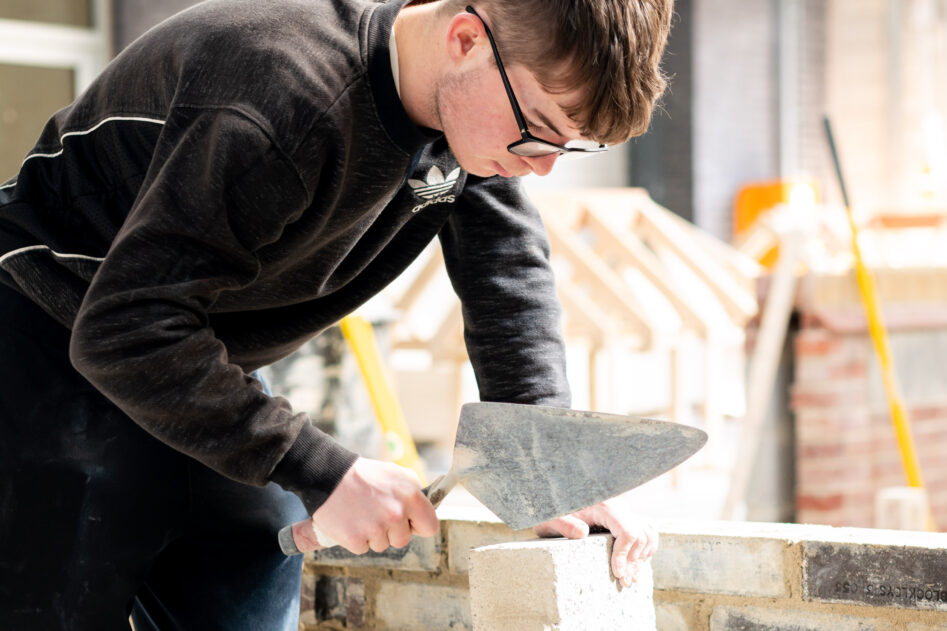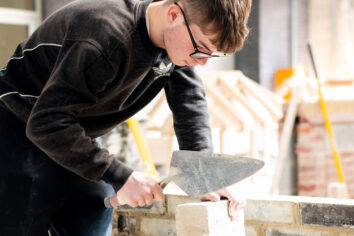 Develop skills in line with industry needs
Learn skills that are required in industry enhancing not only your knowledge and practical ability, but also your future employability.
WHAT WILL I LEARN?
The programme is broken down into modules of delivery which are covered within industry with your employer and during your time at College. The curriculum is divided into a few categories, an example of what you will be covering is detailed below:
Knowledge
Health and safety: Health and safety hazards, current regulations and legislation. Codes of practice and safe working practices, including asbestos awareness and correct use of personal protective equipment (PPE).
Energy efficiency: The importance and considerations of thermal qualities, airtightness and ventilation to buildings.
Communication: Different communication methods. How to communicate in a clear, articulate and appropriate manner. How to adapt communication style to different situations. How to interpret and use drawings and specifications.
Buildings: Different eras, types of construction methods, insulation considerations, sustainability, facilities management, fire, moisture and air protection. Fireplaces and chimneys. Damp proof courses and the use of brick ties. An awareness of the location of trees and services, and their impact on foundation types
Radial and battered brickwork: Set out and build brickwork, including complex arches and surrounding brickwork, curved on plan, concave and convex brickwork and battered brickwork.
Skills
Safe working: Adhere to relevant health and safety legislation, codes of practice and apply safe working practices, including when working at heights. Safe use of 'disc cutters' and power cutters.
Working area: Select appropriate tools, equipment and materials (e.g. trowel, levels, brick ties, DPC, insulation, mixers, lintels etc) for use when setting out and erecting masonry walling. Maintain a clean working environment.
Masonry structures: Interpret drawings and specifications. Measure the work area and set out level first courses of bricks to a plan, including bonds for openings and the damp course. Mix mortar by hand or with a mechanical mixer. Lay bricks to set dimensions and apply mortar with a trowel to completion. Shape and trim bricks/blocks using hammers, chisels and power tools. Use of laser levels, spirit levels, optical levels and string lines to check that courses are straight, horizontally and vertically, and laid to a gauge. Ensure thermal qualities, airtightness and ventilation are maintained. Remove waste materials. Repair and renew masonry structures.
Read More
WHERE WILL IT TAKE ME?
This qualification will allow you to progress into employment, enhancing the skills and knowledge that you have gained at Level 2, or to progress into a Level 3 course in a related discipline. You could also progress into a range of specialist construction or business skills programmes.
Employment options include working for a housebuilding company, a property development company, or working as part of a small business repairing and refurbishing buildings.
Entry Requirements
For entry to this programme you will need a Grade 2 in English and Maths GCSE. You must have a keen interest in construction and a good work ethic. You must be able to work alone and as part of a team and demonstrate commitment to the course.
Assessment Arrangements
The employer, in consultation with the training provider, will make the judgement as to whether the Apprentice is ready for end-point assessment through the achievement of a Level 2 English and Mathematics qualification. On conclusion that the assessment gateway requirements have been achieved, you will be able to proceed to the end-point assessment stage of the Apprenticeship. It is expected that you will complete the assessment gateway requirements within three months of your planned Apprenticeship completion.
Your end-point assessment will consist of the following measures of knowledge and competence:
Knowledge Test
Practical Assessment
Additional Information
We provide all of the tools and materials for the course, however you will be responsible for your own PPE and will be required to come equipped with a pair of steel toe capped boots and a pair of safety glasses.
Awarding Body: City and Guilds
Do you have a question that we haven't answered so far? Talk to our admissions team. We're here Monday-Friday 8.30am-4.30pm.
What you could earn
Quantity Surveyors
Chartered Surveyors
Architects
Chartered Architectural Technologists
Production Managers and Directors in Construction
Construction and Building Trades Supervisors
Elementary Construction Occupations
Construction Operatives
Annual openings in Cornwall
27
Annual openings in Cornwall
11
Annual openings in Cornwall
5
Annual openings in Cornwall
0
Annual openings in Cornwall
63
Annual openings in Cornwall
40
Annual openings in Cornwall
85
Annual openings in Cornwall
30