Plastering serves a protective function; in that it makes buildings more robust and is also an aesthetic function. Plasterers will often complete dry lining projects during their career. You will learn to prepare background surfaces including solid plain walls, walls with openings and returns, ceiling joists and partitions, and beams and piers that are attached or independent of walls. You will also study solid plastering work which includes preparing solid backgrounds by hand and mechanical means and installing sheet materials such as expanded metal lath/rib lath, standard angle beads, skim beads, stop beads, expansion beads and reinforcements for the application of one, two or three coat plastering or rendering systems.
Hands-on Learning
Outstanding Facilities
UK Skills Gap
Experienced Staff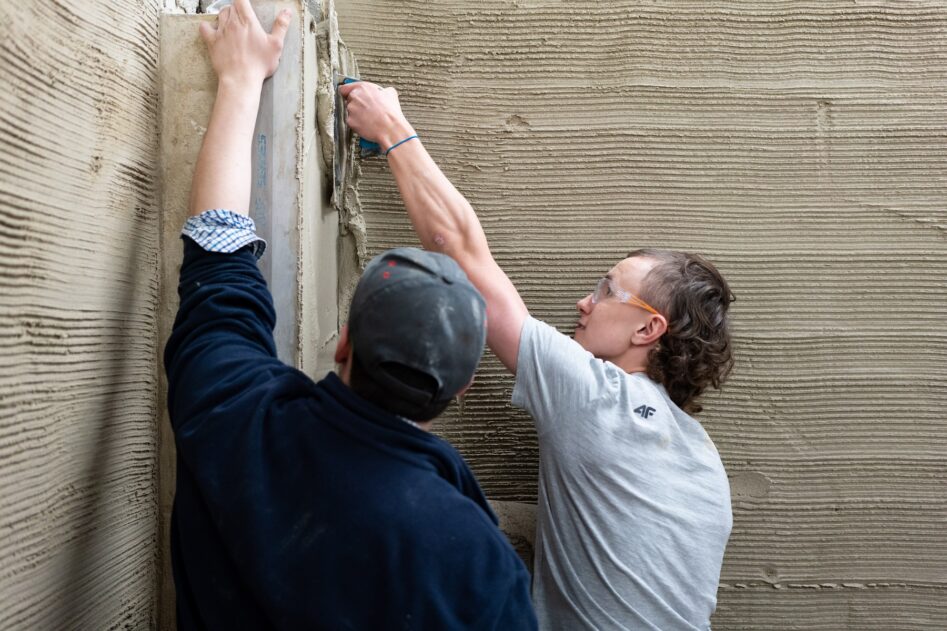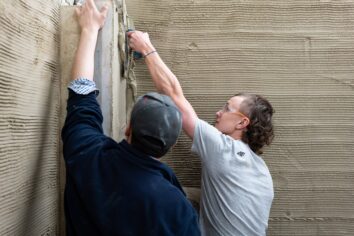 Learn from sector experts
You will be taught by staff with extensive experience who will advance your knowledge and skills to meet the expectations of the construction industry.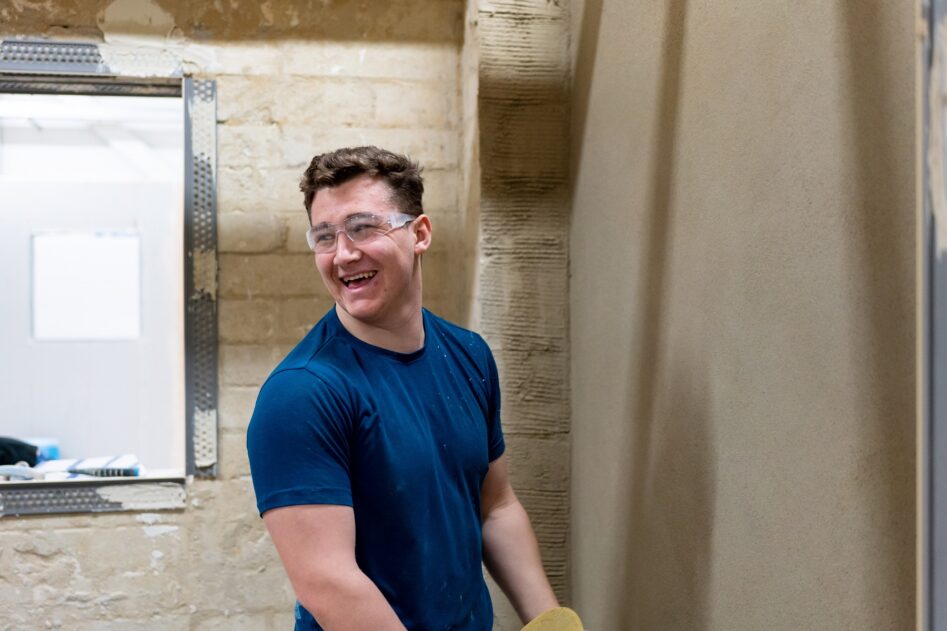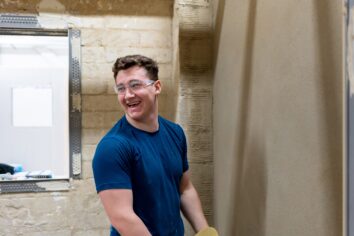 Enjoy professional environments
Enjoy workshops that replicate the world of work within industry, kitted out with tools and materials which meet those used on site.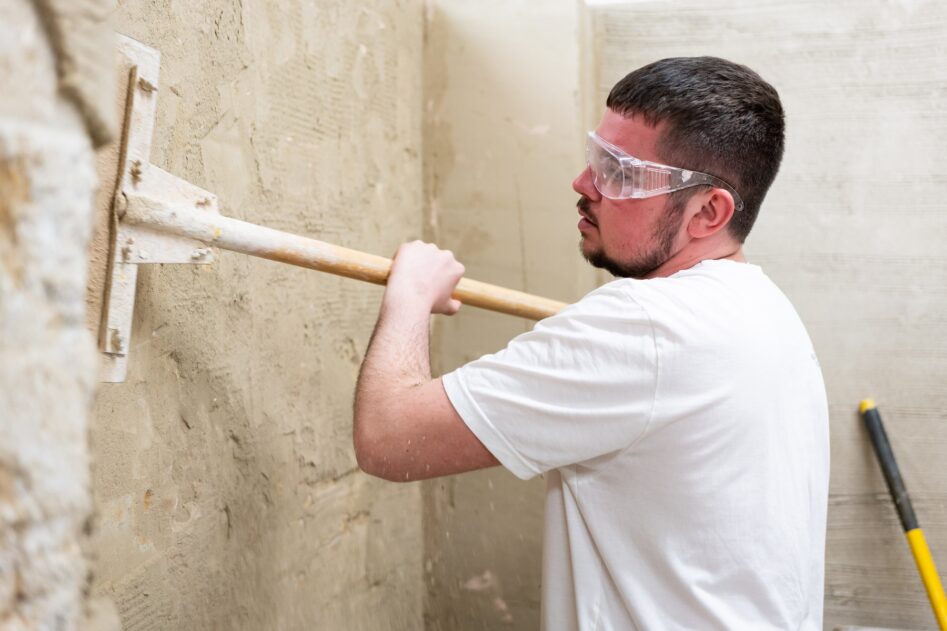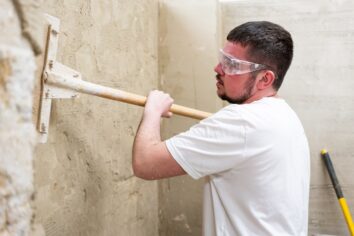 Develop skills in line with industry needs
Learn skills that are required in industry, enhancing not only your knowledge and practical ability but also your future employability.
What Will I Learn?
The programme is broken down into modules of delivery which are covered within industry with your employer and during your time at College. The curriculum is divided into a few categories, an example of what you will be covering is detailed below:
Knowledge
Health and safety: Health and safety hazards, current regulations and legislation. Codes of practice and safe working practices, including asbestos awareness and correct use of personal protective equipment (PPE).
Customer service: The principles of high-quality customer service. Establishing the needs of others (colleagues, customers and other stakeholders). Respect the working environment including customers' properties, impact on other trades and the project.
Communication: Different communication methods. How to communicate in a clear, articulate and appropriate manner. How to adapt communication style to different situations. How to interpret and use drawings and specifications.
Buildings: Different eras, types of construction methods, insulation considerations, facilities, fire protection. The importance of thermal/insulation to buildings, damp proofing/tanking, renovation and restoration.
Skills
In-situ moulds: Construct running moulds to match existing moulding design, set up running rules and plaster screeds, run in-situ moulding work including coring out using bracketing on solid backgrounds. Assemble benches, run short breaks and form stop ends, make good internal and external mitres and returned ends.
Running moulds: Construct positive or negative running moulds. Set down running rules correctly. Run reverse moulds and prepare for casting. Run panel moulds. Take casts from reverse moulds.
Repairing existing plaster: Renovate and restore internal and external effected surfaces back to original state.
Install cast mouldings: Install cornice mouldings including forming internal and external mitred angles.
Read More
Where Will It Take Me?
This qualification will allow you to progress into permanent employment, enhancing the skills and knowledge that you have gained at Level 2, students will have the opportunity to progress into a Level 3 course in a range of specialist construction programmes in your area of interest.
You could work for a house building company, a property development company, or working as part of a small business repairing and refurbishing buildings.
Entry Requirements
For entry to this programme, you will need a Grade 2 in English and Maths GCSE. You must have a keen interest in construction and a good work ethic. You must be able to work alone and as part of a team and demonstrate commitment to the course.
Assessment Arrangements
The employer, in consultation with the training provider, will make the judgement as to whether the Apprentice is ready for end-point assessment through the achievement of a Level 2 English and Mathematics qualification. On conclusion that the assessment gateway requirements have been achieved, you will be able to proceed to the end-point assessment stage of the Apprenticeship. It is expected that you will complete the assessment gateway requirements within three months of your planned Apprenticeship completion.
Your end-point assessment will consist of the following measures of knowledge and competence:
Knowledge Test
Practical Assessment
Additional Information
We provide all of the tools and materials for the course, however you will be responsible for your own PPE and will be required to come equipped with a pair of steel to capped boots and a pair of safety glasses.
Awarding Body: City and Guilds
Do you have a question that we haven't answered so far? Talk to our admissions team. We're here Monday-Friday 8.30am-4.30pm.
What you could earn
Quantity Surveyors
Chartered Surveyors
Architects
Chartered Architectural Technologists
Production Managers and Directors in Construction
Construction and Building Trades Supervisors
Elementary Construction Occupations
Construction Operatives
Annual openings in Cornwall
27
Annual openings in Cornwall
11
Annual openings in Cornwall
5
Annual openings in Cornwall
0
Annual openings in Cornwall
63
Annual openings in Cornwall
40
Annual openings in Cornwall
85
Annual openings in Cornwall
30