If you enjoy learning about Computers and Information Technology, then the Extended National Diploma in Information Technology will be of great interest to you. This new course has been completely revamped to cover the very latest subjects in Information Technology. Building on your existing knowledge this course will stretch and challenge your IT knowledge and skills. Lessons take place in specialist IT rooms with networked PCs. Your lecturers will be specialists in their field who will teach you through a variety of demonstrations, lectures and by helping you undertake a variety of practical tasks. You will have access to hardware and networking lab facilities for the practical parts of the course.
Small Classes
Experienced Tutors
Modern Equipment
Outstanding Facilities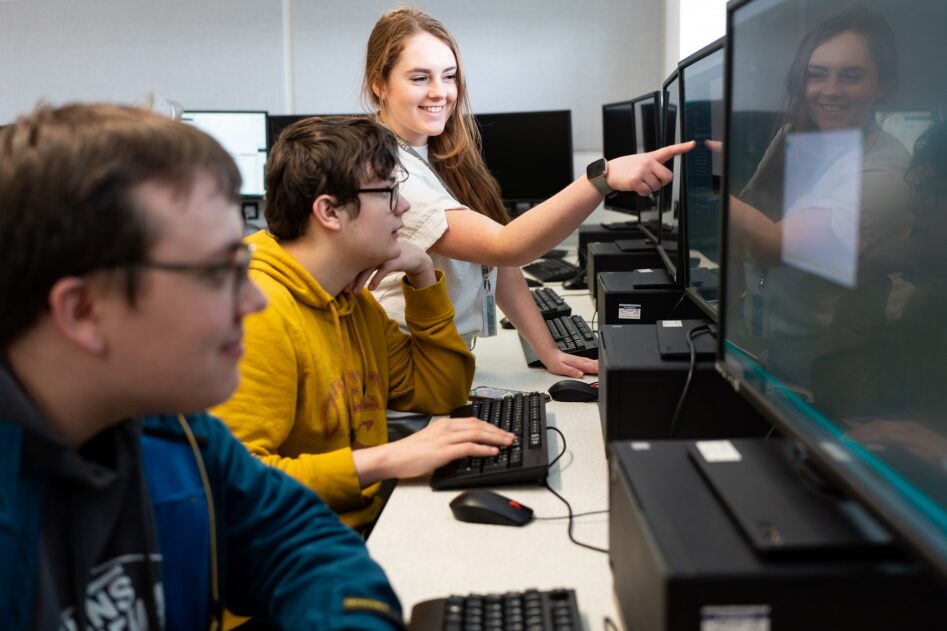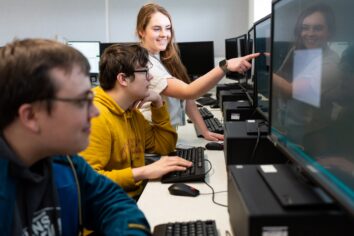 Learn from sector experts
You will be taught by staff with extensive experience who will advance your knowledge and skills to meet the expectations of the IT industry.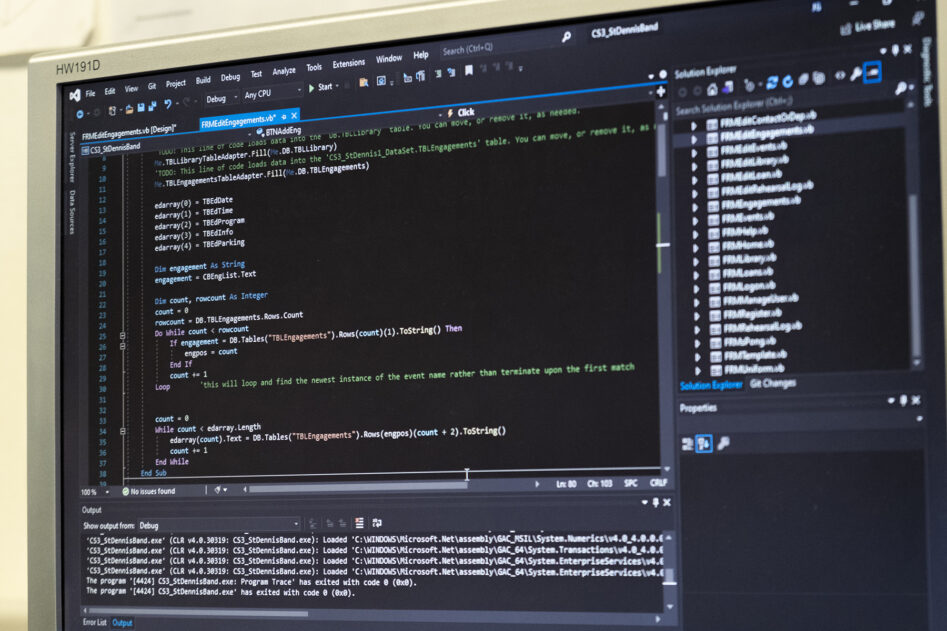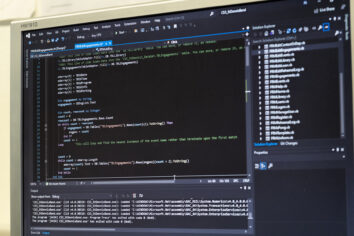 Develop work-related skills
During your tutorial programme, you will develop personal and work-related skills which will help prepare you for Higher Education and full-time work.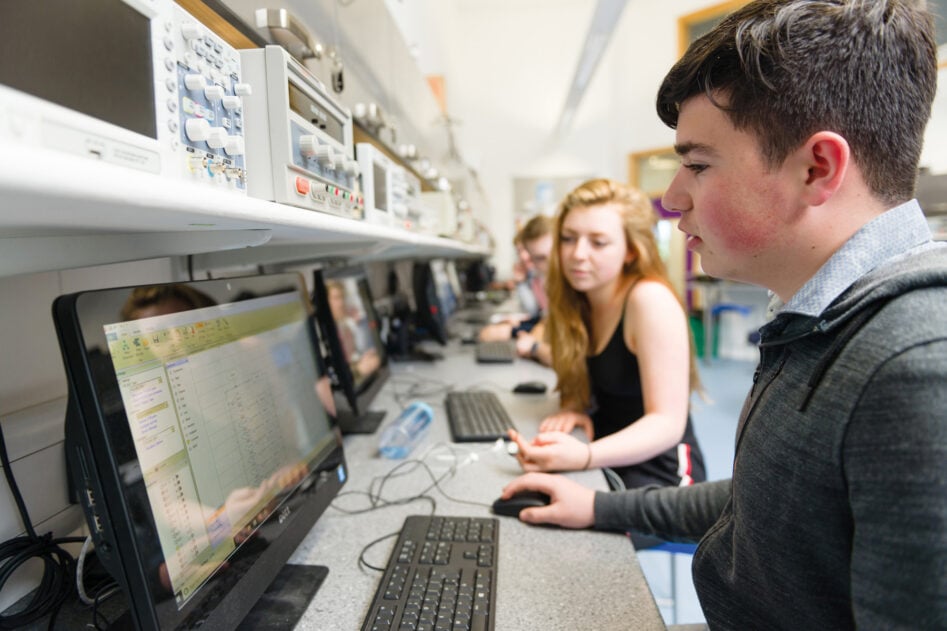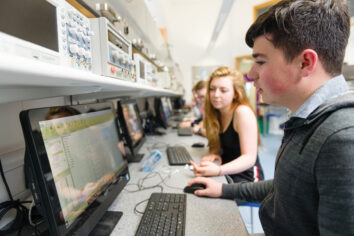 Enjoy professional surroundings
Our computer rooms are kitted out with the latest computers and software resources.
What Will I Learn?
Covering thirteen different subjects over two years, you will study a wide range of topics including the Information Technology Systems, Creating Systems to Manage Information, Using Social Media in Business, Computer Programming and Games Development. You will work on a wide variety of interesting practical and theoretical projects.
Units that you will study:   
Information Technology Systems 
This unit will introduce you to some of the fundamental ideas of digital systems. You will learn about digital devices, software in IT systems, transmitting data, operating online, the impact of systems on organisations, using and manipulating data, legal and ethical issues of using IT systems. 
Creating Systems to Manage Information 
In this unit you will learn how to manage information using a relation database. Subjects covered include the use and design of relational database management systems. By the end of the unit you should confident in creating, testing and refining database solutions. You should also be able to evaluate its efficacy and fitness for purpose.
Using Social Media in Business 
In our connected world social media has now become a primary tool for businesses to engage with customers. Social media allows business to explore new markets, generate leads, and support the existing client base. In this unit you will learn how successful companies transform their business and catapult themselves ahead of the competition. You will be able to describe the impact, risks and issues of using social media. You will learn the importance of planning, implementing and evaluating a social media campaign. 
Programming 
In this unit you will study computational thinking skills and the characteristics of programming languages. You will learn how design and develop a software solution to meet customer needs.  
Data Modelling 
In this unit, you will investigate the fundamentals of the decision-making process. You will find out how using data modelling provides the computational ability to compare consequences, and determine a preferred course of action. You will develop the skills and techniques necessary to create complex spreadsheets in order to produce accurate information that informs decision making. 
Computer Games Development 
In this unit, you will investigate the technologies used in the computer gaming industry and the implications they have for users, developers and organisations. You will analyse how user needs and preferences impact on game design and how target technologies affect the design and development of a computer game. Finally, you will design, create and review a computer game to meet requirements and reflect on the skills and understanding applied during the design and development process. 
IT Project Management 
In this unit you will learn how to plan and manage a computer project. Working on your own project will help you learn in a practical way how to create and follow a development plan using a variety of techniques. You will undertake a logical and appropriate feasibility study for your own project and reflect on the success of personal performance and the project outcome. 
Cyber Security and Incident Management 
In this unit, you will examine the many different types of cyber security attacks, the vulnerabilities that exist in networked systems and the techniques that can be used to defend an organisation's networked systems. You will investigate the techniques used to assess risks and ways of planning to deal with the results of a cyber security incident and recover systems following an incident. It seems that every month the news reports another breach of systems security with subsequent loss of data. In this important unit you will learn some of the fundamental principles of IT Security. Topics covered will include high level networking principles, evaluation of security risks, threats, and system vulnerabilities. You will learn to design an appropriate effective security protection plan for a networked system.
IT Technical Support and Management 
In this unit, you will examine the support and management needs and characteristics of IT systems used by organisations, identifying areas where support is necessary and the different job roles involved. You will examine the legislation and regulations that are in place to provide a safe and productive environment for employees. 
Software Testing 
In this unit, you will learn about the different software testing methodologies that are used as part of commercial software development projects, and the effects of different software development methodologies. 
IT Service Delivery 
You will explore a range of organisations and investigate their IT service needs, examining the computer systems that have been set up, used and integrated to deliver IT services to users and customers. You will examine issues related to the use of IT and the implications for organisations and their customers. You will analyse the IT services and requirements of organisations to plan the implementation of the IT service delivery solution. 
Customising and integrating Applications 
In this unit, you will explore how different technologies, such as Visual Basic for Applications (VBA), application programming interface (APIs) and third-party extensions can be used to extend the functionality of applications, including cloud products such as Software as a Service (SaaS). These technologies allow businesses to customise and integrate applications with greater scope and flexibility than is possible using off-the-shelf software. You will explore different technologies and techniques for customising and/or integrating applications by undertaking a series of short activities, analysing the results. 
By the end of this course you will be confident in planning, designing and writing computer programmes, designing data models, customising and integrating applications, building websites, designing and programming computer games, designing data models. You will understand how to configure and protect an IT system from attack and subsequent data loss. You will be able to describe the impact that IT systems are having on our world and how businesses are using the latest technologies to gain competitive edge.
Read More
Where Will It Take Me?
Upon successful completion of this course you will have a comprehensive understanding of modern Information Technology. You will be well prepared to enter the work place as an IT professional or to go on and study an IT degree at university, or even become an Apprentice and earn while you learn.
Assessment Arrangements
Today's BTEC Nationals are demanding, as you would expect of the most respected applied learning qualification in the UK. You will have to complete all the units, be organised, take some assessments that we will set and mark by college and the exam board, and keep a portfolio of your assignments. But you can feel proud to achieve a BTEC because, whatever your plans in life – whether you decide to study further, go on to work or an apprenticeship, or set up your own business – your BTEC National will be your passport to success in the next stage of your life.
Entry Requirements
You must attend an interview where your experience and/or performance and attitude will be taken into account.  You will need 4 GCSEs at Grade 4, at least one of these in Maths and/or English.
Information & Support
Working within the Student Services area, the Student Support team will see you on a one to one basis and offer advice and guidance on financial, personal and emotional issues. A professional team of staff work together with your personal tutor to support you so that you can successfully complete your course and recognise pathways to progression after leaving College. 
Awarding Body: Pearson/Edexcel
Do you have a question that we haven't answered so far? Talk to our admissions team. We're here Monday-Friday 8.30am-4.30pm.
What you could earn
IT Specialist Managers
IT Business Analysts, Architects and Systems Designers
IT Engineers
IT User Support Technicians
IT Operations Technicians
IT Project and Programme Managers
Programmers and Software Development Professionals
Design and Development Engineers
Annual openings in Cornwall
29
Annual openings in Cornwall
12
Annual openings in Cornwall
4
Annual openings in Cornwall
17
Annual openings in Cornwall
14
Annual openings in Cornwall
11
Annual openings in Cornwall
36
Annual openings in Cornwall
7