You will start off by learning the basic hairdressing techniques that are the foundation of becoming a successful hairdresser. You will learn how to create a variety of haircuts, colouring effects, and styling techniques in line with current trends. You will learn the importance of having excellent employability skills such as, communication, personal presentation, time keeping, personal development, flexibility, commitment and how it impacts on your own career path. Your lessons will be held in a professional commercial salon environment, where you will practice your new skills on training heads and your peers in preparation for client services.
During the course, you will have the opportunity to develop and research your understanding and knowledge on all aspects of hairdressing through practical and project work.
National Competition Opportunities
Transferable skills
Experienced tutors
Confidence building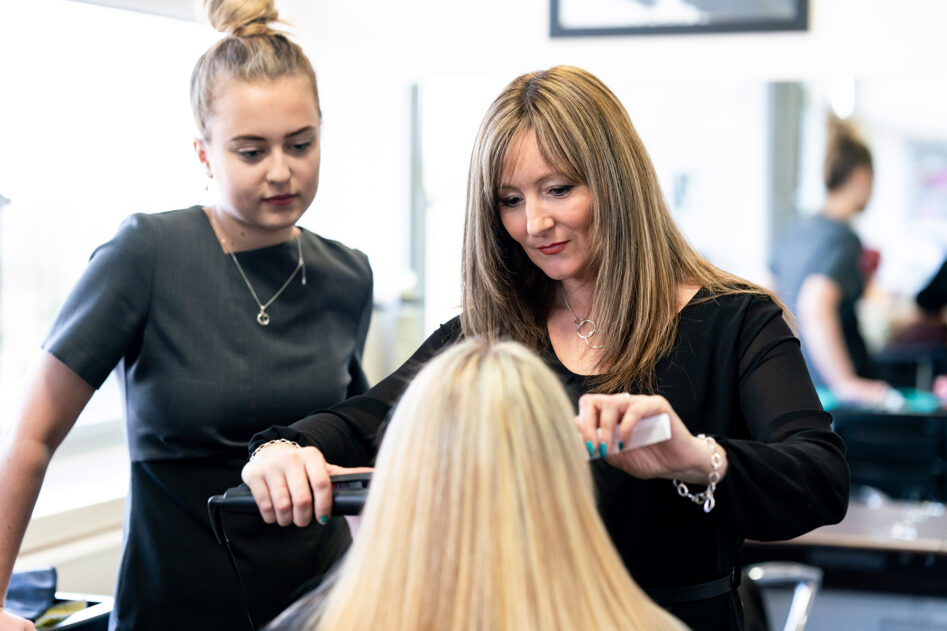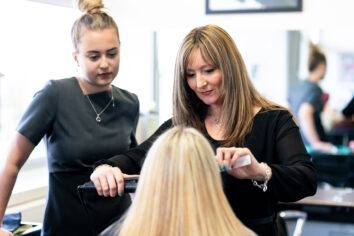 Learn from sector experts
You will be taught by staff with extensive industry experience who will advance your knowledge and skills to meet the expectations of the hairdressing industry.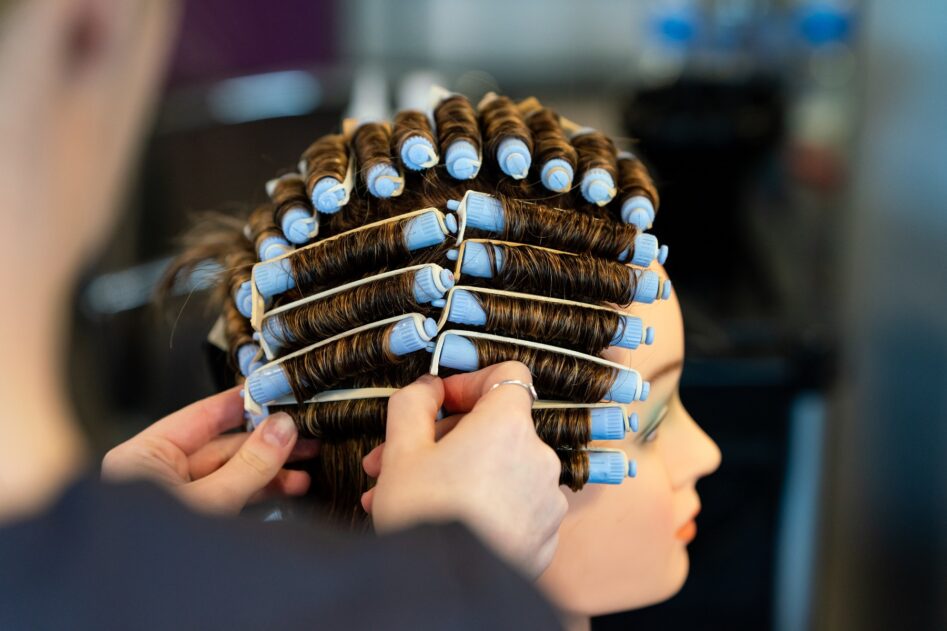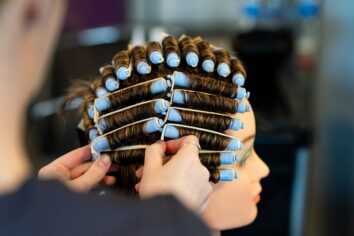 Enjoy professional surroundings
Our working hairdressing salons all contain the latest industry-standard equipment and resources.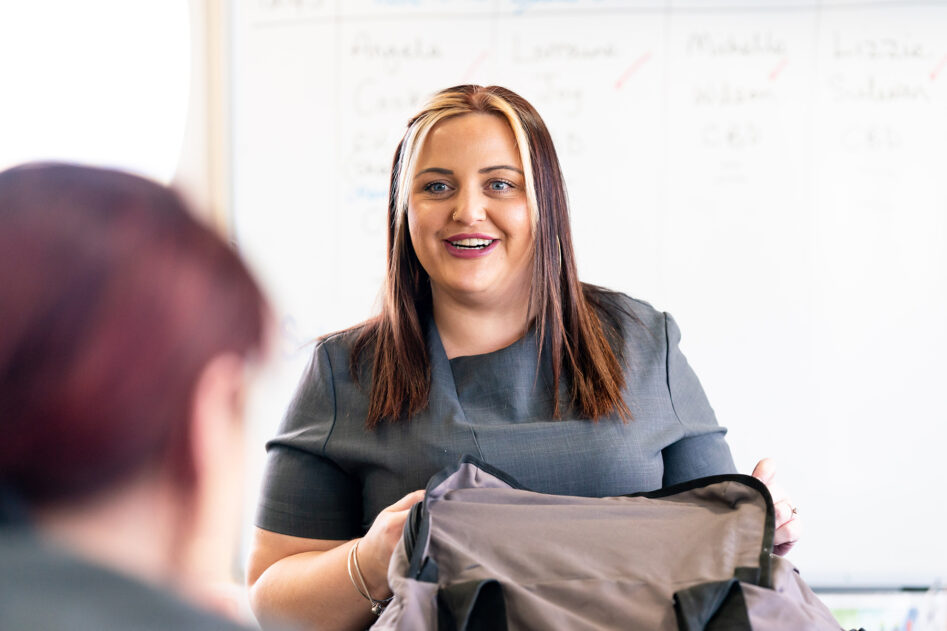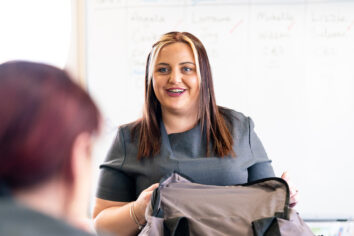 Develop work-related skills
During your programme you will develop personal and employability skills which will help prepare you for full-time work after you have completed the qualification. You will undertake a one day a week work placement in a hairdressing salon throughout your qualification.
What Will I Learn?
Units studied may include:
Advise and consult with clients
Blow-dry and style hair
Colour and Lighten Hair
Cut Ladies Hair
Health, Safety & Hygiene
Client Consultation
Shampoo, Condition and treat the Hair and Scalp
Set and Dress Hair
Style hair with electrical equipment
You will be required to undertake a work placement alongside your course and course timetables will be adapted to incorporate this provision.
You will discover the importance of English and maths skills and the important role they play in your everyday life, from timing services, mixing and measuring chemicals, reading manufacturer's instructions and so on. You will look at how to adapt your communication techniques to meet a variety of social and cultural needs together with the essential retail techniques required to promote your success as a Hairdresser. This is a qualification that has been specifically designed by professionals in the Hair industry and will ensure you are fully prepared for employment.
Read More
Where Will It Take Me?
Opportunities are many and varied for the enterprising hairdresser, from small salons to high fashion large city salons, ocean liners, television, and theatre. Progression to Level 3 Hairdressing would enable you to start your own business or franchise, while higher education courses could qualify you for teaching, training, or assessing posts.
Assessment Arrangements
Your achievement in this subject is dependent upon excellent attendance, punctuality and effort. You will learn in a friendly atmosphere, using a variety of assessment methods:
Externally and internally marked practical assessments
An externally set and externally marked examination
An externally set and internally marked graded synoptic assessment
Discussions and presentations are a vital part of our assessment process and you will be expected to contribute to these
You will review your own performance in 1:1 sessions with your tutor
You will undertake mock examinations on each unit in advance of your final exams
You will be formally examined on each unit that you study to test your practical competence and knowledge of the subject
Students will have the potential to achieve an overall qualification grade of: Pass, Merit, Distinction, Distinction*
Entry Requirements
A minimum of three GCSEs at Grade 3 or above which must include a 4 in English or Maths
Information & Support
We encourage all students to read widely and conduct their own research into the ever-changing world of the hairdressing industry. You will be supported in your work throughout your course to enable you to be productive and help you track your progression.
Additional Costs: You will require a kit and uniform
Awarding Body: VTCT
Do you have a question that we haven't answered so far? Talk to our admissions team. We're here Monday-Friday 8.30am-4.30pm.
What you could earn
Hairdressing and Beauty Salon Managers and Proprietors
Hairdressers and Barbers
Beauticians and Related Occupations
Customer Service Managers and Supervisors
Annual openings in Cornwall
2
Annual openings in Cornwall
26
Annual openings in Cornwall
15
Annual openings in Cornwall
66