The VRQ Level 3 Diploma in Make-up Artistry will stretch and challenge you by providing the knowledge and practical expertise to take you forward into any area of make-up artistry. It will also help you to develop consultation skills with your clients and higher communication abilities within the salon and freelance make-up environment. You will start by learning the techniques and the theory behind these advanced skills. You will have the opportunity to practice all you have learned before carrying out the chosen techniques on models in the salon. You can plan and design all your own creations and show them off by choosing the perfect faces to work on.
You will rapidly increase your understanding, skills and confidence by working to meet clients' many different requirements in various work experience settings. These will include a weekly work placement in a salon, plus possible further experience in movie-work, shoots with photographers, make-up for theatrical performance groups and fashion show work. These opportunities will build your self-assurance and employability skills to enable you to find your role within the make-up industry.
You will research and develop theoretical knowledge to increase your understanding of the make-up world. Written assignments will be produced to show your awareness through coursework. This, alongside mandatory, online test papers, will cement your practical skills to ensure your success. Students must be prepared to commit to all aspects of the course.
Small Classes
Experienced Tutors
Industry-Standard Facilities
Modern Equipment
Industry Links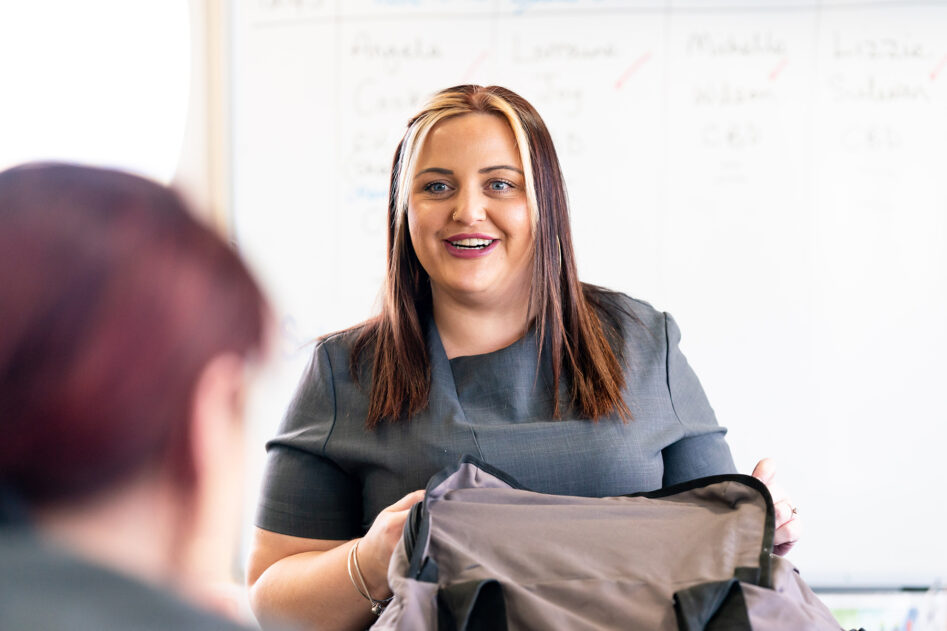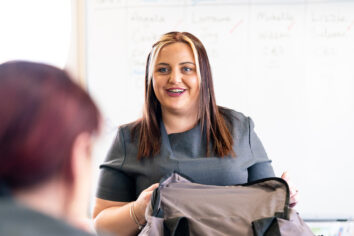 Learn from sector experts
You will be taught by staff with extensive experience who will advance your knowledge and skills to meet the expectations of the make-up artistry industry.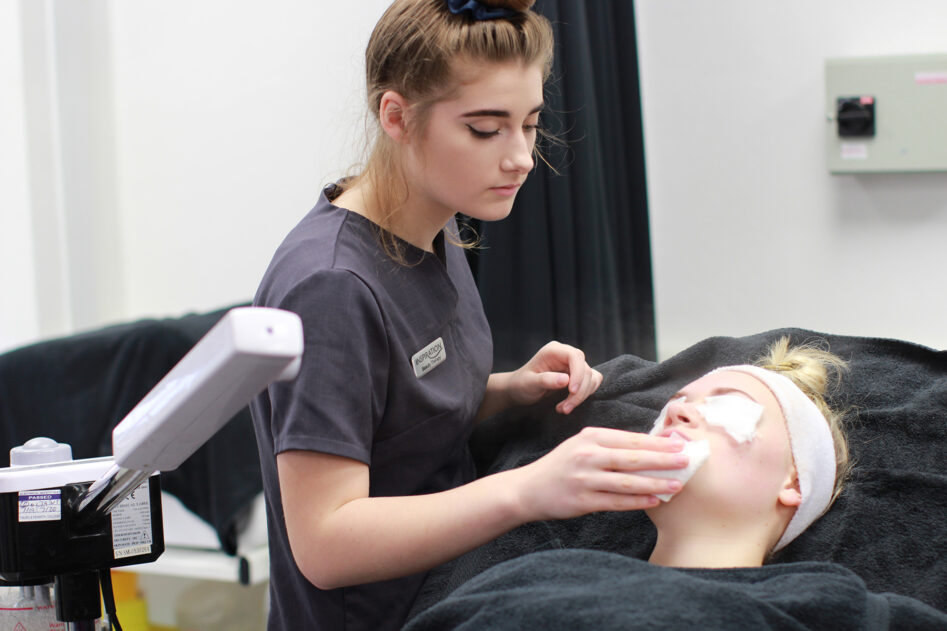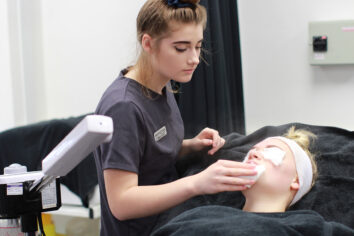 Develop work-related skills
During your tutorial programme, you will develop personal and work-related skills which will help prepare you for employment after you have completed your full-time training in College.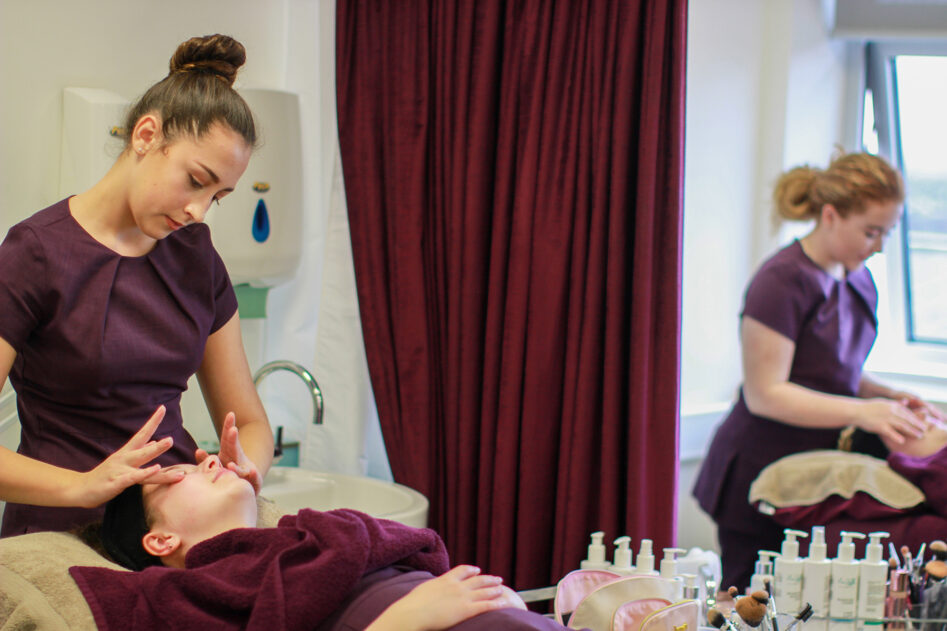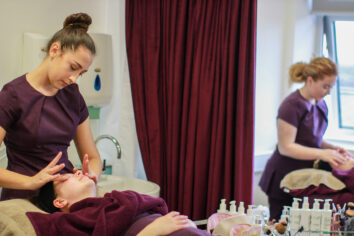 Enjoy professional surroundings
Our working hair and beauty salons all contain the latest industry-standard equipment and resources.
What Will I Learn?
Throughout this qualification you will develop your knowledge and understanding of all relevant subject areas. You will build interpersonal skills that will assist you to communicate effectively during practical client sessions.
A variety of teaching methods including discussions, demos and presentations will be used. You will work on your own, in pairs or small groups, practicing techniques within a realistic work environment.
Units studied include:
Monitor and maintain health and safety
Apply Make-up
Apply airbrush make-up
Media make-up
Fashion and photographic make-up
Client care and communication
Instruct on Make-up
Camouflage make-up
Apply Face and Body Art
Promote Products and Services
Read More
Where Will It Take Me?
Freelance and mobile make up businesses are prevalent in Cornwall with a thriving wedding industry. You can also link with photographers in the fashion industry, work in beauty salons and health spas, provide makeup for television and film, work with modelling agencies or within cosmetic counters at department stores.
Assessment Arrangements
Your achievement in this qualification is dependent upon excellent attendance, punctuality, and effort. You will study in a friendly, yet professional atmosphere, using a variety of assessment methods.
Most of the assessment is completed through practical observations of skills and techniques and this will be carried out throughout all your units, as you continuously strive to work towards a competent level within your treatments.
You will be assessed regularly on written theory work that may be conducted within the class or as a homework activity. Feedback will be continuously provided on your progress and your performance will be regularly reviewed during 1:1 sessions.
All units in this qualification are graded Pass/Fail by:
Externally set and internally marked, practical assessment through observation
Externally set and marked online examinations
Entry Requirements
GCSE Grade 4 in four subjects with one being in English or Maths, plus a Level 2 Beauty Therapy or Hairdressing qualification or equivalent.
Information & Support
We encourage you to practice your treatments away from College and to utilise the online resources provided by the College for guidance. In addition, we expect you to conduct your own research during set home study activities in relation to completion of assignments. You will need salon uniform and specific equipment; full advice will be given on these before the start of your course.
A one day a week work placement is a mandatory requirement for this course. It must equate to 45 days or 315 hours throughout the year.
Do you have a question that we haven't answered so far? Talk to our admissions team. We're here Monday-Friday 8.30am-4.30pm.
What you could earn
Hairdressing and Beauty Salon Managers and Proprietors
Hairdressers and Barbers
Beauticians and Related Occupations
Customer Service Managers and Supervisors
Annual openings in Cornwall
2
Annual openings in Cornwall
26
Annual openings in Cornwall
15
Annual openings in Cornwall
66