A student from Falmouth is one of the top achievers in the world after receiving an incredible full-marks score of 45-points on the International Baccalaureate Diploma (IB) at Truro College, a result that is equivalent to five A-stars at A Level.
Gabe Higgins was attending an Open Event at the University of Cambridge when he received his results and later discovered that he is one of the most successful students on the planet.
Gabe achieved his remarkable full-marks-feat during the toughest IB year in recent history with only 25 students in the UK and fewer than 180 students world-wide achieving the top score of 45.
He is now set to study a Foundation Diploma in Art & Design at the University Centre Truro and Penwith. Gabe will be applying to study Architecture at the University of Cambridge from September 2024 and will be guided through his application with help from the College, including taking part in its Oxbridge Support Programme.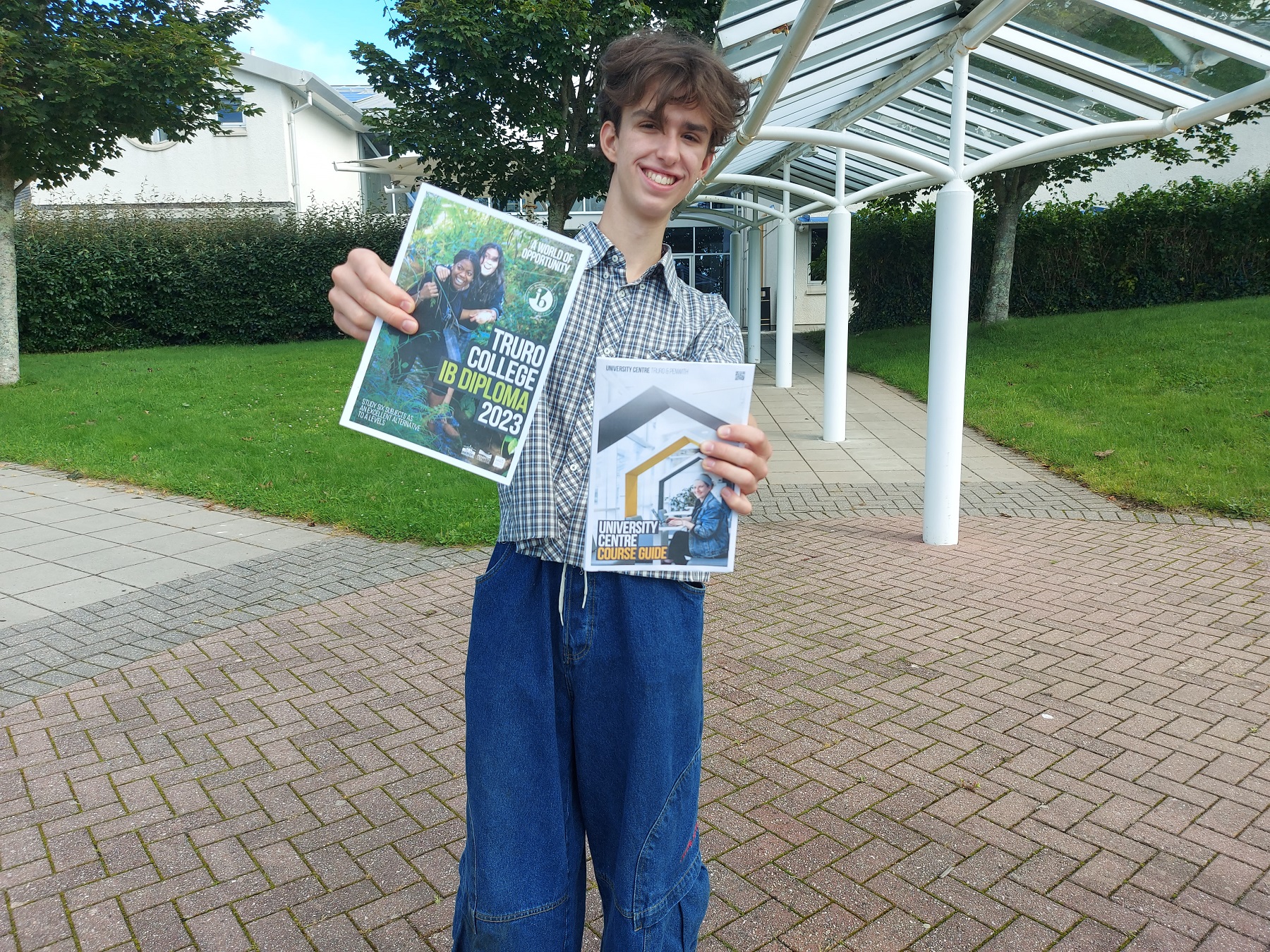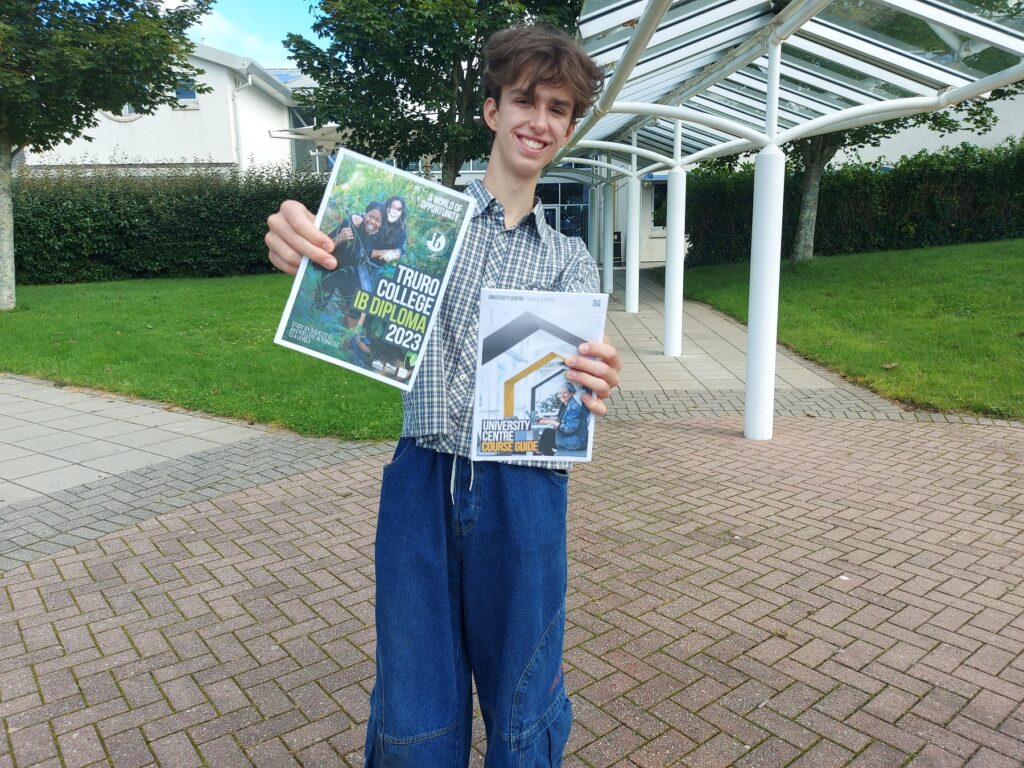 "When I got the news I couldn't quite believe it", said Gabe. "I really didn't think that I'd get the top score, it's all been a surprise but I am very happy that lots of hard work over the last two years has paid off."
Gabe, who previously went to Falmouth School and is a Server at The Working Boat Pub in Falmouth alongside his studies, thanks his College lecturers and family for supporting him to achieve his world-leading results.
Gabe commented: "The College's IB Coordinator and Oxbridge Lead Angie and my History Lecturer were super helpful. History was the subject that I felt would be hardest and my lecturer was really supportive. My parents were also incredibly supportive during times of intense revision at home.
"All the lecturers at Truro College were really good at teaching the IB. The College has great facilities and teaching for everything, it's a great environment to be taught in."
Gabe is now the joint-highest achiever of all time at Truro College. He had been exploring his options to study four A Levels until a conversation about the IB drew his attention and it 'immediately felt right'.
"While applying for College at school I didn't know about the IB", said Gabe. "It immediately felt right for someone like me who enjoyed school and learning in lots of different subjects, I couldn't imagine doing anything else."
Aside from Gabe's full-marks score of 45 points, 2023 marks another incredible year of success for Cornwall's only IB cohort at Truro College which achieved a 100% pass rate, with more than 25% of students scoring over 40, at an average point score of 35.2, well above the global average of 30.24.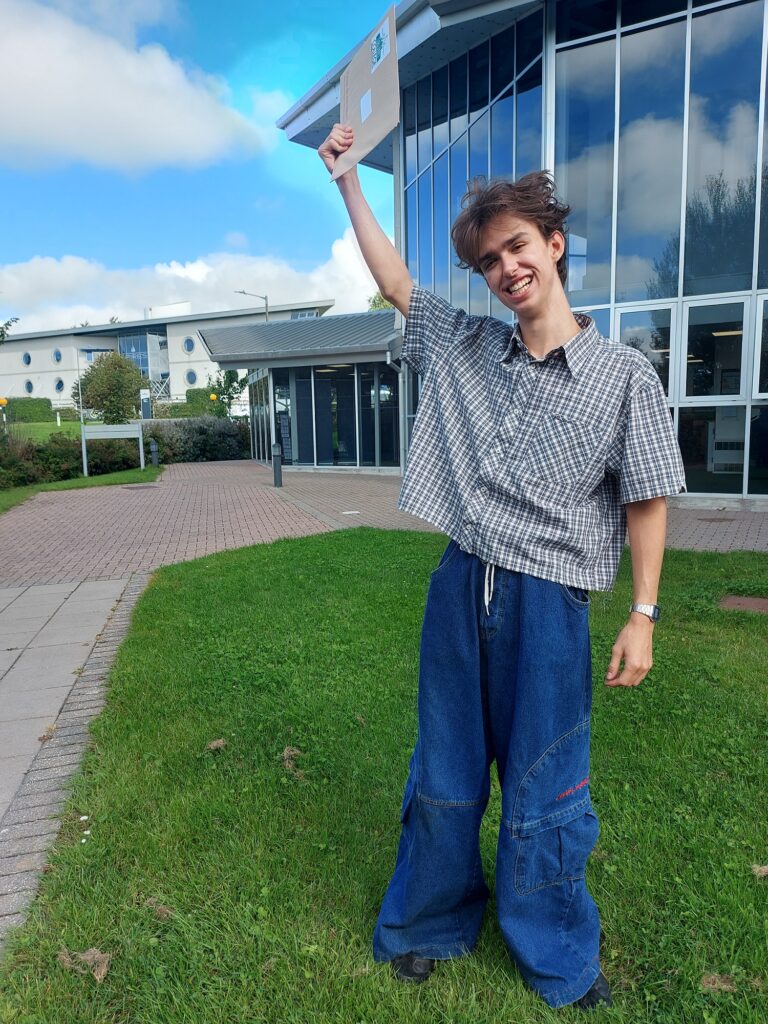 Many other students from this year's IB cohort have successfully received offers to study at prestigious universities across the UK including Oxford, Edinburgh and Warwick where they plan to study History & Politics, Social Anthropology & Politics, Maths and Physics.
Of Truro College Gabe said: "I chose Truro College because it has so many options for courses and is really strong for the IB. I enjoyed the prospect of being around so many people with so many extracurricular opportunities and so many other students doing so many different things, not the limited pool of people you study with at sixth form.
"I made an entirely new set of friends at College and it's a really exciting place to learn with great facilities and teaching, in Cornwall especially, it's a bit of a stand-out College.
"My extended essay focused on responses to the British landscape in art and artists who break the mould of perceiving it in its traditional form. I loved having the freedom to research and write about something I wanted to cover in so much detail and I really threw myself into it, that level of writing was really good preparation for Uni."
Angie Liversedge, the IB Coordinator and Oxbridge Lead at Truro and Penwith College, said: "Despite this cohort of IB students having never sat an exam session until this year, due to Covid, they have achieved some superb results.
"Our average points score this year of 35.2 reflects the exceptional hard work of our students and is well above the global average of 30.24. It is therefore not surprising that they are sought after by top universities and this year is no exception with students gaining places at the most competitive universities in the UK.
"Our students have exemplified the very best qualities of the International Baccalaureate, not only with their academic excellence but also by being compassionate, open-minded and principled learners. I am proud of every one of them."
The College is still accepting applications for students to start in September. Visit truro-penwith.ac.uk to start your journey.
Discover the IB at Truro College.
Explore the College's Enrichment offer, including the new Accelerate Programme and dedicated Oxbridge Support Programme.