Cornwall's very best apprentices and apprenticeship employers have been announced with the publication of the 2022 Cornwall Apprenticeship Awards shortlist.
The ever-popular public vote for the Achiever of the Year category returns, providing members of the public with the opportunity to vote for their winner of the category that recognises learners who have overcome a personal challenge or adversity.
After a dazzling post-pandemic return in 2021, the annual Cornwall Apprenticeship Awards is returning for the seventh time in 2022, in partnership with DL Accounts Ltd, supported by Pirate FM and with media partners Cornwall Live and Business Cornwall.
42 nominees have been shortlisted across 16 categories for the awards evening, hosted by Pirate FM's Holly Day and Neil Caddy on 18 November. The full shortlist is available at www.truro-penwith.ac.uk/caa.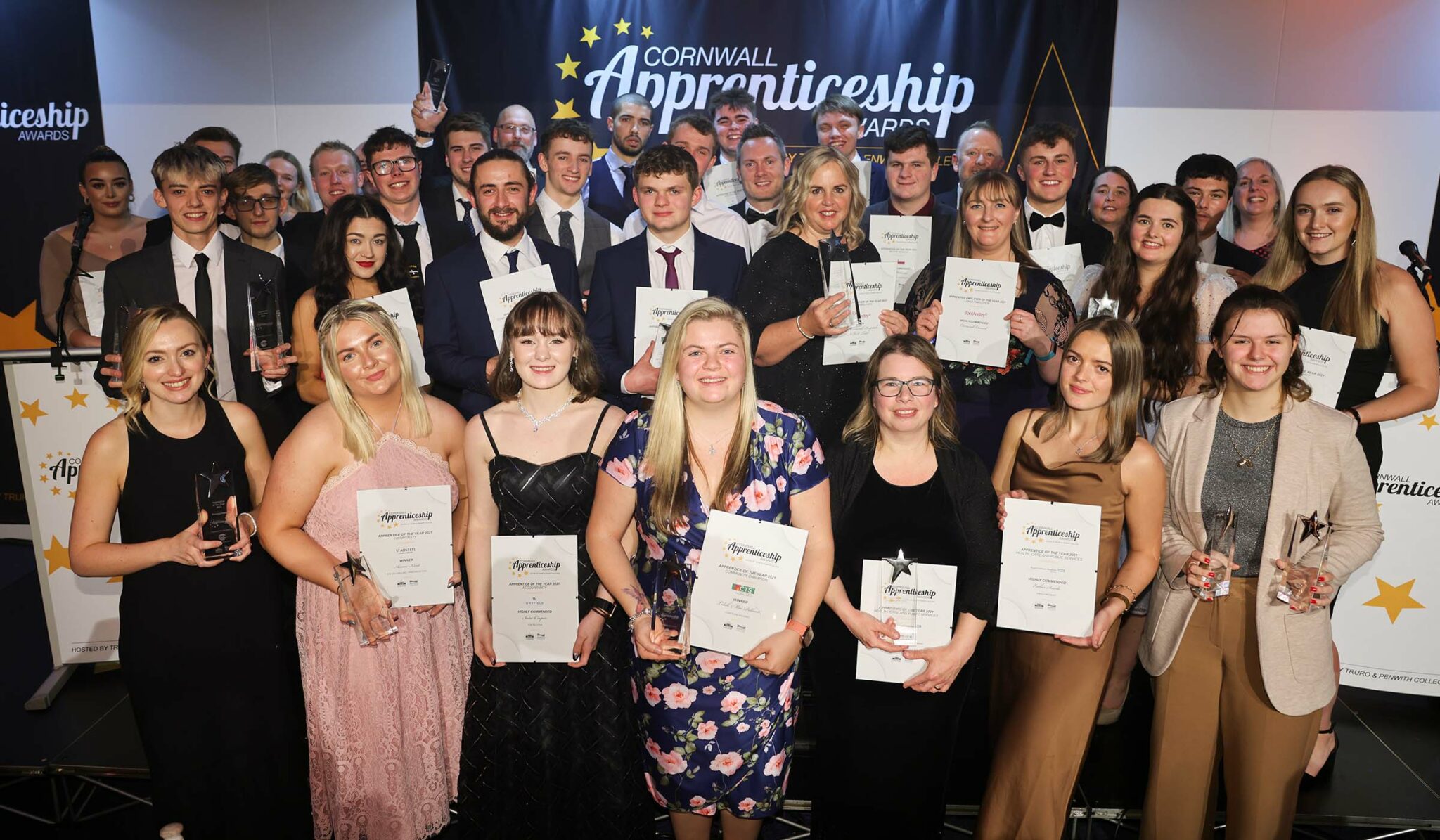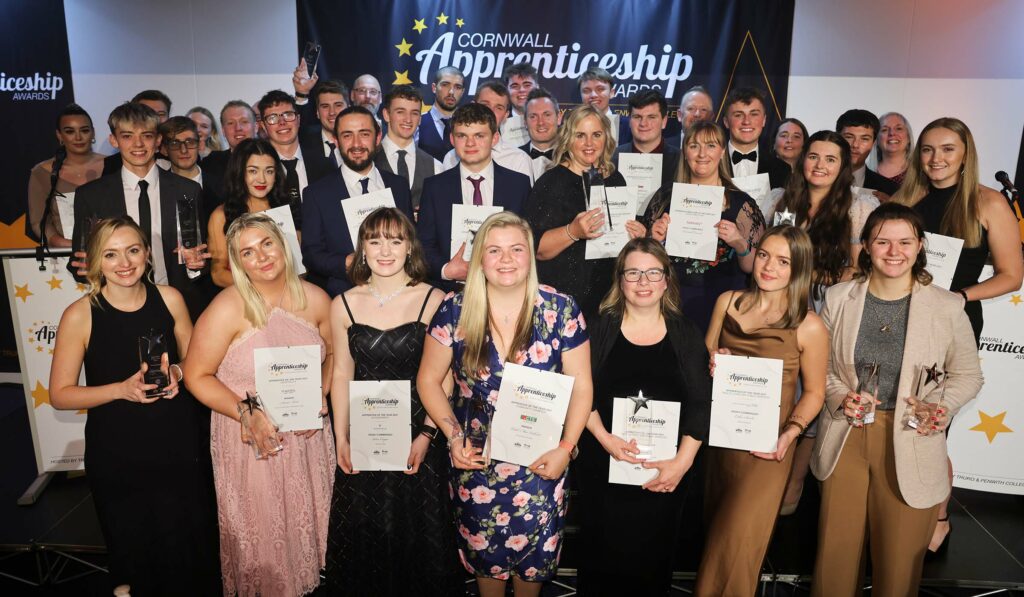 The Achiever of the Year category awards an apprentice who has overcome personal challenge or adversity to successfully complete their Apprenticeship training and make valuable contributions to their employer.
The inspirational stories of the 2022 Achiever of the Year nominees; Rachael Carter, Ruth Dowling and Lois Craze can be found at; www.truro-penwith.ac.uk/public-vote where members of the public can vote for their winner – voting closes on 18 September.
Described as 'a role model to young children' 17-year-old Leah Richards from Byrne Black Belt Academy was awarded Achiever of the Year in 2021.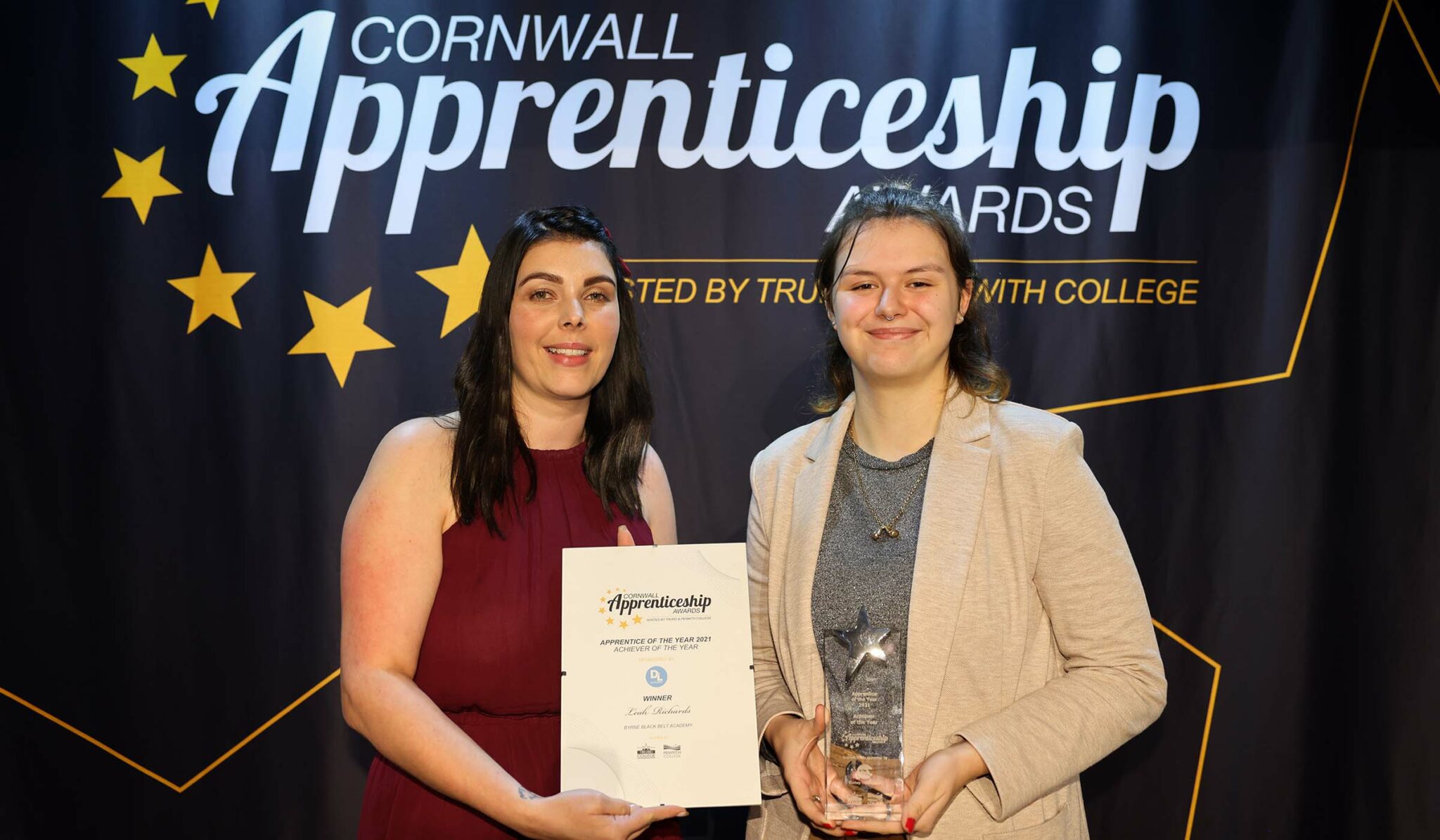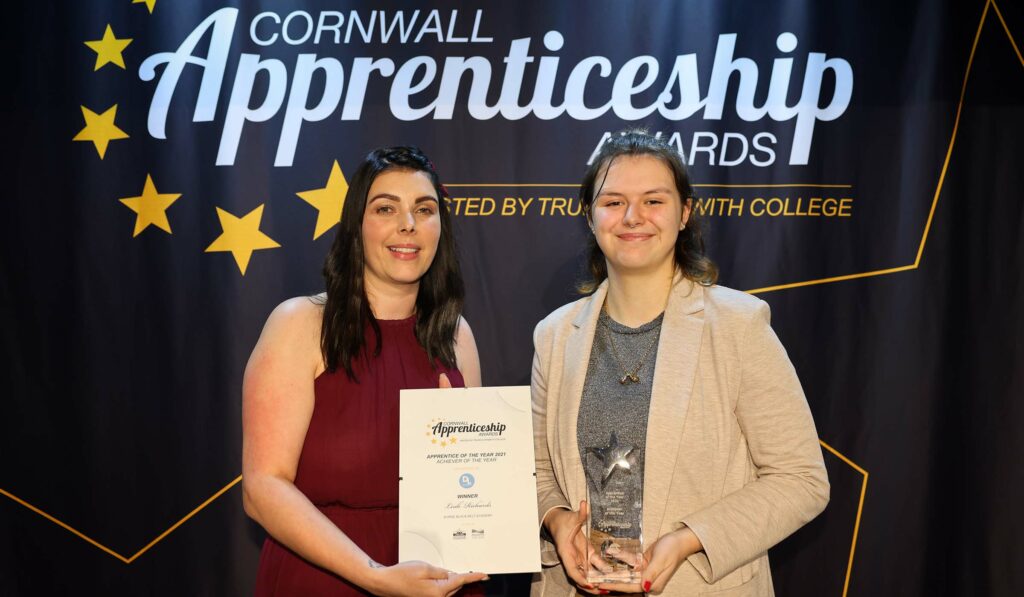 Leah struggled at school and College but her personality shone through at her martial arts classes at the Academy, leading to her being offered an apprenticeship in Customer Service where she excelled, not only supporting new students but teaching her own classes and filming 75-hours of videos to keep students active and entertained during the various Covid-19 lockdowns.
Now in its seventh year the annual Cornwall Apprenticeship Awards continues to grow and is well established as one of the leading training awards in the South West.
Nineteen local and national organisations have come out in force to support the 2022 Awards (see below) and the positive impact apprenticeships are having on learners, businesses and communities.
Martin Tucker, Principal at Truro and Penwith College commented; "We are delighted to announce the shortlist for the seventh annual Cornwall Apprenticeship Awards.
"Apprenticeships are a key part of Cornwall's Economic Strategy to deliver a high-quality workforce and career opportunities. 2022 is an exciting time for Apprenticeships at the College with recent multi-million-pound infrastructure investments aiding curriculum development and boosting future skills.
"For apprenticeships to deliver economically they need to be of the highest quality. The Awards present a perfect opportunity to recognise that quality and we look forward to celebrating county-wide success on 18 November."
Anyone seeking advice on apprenticeship training programmes, or for opportunities to get involved in the Cornwall Apprenticeship Awards should contact the Truro and Penwith College Apprenticeship team on 01872 305500 or email apprenticeships@truro-penwith.ac.uk.  
For more information about the 2022 Cornwall Apprenticeship Awards visit www.truro-penwith.ac.uk/caa.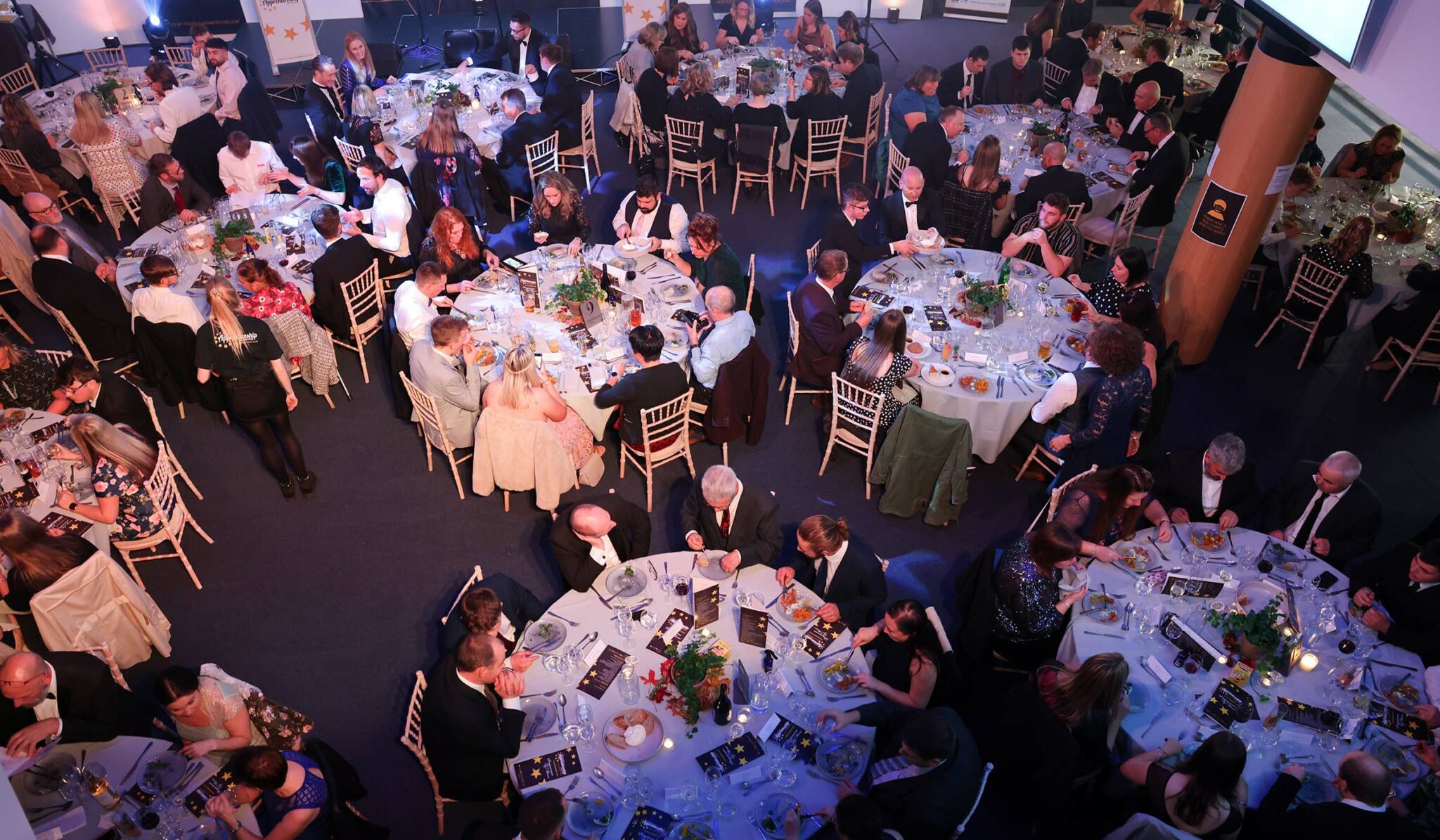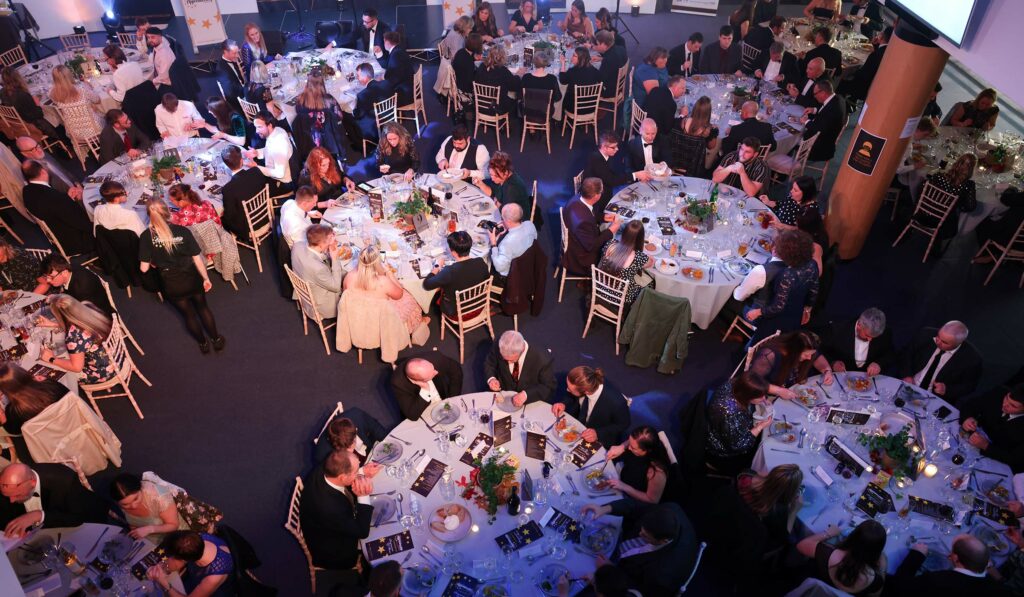 2022 Cornwall Apprenticeship Award Shortlist 
Employer categories: 
Large Employer of the Year, sponsored by FootAnstey: 
A&P Falmouth
Cornwall Partnership NHS Foundation Trust
Cornwall Group
SME Employer of the Year, sponsored by Inn Cornwall: 
Flynqy Pilot Training
Kings Service Centre
Lost Gardens of Heligan
Apprentice of the Year in: 
Hospitality, sponsored by BIIAB: 
William Dunstan – Inn Cornwall
Holly Welch – Lost Gardens of Heligan
Aaron Robbins – Lost Gardens of Heligan
Accountancy, sponsored by GetMyFirstJob:  
Jade Beech – RRL
Jamie Sherwood – St Petrocs
Tabitha Lawer – Whyfield
Construction and Trade Occupations, sponsored by RS Renovations: 
Toby Miller – Corbey Construction
Pabelo Brando-Jackson – West Cornwall Carpentry Contractors Limited
Eleanor Greenwood – C G Fry & Son
Health, Care and Public Services, sponsored by Cornwall Partnership NHS Foundation Trust: 
Candis Light – Shortlanesend School
Maeve Hoey – Cornwall Partnership NHS Foundation Trust
Ty Norris – Smile Together Dental CIC
Digital and IT, sponsored by University of Exeter: 
Tyler Lane – Data Duopoly
Serena Timmins – Cornwall Fire & Rescue Service
Amelia Hopkinson – Kings Business Limited
Business, sponsored by Cornwall Apprenticeships: 
Katie Ramage – Paul Morgan and Associates Wealth Management Ltd
Rachael Carter – Cornwall Council
Ruth Dowling – SeaKisses
Management, sponsored by Cornwall and Isles of Scilly Skills Hub: 
Jonathan Stephens – Isles of Scilly Steamship Company Ltd
Lois Craze – FX Plus
Michael Blything – FX Plus
Marketing, sponsored by Bull & Wolf Film Co: 
Amy Bowden – Truro & Penwith College
Ethan Walker – Hertzian
Lowenna Hoskin – Hertzian
Hair and Beauty, sponsored by VTCT: 
Lee Brooks – Beachcombers Hair & Beauty
Rose Bassett – Escape Beauty Salon
Tegan Reynolds – Vanilla Hair & Beauty
Motor Vehicle: 
David Gardner – North Country Garage
James Brown – Biscovery Garage Ltd
Samuel Holt – HiQ Tyres & Autocare
Engineering and Manufacturing, sponsored by WES Engineering Solutions: 
Frankie Thomas – A&P Falmouth
Jack Robertson – Teagle
Nathan Cooper – Eliquo Hydrok
Land-based, sponsored by Teagle: 
Clover Smith – Maria's Animal Shelter
Luke Shaddock – Clifton Villa Veterinary Services
Natalie Owen – Polgoda Dogs
Cross-sector awards: 
Achiever of the Year, sponsored by Award Partner DL Accounts Ltd: 
Rachael Carter – Cornwall Council
Ruth Dowling – SeaKisses
Lois Craze – FX Plus
Cornwall's Apprentice of the Year 2022, sponsored by Truro & Penwith College: 
Nominees will be those that judges scored highest across all other Apprentice categories and will be announced on the awards evening.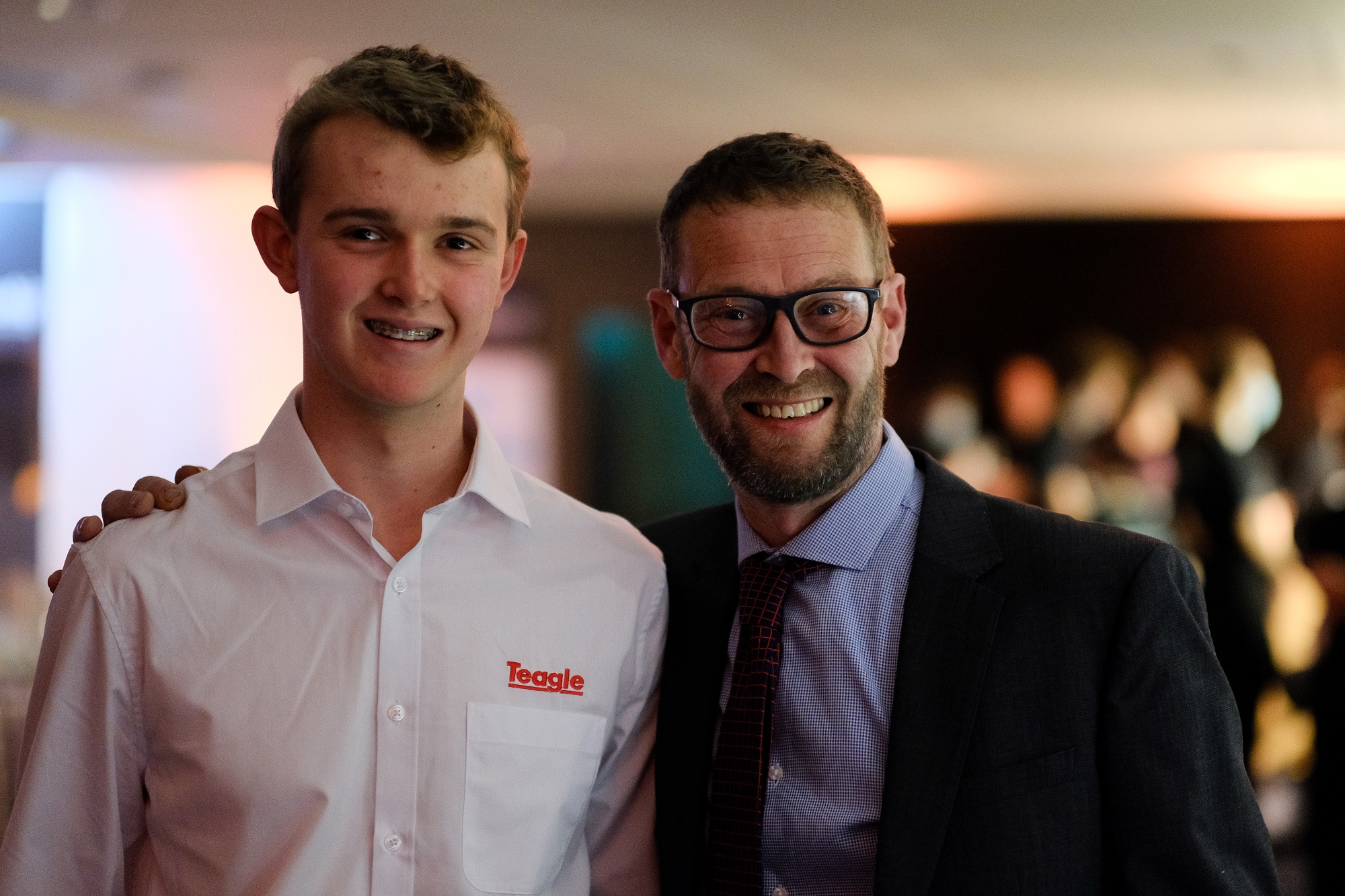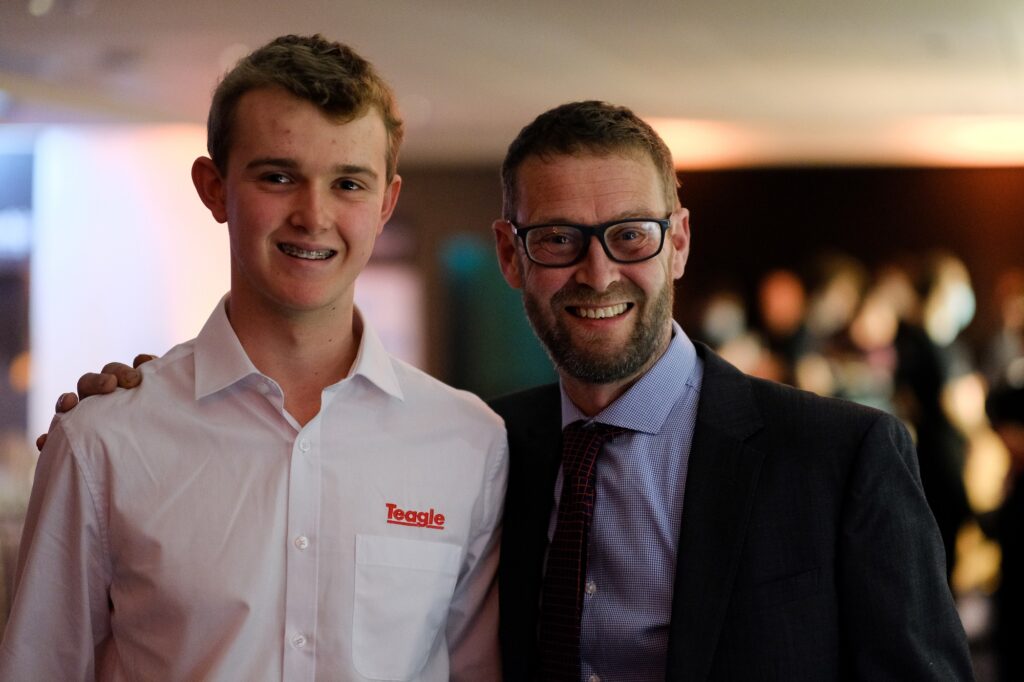 2022 Partners, Sponsors and Supporters
Award Partner and Sponsor of Achiever of the Year – DL Accounts Ltd 
Trophy Sponsor – Corbey Construction 
Media Partners – Cornwall Live and Business Cornwall 
Supporters – Pirate FM 
Reception & Table Sponsor – Enginuity  
Category sponsors: 
Large Employer of the Year – Foot Anstey 
SME Employer of the Year – Inn Cornwall 
Apprentice of the Year in: 
Accountancy – GetMyFirstJob 
Business – Cornwall Apprenticeships 
Health, Care and Public Services – Cornwall Partnership NHS Foundation Trust 
Construction and Trade Occupations – RS Renovations 
Digital and IT – University of Exeter 
Engineering and Manufacturing – WES Engineering Solutions 
Hospitality – BIIAB 
Land-based – Teagle 
Management – Cornwall and Isles of Scilly Skills Hub 
Marketing – Bull & Wolf Film Co 
Cross-sector Apprenticeship Awards: 
Achiever of the Year – DL Accounts Ltd 
Cornwall's Apprentice of the Year and Award Hosts – Truro and Penwith College