Learners will find this course offers the perfect start to a quality career in the motor trade. Motor Vehicle Service and Maintenance Technicians maintain and repair light vehicles such as cars and vans, and work either in dealerships that a focus on a particular manufacturer, or in an independent garage that deals with many different makes of vehicles. A Technician will work on all systems found within the vehicle. The day-to-day work ranges from replacing simple parts through to solving complex faults with the use of diagnostic methods and equipment. The tasks faced are constantly changing, driven by the introduction of ever more complex technologies and diagnostic techniques.
Small class sizes
Highly experienced tutors
First-class industry-standard facilities
High pass rates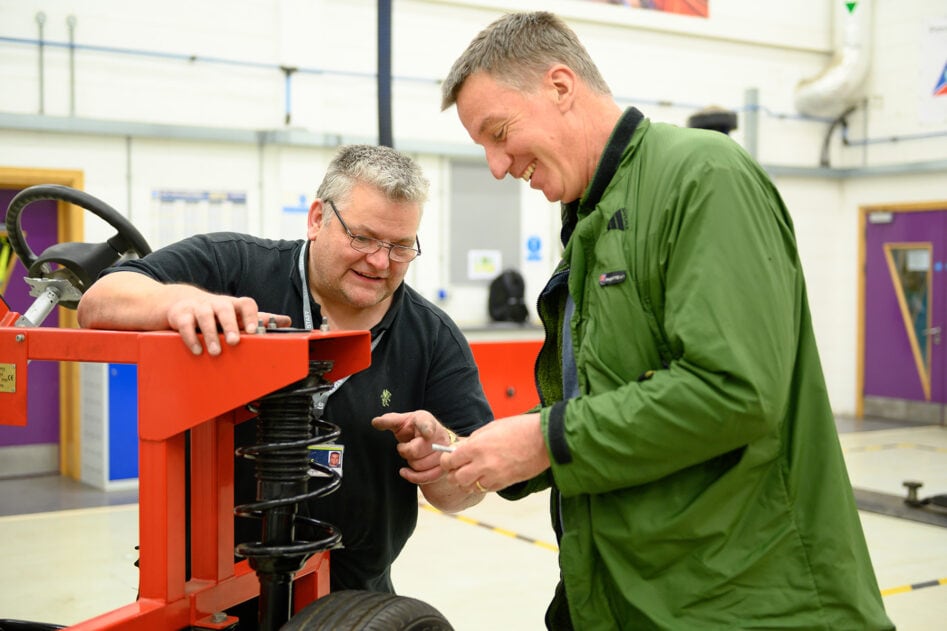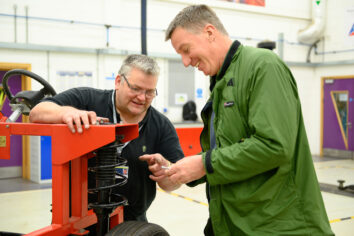 Learn from industry experts
Apprentices will be taught by staff with extensive experience who have all been tradespeople themselves. They will learn to advance their knowledge and skills to meet the expectations of the job role and the motor industry as a whole.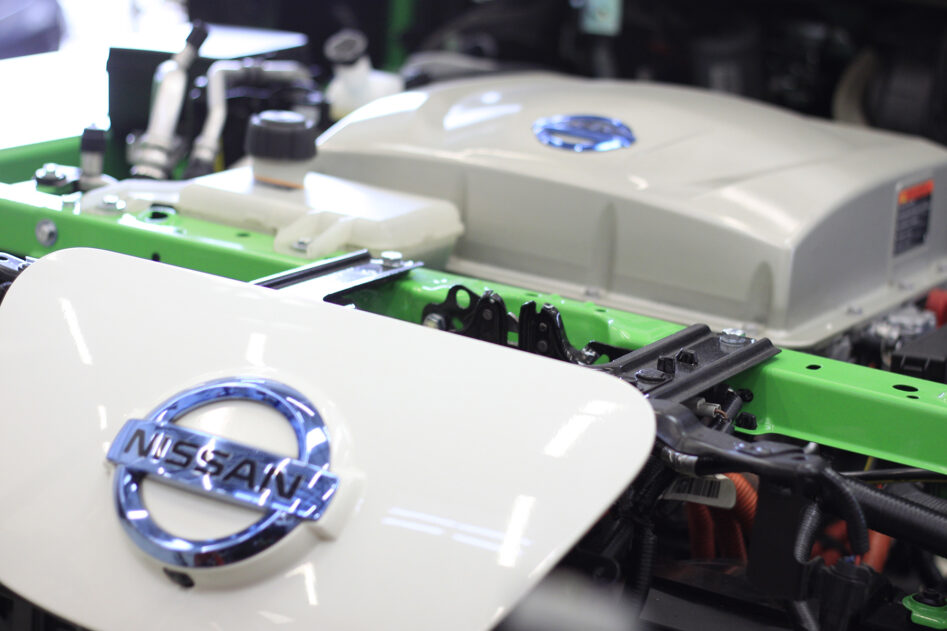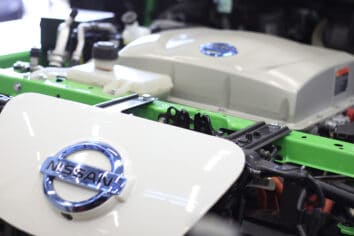 Learners will develop complementary personal and work-related skills at college that will further enhance the skills they are developing in the workplace including communicating with customers and stock control.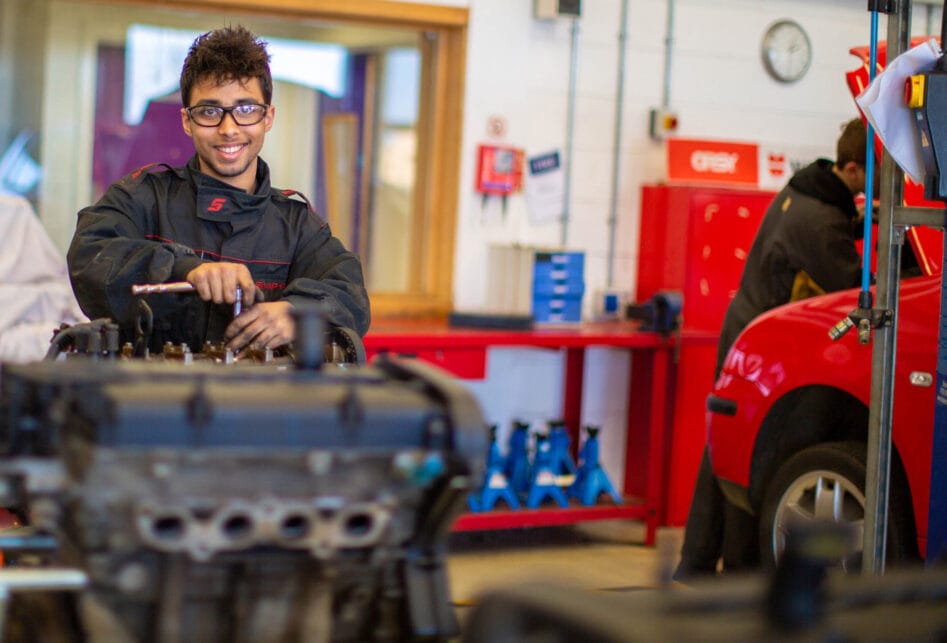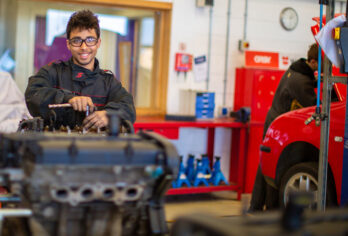 State-of-the-art facilities
The College is equipped with the latest industry standard vehicle maintenance and repair equipment and resources. Partnerships with many large suppliers and employers result in students experiencing a high-spec, industry-standard working environment. 
WHAT WILL I LEARN?
The programme of study enables progression to further courses and employment within the Automotive industry. Apprentices will gain confidence by developing independent learning skills alongside learning how diagnostic and repair activities are carried out safely to keep private customers on the road as well as commercial clients such as the emergency services.
Apprentices will be taught vehicle maintenance in the College's first-class workshops, classrooms and IT suites, and will quickly start to carry out vehicle inspections and repairs on their own and in small teams. In time, this will develop into more complex tasks including the diagnosis of faults.
It's not all about practical skills; Apprentices will gain knowledge of how the industry and complementary sectors work together and operate, such as parts suppliers or body and paint facilities. This will give them the skills employers need and the very best opportunity to progress in the Apprenticeship and forge a successful and rewarding careers in the Automotive world. 
Apprentices will follow a taught programme at college, work-based assessment of skills at their place of work, End Point Assessment and will compile a portfolio of evidence covering the work they are completing in their role. Examples of taught topics include:
Health and safety:

 

Health and safety hazards, current regulations and legislation including COSHH, risk assessments and understanding the importance of method statements. Codes of practice and safe working practices, including correct use of personal protective equipment (PPE).

 

Communication:

 

Different communication methods. How to communicate in a clear, articulate and appropriate manner. How to adapt communication style to different situations such as talking to customers.

 

Carry out removal and replacement of parts on a vehicle:

Apprentices will be taught to inspect, monitor, remove and replace a wide variety of components on a light vehicle. This will cover all of the various systems such as chassis components like suspension parts or brakes along with working on engines, electrical systems and transmission systems. 

Obtain and interpret diagnostic information:

Learners will cover how to use wiring diagrams and a wide selection of diagnostic tools and equipment, ranging from a simple multimeter through to more complex diagnostic testing equipment. Starting with reading codes learners will develop diagnostic skills through recognised diagnostic procedures and test plans. By the end of the Apprenticeship learners will be able to apply advanced diagnostic principles and problem-solving techniques.

Follow recognised repair procedures for more complex problems:

As the Apprenticeship develops, Apprentices will learn to conduct more complex repairs to all systems on a light vehicle which will require in-depth knowledge and understanding of how those systems function.

Wider operation of the Automotive environment:

Apprentices will be able to use ICT equipment for emailing and word processing. They will also develop skills in planning repair times and estimated costs of repairs while being able to report faults and recommend repairs using the preferred procedures of their employer.
Read More
WHERE WILL IT TAKE ME?
There are many opportunities for skilled mechanics in the Automotive industry, working for large and small companies and/or in self-employment. Further study will enable Apprentices to work towards a variety of roles within the industry such as: MOT tester, Breakdown and Recovery services, Mobile Mechanic, Workshop Supervisor or even a Garage Owner.
Successful learners can progress to employment as a Vehicle Technician and may also wish to continue with further study through professional development courses such as Hybrid and EV Awareness and Safe Working, MOT Testing or a University-level HNC or HND.
Read More
ASSESSMENT ARRANGEMENTS
Practical coursework will be assessed through set practical tasks in well-equipped workshops. Apprentices will also have an annual Gateway Assessment to ensure their knowledge, skills and behaviours are on track. Knowledge is assessed via internally set test papers and externally set practical and online exams. The Apprenticeship culminates in an End Point Assessment conducted by the Institute of the Motor Industry.
ENTRY REQUIREMENTS
You must be employed as an Apprentice within the Automotive sector and the College will support you to find an appropriate Apprenticeship job.
A grade 4 or equivalent in GCSE Maths and English (language or literature) is advantageous when applying and is required to complete the Apprenticeship. Should learners not achieve this at GCSE the College will support them to gain these qualifications alongside the Apprenticeship.
A keen interest in the role of a Vehicle Technician will be advantageous in pursuing this rewarding and well-paid career.
INFORMATION & SUPPORT
A professional team of staff work together with the Apprentice's Tutor and Training Advisor to support them to successfully complete the course and to pursue pathways to progress in their Mechanic career. 
The College's Student Support team offers further support, advice and guidance on financial, personal and pastoral issues.
ADDITIONAL INFORMATION
Apprentices will be responsible for providing their own PPE (Personal Protective Equipment) such as safety boots, overalls etc. Apprentices will be provided with a list of the PPE needed before the start of the course. 
Do you have a question that we haven't answered so far? Talk to our admissions team. We're here Monday-Friday 8.30am-4.30pm.
What you could earn
Mechanical Engineers
Vehicle Technicians, Mechanics and Electricians
Electrical and Electronics Technicians
Electronics Engineers
Assemblers (Electrical and Electronic Products)
Electrical and Electronic Trades
Electrical Engineers
Electricians and Electrical Fitters
Annual openings in Cornwall
12
Annual openings in Cornwall
64
Annual openings in Cornwall
12
Annual openings in Cornwall
3
Annual openings in Cornwall
5
Annual openings in Cornwall
20
Annual openings in Cornwall
11
Annual openings in Cornwall
48