You will be learning all about the Hospitality industry, with a particular focus on the fundamental building blocks and basics of modern-day cookery within a professional kitchen environment.
You will learn where produce and products come from, and how to cook using seasonal ingredients, providing greater understanding of how to get the best out of the produce we use and how to form excellent links with your suppliers.
You will be taught by staff with extensive experience, who will advance your knowledge and skills to meet the expectations of the Hospitality industry. Individual support, tuition and advice are available from our team of experienced and qualified Tutors, Assessors and Training Advisors.
To ensure that you are able to work at the required level for both your apprenticeship and future career you will need to study towards Level 2 qualifications in English and Maths. You will be exempt from this requirement if you gained a Grade 4 or a C at GCSE.
Small classes
Experienced tutors
Industry-standard facilities
Excellent employer links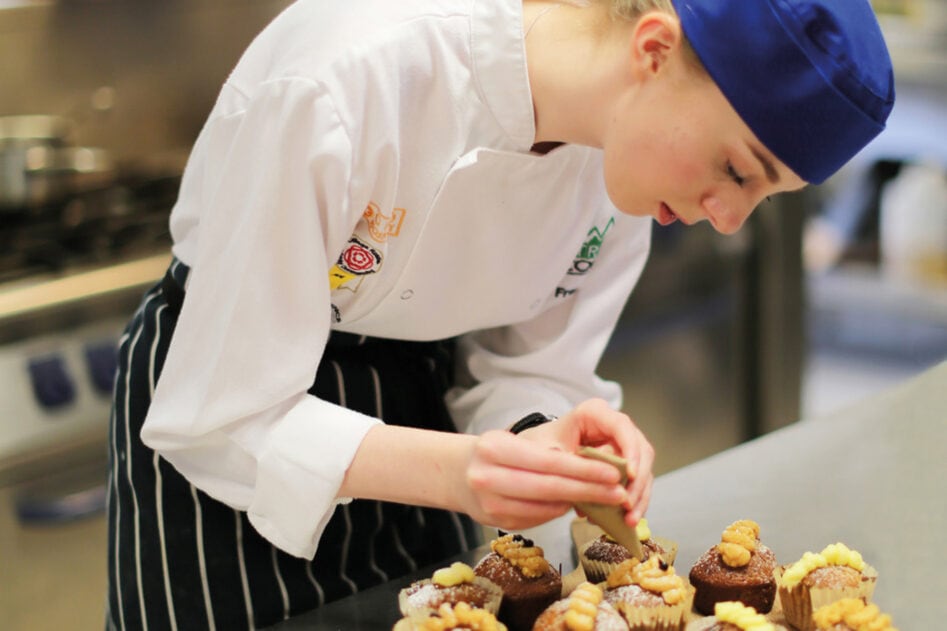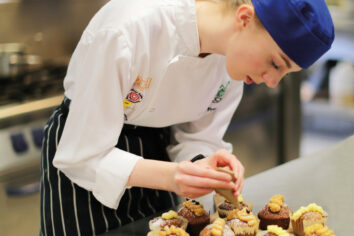 Learn from sector experts
You will be taught by staff with extensive experience who will advance your knowledge and skills to meet the expectations of the Hospitality industry.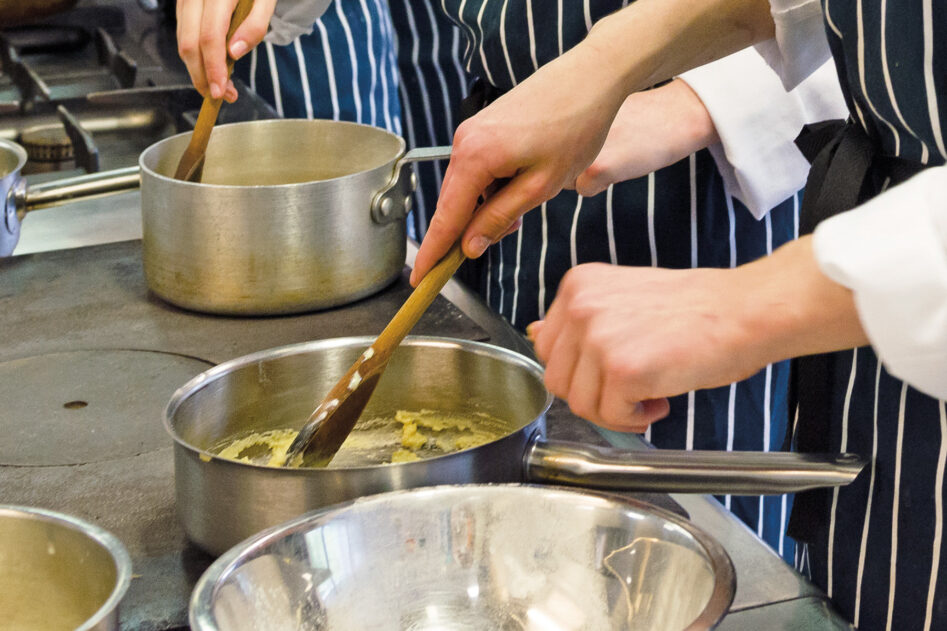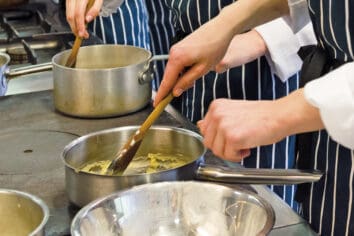 Develop work-related skills
During your programme, you will also develop work-related skills and knowledge to fully support you in your job role and prepare you for an exciting career.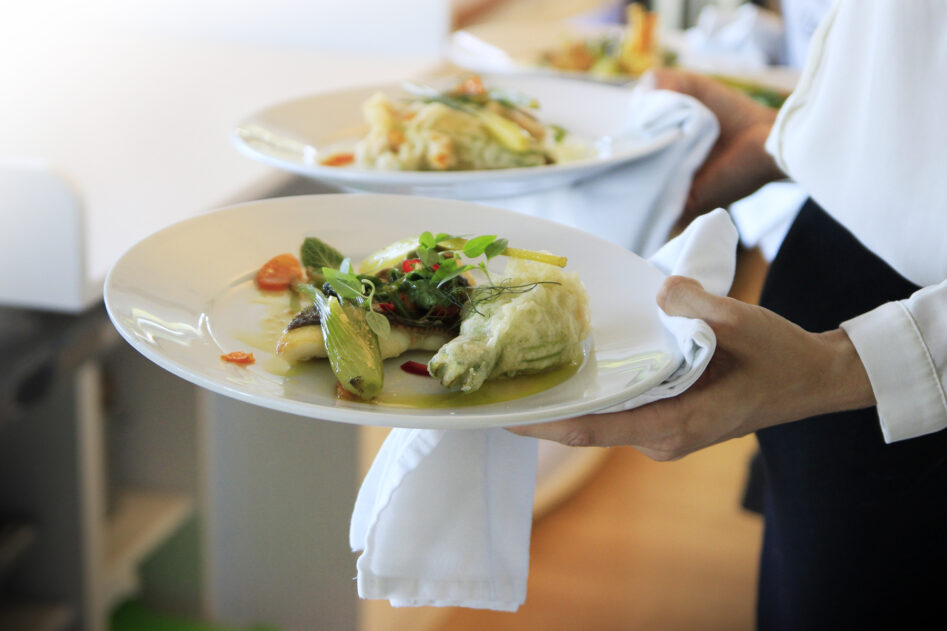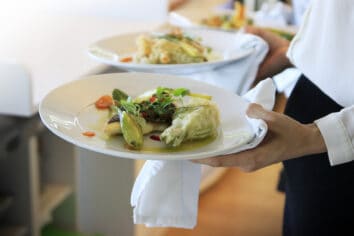 Excellent employer support and liaison
We have excellent industry contacts to ensure you have ongoing support and development within your workplace.
What Will I Learn?
Units that you will study:
Knowledge
Techniques for the preparation, assembly, cooking, regeneration, and presentation of food.
The importance of organisational/brand specifications and consistency in food production.
How to check fresh, frozen, and ambient foods are fit for purpose.
Procedures for the safe handling and use of tools and equipment.
The importance of following correct setting up and closing down procedures.
Specific standards and operating procedures for organisations.
Key nutrient groups, their function and main food sources.
The scope and methods of adapting dishes to meet the specific dietary, religious and allergenic needs of individuals.
Skills
Check, prepare, assemble, cook, regenerate, hold and present food meeting the needs of the customers and maintaining organisational standards and procedures.
Use kitchen tools and equipment correctly to produce consistently high quality dishes according to specifications.
Take responsibility for the cleanliness, organisation and smooth running of the work area.
Produce dishes to suit individuals' specific dietary, religious and allergenic needs as required.
Operate within all regulations, legislation and procedural requirements.
Complete and maintain documentation to meet current legislative guidelines.
Use effective methods of communication with all colleagues, managers and customers to promote a positive image of yourself and the organisation.
Work in a fair and empathetic manner to support team members while offering a quality provision.
Behaviours
Lead by example working conscientiously and accurately at all times.
Be diligent in safe and hygienic working practises.
Take ownership of the impact of personal behaviours and communication by a consistent, professional approach.
Advocate equality and respect working positively with colleagues, managers and customers.
Actively promote self and the industry in a positive, professional manner.
Challenge personal methods of working and actively implement improvements.
Read More
Where Will It Take Me?
Careers: On completion of Level 2 Pro Chef Apprenticeship, you will be fully trained and able to gain more experience within a kitchen environment and consider progression to a supervisory role.
Progression: Level 3 Pro Chef
Assessment Arrangements
End Point Assessment
EPA methods
On demand tests
Practical observation
Professional discussion
Entry Requirements
You will attend interviews with both staff from the Hospitality Programme Area, who will discuss the programme and your experience and/or performance and attitude, and an Apprenticeship Advisor, who will support you to find an apprenticeship job opportunity.
Information & Support
Working within the Student Services area, the Student Support team will see you on a one to one basis and offer advice and guidance on financial, personal and emotional issues. A professional team of staff work together with your tutor and training advisor to support you, so that you can successfully complete your course and recognise pathways to progression after leaving College.
Awarding Body: BIIAB
Do you have a question that we haven't answered so far? Talk to our admissions team. We're here Monday-Friday 8.30am-4.30pm.
What you could earn
Chefs
Kitchen and Catering Assistants
Waiters and Waitresses
Restaurant and Catering Establishment Managers and Proprietors
Catering and Bar Managers
Cooks
Customer Service Managers and Supervisors
Customer Service Occupations
Annual openings in Cornwall
208
Annual openings in Cornwall
513
Annual openings in Cornwall
373
Annual openings in Cornwall
124
Annual openings in Cornwall
47
Annual openings in Cornwall
56
Annual openings in Cornwall
66
Annual openings in Cornwall
113