This course is the next step after the Level 1 course in Automotive Maintenance, in progression to developing a career as a car mechanic. You will expand your understanding of the motor industry and have an opportunity to apply more complex vehicle maintenance and repair skills in a practical and realistic way. You will follow a rigorous programme of study that enables progression to further courses and employment within the motor industry. You will gain confidence by developing independent learning skills and will learn how more in-depth vehicle maintenance and repair activities are carried out safely.
SMALL CLASS SIZES
EXPERIENCED TUTORS
INDUSTRY-STANDARD FACILITIES
GREAT LINKS WITH EMPLOYERS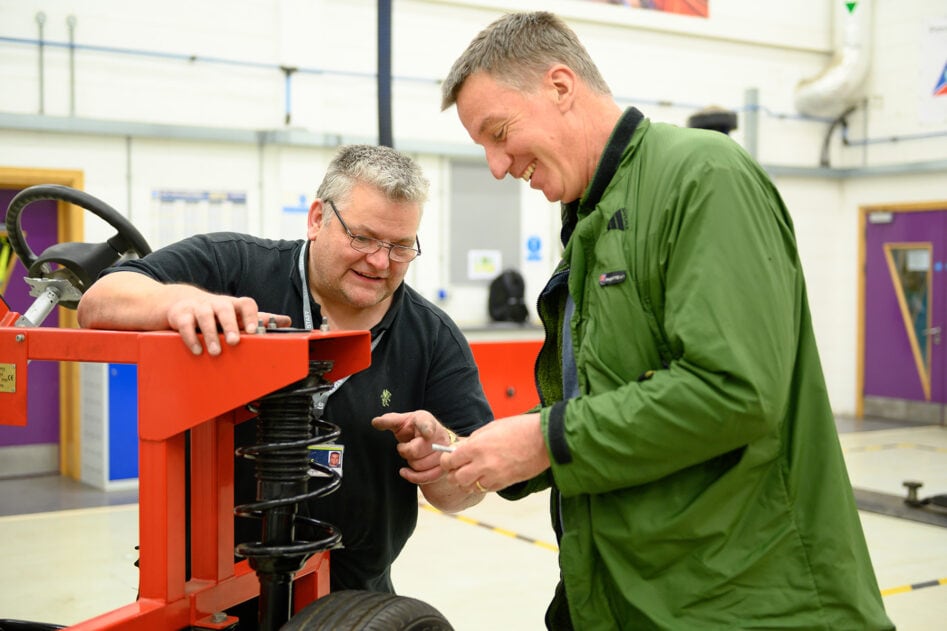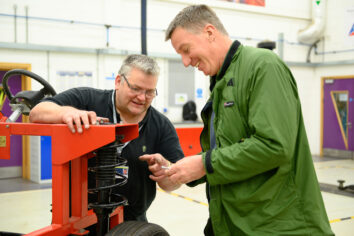 Learn from sector experts
You will be taught by staff with extensive experience who have all been tradespeople themselves. You will learn to advance your knowledge and skills to meet the expectations of the job role of a vehicle technician and the automotive industry as a whole.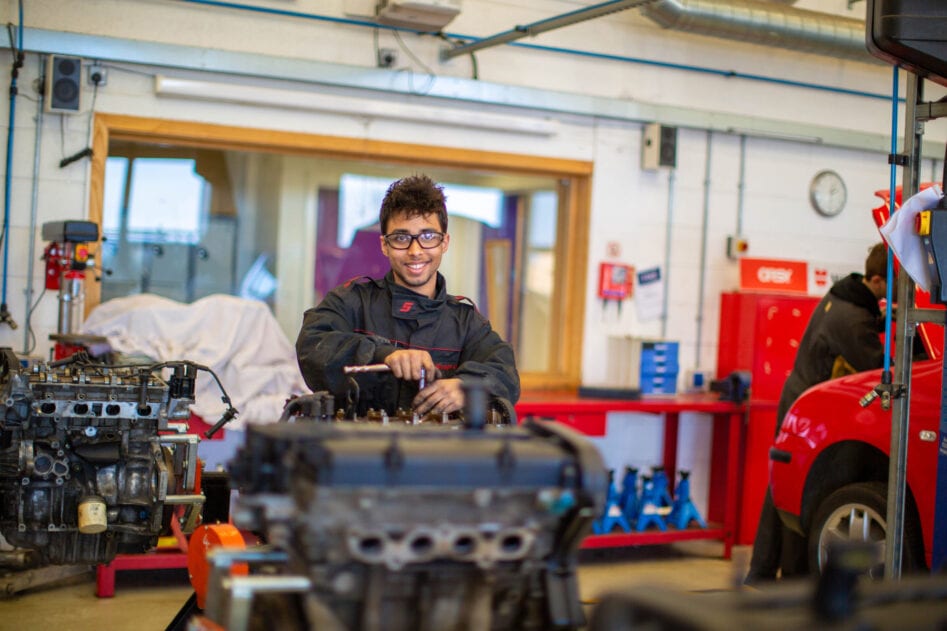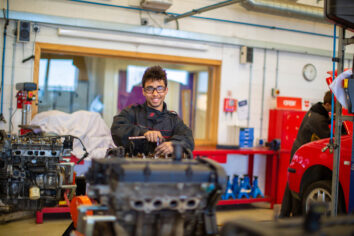 Develop work-related skills
You will develop personal and work-related skills which will prepare you for progression to further studies or full-time work, following your course. This will include working to pre-determined repair times that are used by the industry so that you can compare your efficiency to that of a qualified and experienced mechanic.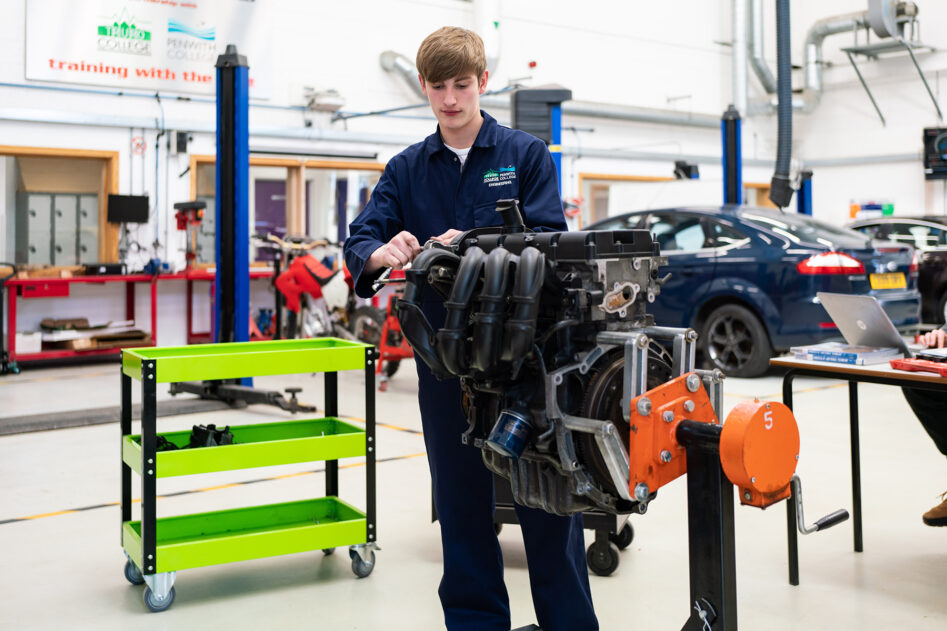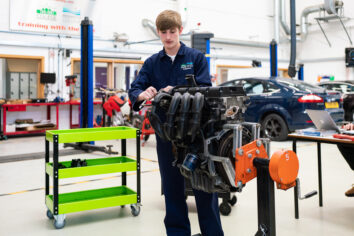 Enjoy professional surroundings
Along with industry-standard vehicle repair equipment and resources, we enjoy partnerships with many large suppliers and employers and as a result, students will experience, develop and apply industry-standard vehicle repair skills in a realistic working environment.
WHAT WILL I LEARN?
You will be taught automotive maintenance in our first-class workshops, classrooms, and IT suites, and will quickly start to inspect, repair and maintain a variety of vehicles that we provide, all whilst using professional quality tools and equipment. Of course, it's not all about practical skills, employers need enthusiastic and engaged employees to meet the demands of the ever-evolving motor industry to help their business grow. You will therefore need to gain knowledge of how the industry works and the role we perform in keeping other industries together and operational, such as the emergency services or armed forces. This will give you the very best opportunity to progress and forge a successful and rewarding career in the automotive world.
If you are a full-time student aged 16-18, you will follow a study programme which will consist of your main automotive maintenance course, enterprise and enrichment activities, English and Maths* and work-related experience.
*Should you not achieve at least a grade 4 in English (Literature or Language) and Maths you will be required to continue to study these as an integral part of your course.
Units that you will study include:
Tools, materials and fabrication: This unit will give you the knowledge to correctly select, use and maintain tools for different vehicle repairs as well as using consumable materials efficiently such as cleaning products, oils, antifreeze or fixings. You will also be taught fabrication and repair techniques such as measuring, cutting, drilling and tapping.
Health, safety in the workplace: Within this unit you will learn about health and safety regulations, roles and responsibilities, accident and emergency reporting procedures and documentation. Together with hazards and health and welfare in the workplace, it also covers working safely in a workshop, working with pneumatic and electrical power tools and fire emergency procedures.
Roles and responsibilities in an automotive environment: In this unit we investigate how various automotive departments operate together in a large dealership; an example of this might be how a vehicle repair workshop utilises support from a parts department, body repair shop, paint repair workshop and valeting department. We will also ensure you are confident and competent working with and directing an assistant for jobs that require more than one person.
Knowledge and Skills of Routine Light Vehicle Maintenance: This unit will teach you the skills and knowledge that you need to maintain cars and vans and keep them on the road. You will learn servicing techniques, how to change a variety of filters and how to assess how worn various components are so that you are confident in keeping customers informed of the condition of their vehicle.
Engine Mechanical Systems, Lubrication and Cooling: At level 2 you will build on the engine knowledge you gained at level 1 and go far more in-depth into your understanding of engine technology. You will learn about different engine configurations and modern advances in engine technology. You will also gain a comprehensive understanding of different lubrication methods and techniques and delve deeper into cooling systems and the way in which they operate. You will have the opportunity to practice skills by working on more complex engines, changing timing belts, replacing radiators that require bumper and headlight removal as well as testing techniques in our workshops.
Light Vehicle Fuel, Ignition, Air and Exhaust Systems: In addition to the previous unit you will also learn, in detail, about different fuel systems such as common rail diesel injection or multipoint petrol injection. You will also learn about ignition systems in greater depth by exploring the impact that Electronic Control Units and various sensors have made on efficiency, performance and emission control. To ensure your knowledge of engines is comprehensive and thorough, you will also learn about Turbochargers, Superchargers, diesel particulate filters and catalytic converters.
Removing and Replacing Light Vehicle Electrical Units and Components: Modern vehicles use a whole host of electrical systems, and you will gain a detailed understanding of their operation, as well as how to repair them. You will learn how to replace and test alternators and starter motors as well as how they operate, and you will also gain experience in replacing other components such as window and wiper motors.
Removing and Replacing Light Vehicle Chassis Units and Components: Chassis repairs are very common in the automotive industry and you will learn to inspect and replace a wide variety of components such as shock absorbers and coil springs, as well as steering and braking components. You will also learn the theory behind why different systems are used for different vehicles and the benefits and shortfalls of each.
Removing and Replacing Light Vehicle Transmission Units and Components: This unit explores manual and automatic transmission in detail. You will learn how clutches and gearboxes operate and how to remove and refit them. You will also learn about torque converters and planetary gearsets.
Knowledge of Inspecting Light Vehicles Using Prescribed Methods: By the end of this unit you will have an excellent understanding of what to look for when inspecting a vehicle as well as plenty of practice in using our facilities to do it. You will also gain experience of using a roller brake tester so that you fully understand what is checked during an MOT test.
Read More
WHERE WILL IT TAKE ME?
You will be able to progress onto the Level 3 Diploma in Light Vehicle Maintenance and Repair, which requires a further year of study and develops knowledge of diagnostic procedures. Alternatively, you could progress onto an Apprenticeship. There are many opportunities for skilled vehicle technicians in the motor industry, working for large and small companies or in self-employment.
Further study will enable you to work towards more roles within the industry such as Diagnostic Vehicle Technician, Breakdown and Recovery, Mobile Mechanic, Workshop Supervisor or even Garage Owner.
Assessment Arrangements
Automotive maintenance practical coursework will be assessed through set practical tasks in our well-equipped workshops. Knowledge is assessed via internally set test papers, writing job cards of practical tasks and externally set online exams.
Entry Requirements
The entry requirement for this course is the successful completion of the Level 1 Diploma in Automotive Maintenance. It is possible to gain direct entry to this programme but a grade 4 or equivalent in GCSE Maths and English language or literature will be required as well as prior experience. Should you not meet these criteria you should still apply as each applicant will be invited to attend an interview with the course manager where we can discuss your suitability; all successful candidates will gain a place on the programme. A keen interest in the role of Vehicle Technician will be advantageous in pursuing this rewarding and well-paid career.
Information & Support
The student support team is here to support you and offer advice and guidance on financial, personal, and pastoral issues. A professional team of staff will work together with your personal tutor to support you in successfully completing your course and pursuing pathways to progression as a mechanic.
As in the workplace, PPE will be required for the course such as safety boots, overalls etc. You will be provided with a full list of the protective equipment requirements of the course before you start.
Do you have a question that we haven't answered so far? Talk to our admissions team. We're here Monday-Friday 8.30am-4.30pm.
What you could earn
Mechanical Engineers
Vehicle Technicians, Mechanics and Electricians
Electrical and Electronics Technicians
Electronics Engineers
Assemblers (Electrical and Electronic Products)
Electrical and Electronic Trades
Electrical Engineers
Electricians and Electrical Fitters
Annual openings in Cornwall
12
Annual openings in Cornwall
64
Annual openings in Cornwall
12
Annual openings in Cornwall
3
Annual openings in Cornwall
5
Annual openings in Cornwall
20
Annual openings in Cornwall
11
Annual openings in Cornwall
48