This course is an introduction to a career as a car mechanic. You will gain an understanding of the motor industry and have an opportunity to apply vehicle maintenance and repair skills in a practical and realistic way. You will follow a programme of study that enables progression to further courses and employment within the motor industry. You will gain confidence by developing independent learning skills and will learn how vehicle maintenance and repair activities are carried out safely; you will also learn how important the role of a mechanic is to keeping so many different parts of the country operating smoothly.
small class sizes
industry-standard facilities
excellent employer links
experienced tutors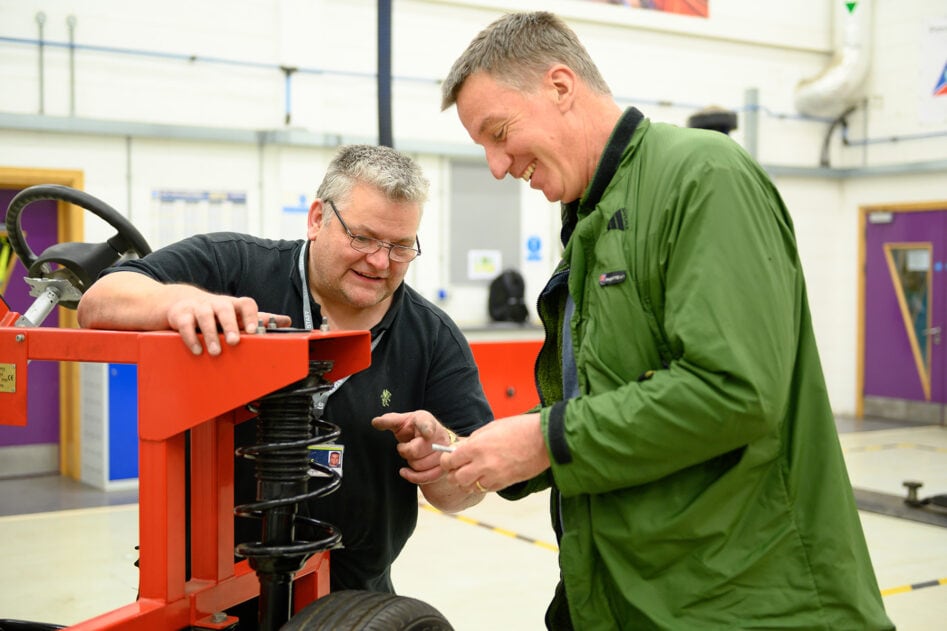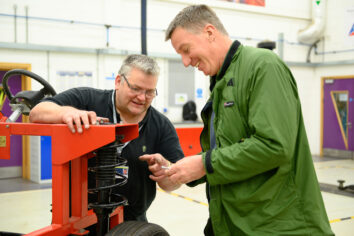 Learn from sector experts
You will be taught by staff with extensive experience who have all been tradespeople themselves. You will learn to advance your knowledge and skills to meet the expectations of the job role of a vehicle technician and the automotive industry as a whole.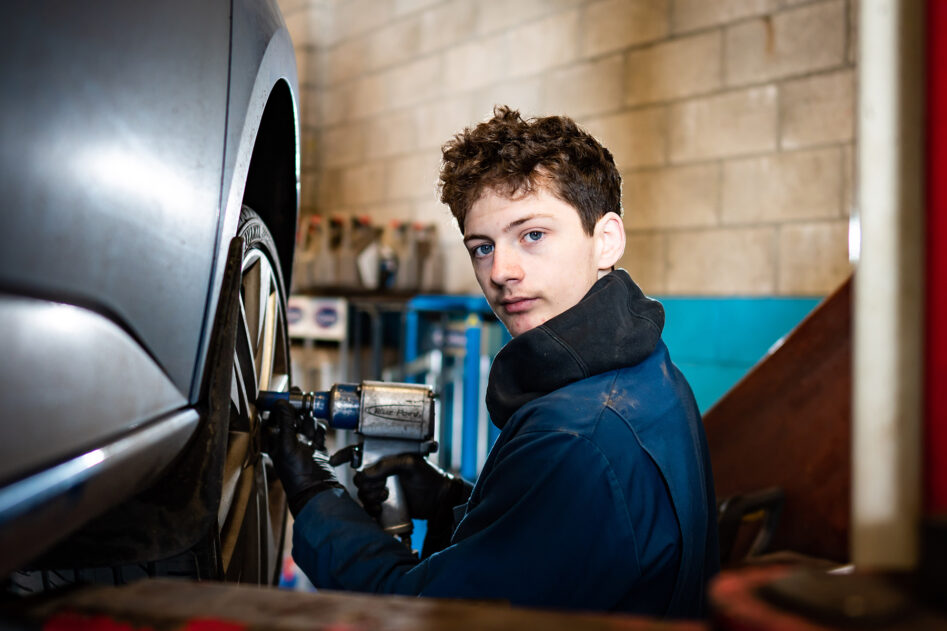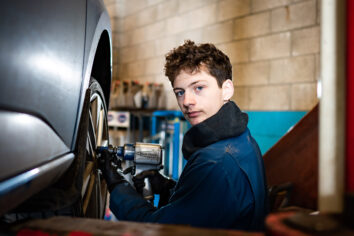 Develop work-related skills
During your programme, you will also develop personal and work-related skills which will prepare you for progression to further studies or full-time work, following completion of your training in College.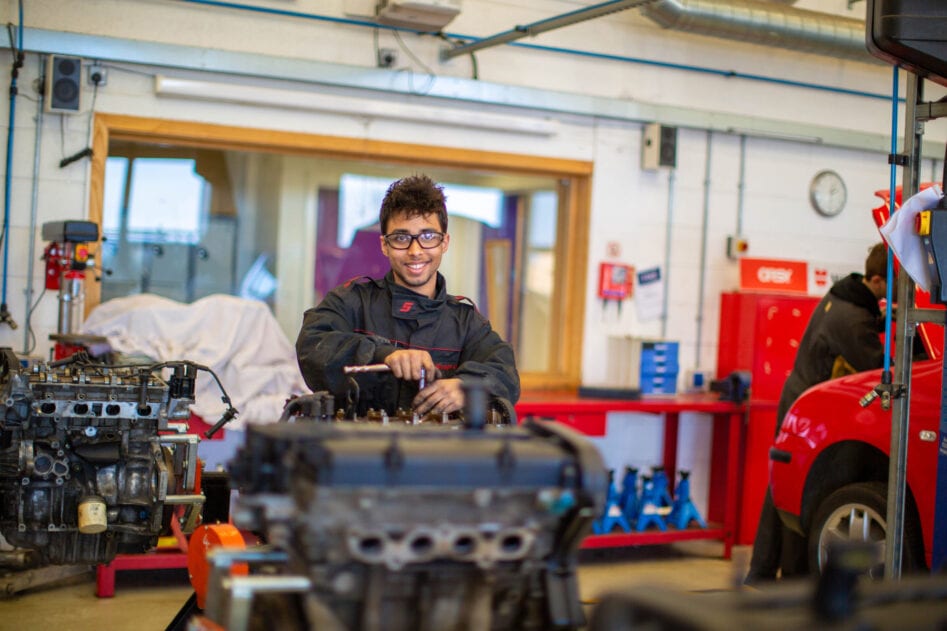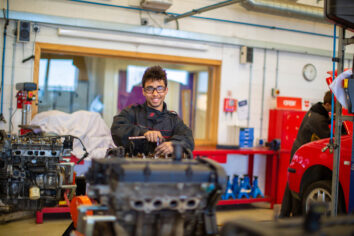 Enjoy professional surroundings
Our Automotive facilities are equipped with the latest industry-standard vehicle repair equipment and resources. We enjoy partnerships with many large suppliers and employers and as a result students experience, apply and develop industry-standard vehicle repair skills in a realistic working environment.
what will i learn?
You will be taught automotive maintenance in our first-class workshops, classrooms, and IT suites, and will quickly start to inspect, repair and maintain a variety of vehicles that we provide, all whilst using professional quality tools and equipment. Of course, it's not all about practical skills, employers need enthusiastic and engaged employees to meet the demands of the ever-evolving motor industry to help their business grow. You will therefore need to gain knowledge of how the industry works and the role we perform in keeping other industries together and operational, such as the emergency services or armed forces. This will give you the very best opportunity to progress and forge a successful and rewarding career in the automotive world.
Units that you will study include:
Engine operation and components: This unit will teach you what's inside an engine, how they operate, the difference between petrol and diesel engines and how to maintain them, including stripping down and rebuilding engines on stands.
Lubrication system components and maintenance: This unit takes a closer look at how engines use oil to keep them moving smoothly. You'll learn why oil is important, how it is pumped around the engine and how to perform regular oil and filter changes.
Cooling system components and maintenance: Engines naturally build up a large amount of heat and need to be cooled down. You will learn why we need antifreeze, how radiators work, how to test antifreeze and how to change it.
Ignition and fuel systems and maintenance: Engines operate by taking in a small amount of fuel and getting it to burn or explode. You will learn how fuel enters the engine for both petrol and diesel engines and how it ignites.
Steering system components and maintenance: This unit will examine the various components involved in steering systems; this will include older steering box layouts as well as more modern rack and pinion setups. You will also gain experience in inspecting and changing these components as well as an introduction to correcting wheel alignment (tracking).
Suspension systems components and maintenance: Suspension systems have changed a lot over time, from very basic to far more complex. This unit will teach you about the different components that have been used as well as removing and refitting them.
Braking systems components and maintenance: The braking system is one of the most important and so it is vital that you learn how to ensure it is maintained to a high standard. You will gain hands-on experience of maintaining and replacing discs and pads as well as drums and shoes. You will also learn the underpinning knowledge of how these systems work.
Wheels and tyres: Your tyres are the only part of the car in contact with the road, and as such we have to ensure that they are in a good condition for the safety of everyone as well as the performance of the vehicle. You will learn how to inspect tyres, change them and also how to repair punctures.
Transmission systems components and maintenance: The transmission unit will teach you why cars need clutches and gearboxes and how they work, as well as introducing you to automatic gearboxes and their operation.
Vehicle electrics: Modern light vehicles have a large number of electrical circuits and this is only increasing. You will learn about the fundamentals of electrical circuits as well as how these are used in an automotive application. You will also learn repair methods and the differences between them.
Tools, Equipment and Consumable Materials for Vehicle Maintenance: This unit will give you the knowledge to correctly select, use and maintain tools for different vehicle repairs as well as using consumable materials efficiently such as cleaning products, oils, antifreeze or fixings.
Health, safety in the workplace: Within this unit you will learn about health and safety regulations, roles and responsibilities, accident and emergency reporting procedures and documentation. Together with hazards, health and welfare in the workplace, it also covers working safely in a workshop, working with pneumatic and electrical power tools and fire emergency procedures.
If you are a full-time student aged 16-18, you will follow a study programme which will consist of your main automotive maintenance course, enterprise and enrichment activities, English and Maths* and work-related experience.
*Should you not achieve at least a grade 4 in English (Literature or Language) and Maths you will be required to continue to study these as an integral part of your course.
Read More
where will it take me?
Upon successful completion of this course, you could gain employment as an Apprentice, or progress onto the Level 2 Diploma in Light Vehicle Maintenance and Repair, which requires a further year of study. There are many opportunities for skilled vehicle technicians in the motor industry, working for large and small companies and/or in self-employment.
Further study will enable you to work towards more roles within the industry such as: Diagnostic Vehicle Technician, Breakdown and Recovery, Mobile Mechanic, Workshop Supervisor or even Garage Owner.
Assessment Arrangements
Automotive maintenance practical coursework will be assessed through set practical tasks in well-equipped workshops. Knowledge is assessed via internally set test papers and an externally set online exam.
Entry Requirements
A Grade 2 or equivalent in GCSE Maths and English language or literature. Should you not achieve this you should still apply as each applicant will be invited to attend an interview with the course manager, all successful candidates will gain a place on the programme. A keen interest in the role of Vehicle Technician will be advantageous in pursuing this rewarding and well-paid career.
Information & Support
The student support team are there to support you and offer advice and guidance on financial, personal, and pastoral issues. A professional team of staff work together with your personal tutor to support you in successfully completing your course and pursuing pathways to progression as a mechanic. 
As in the workplace, PPE will be required for the course such as safety boots, overalls etc. You will be provided with a full list of the protective equipment requirements of the course before you start.
Do you have a question that we haven't answered so far? Talk to our admissions team. We're here Monday-Friday 8.30am-4.30pm.
What you could earn
Mechanical Engineers
Vehicle Technicians, Mechanics and Electricians
Electrical and Electronics Technicians
Electronics Engineers
Assemblers (Electrical and Electronic Products)
Electrical and Electronic Trades
Electrical Engineers
Electricians and Electrical Fitters
Annual openings in Cornwall
12
Annual openings in Cornwall
64
Annual openings in Cornwall
12
Annual openings in Cornwall
3
Annual openings in Cornwall
5
Annual openings in Cornwall
20
Annual openings in Cornwall
11
Annual openings in Cornwall
48