We live in an intensely mediated world, as philosopher Marshall McLuhan famously said, "The Medium is the Message." The Extended Diploma in Creative Media Production – Lens Based Media provides a range of skills which will enable a learner to pursue their ambition of working within the creative industries.  The course provides an opportunity for you to engage with a diverse range of media – TV, filmmaking, radio, animation, photography, graphic design, social media, marketing – often in the form of 'live' or 'real-world' briefs and assignments where you will explore, develop, and test your creativity within a stimulating and demanding environment. The course will provide you with opportunities to develop and utilise broad, transferable skills.
The course is a Level 3 qualification so on completion students will have acquired the equivalent of three A Levels.
diverse media
develop critical perspectives
create a media production project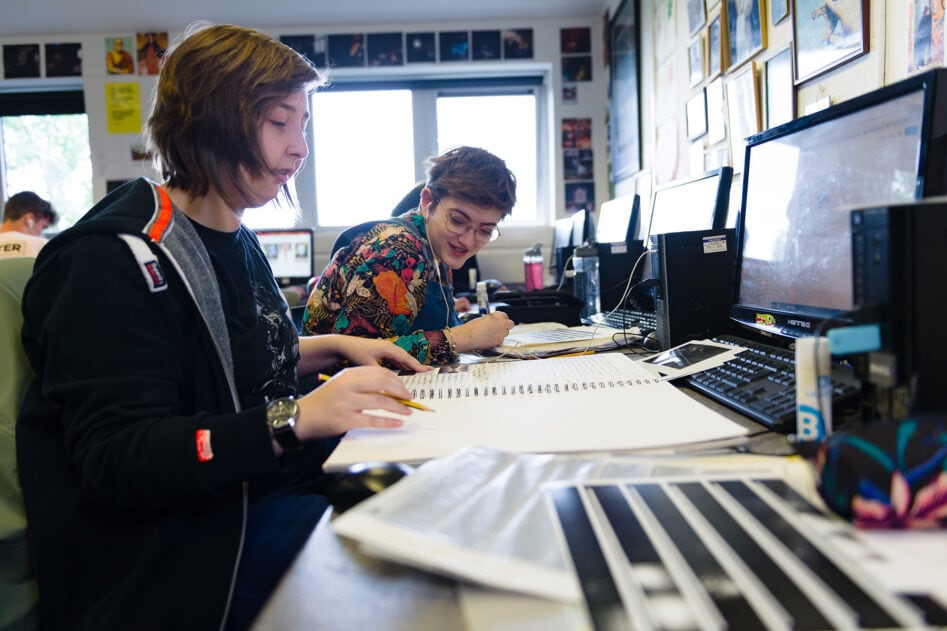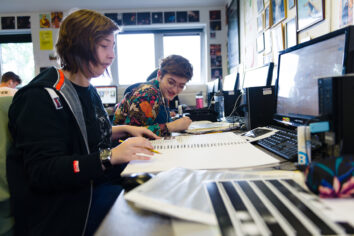 Industry standard software
Students are taught to use the full Adobe suite.  Students are encouraged to explore the most appropriate application for their project and experiment with differing processes.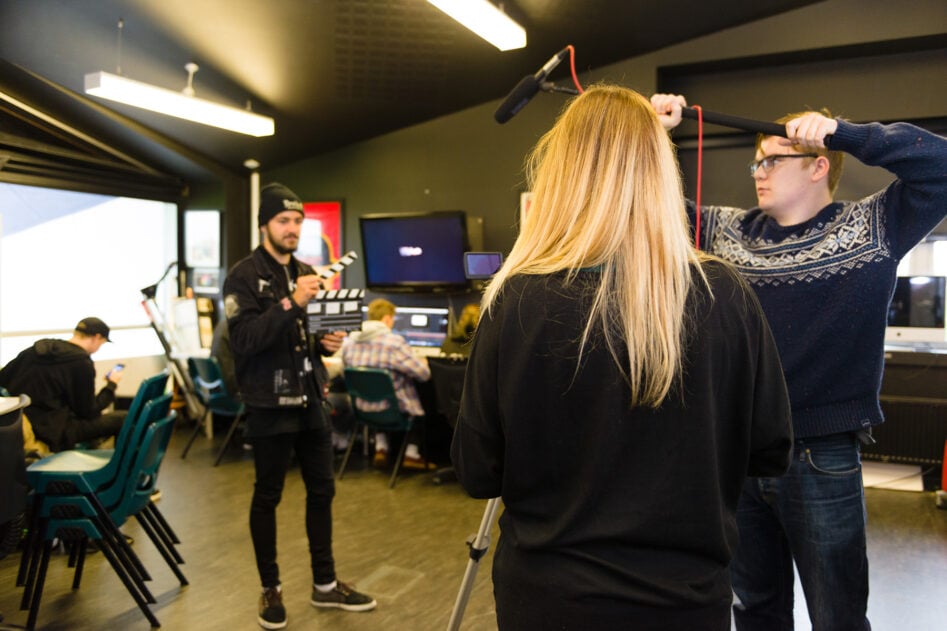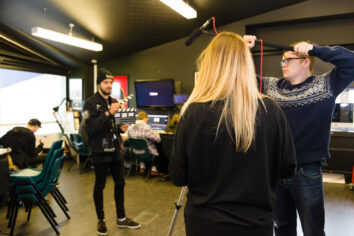 We aim to provide skills to industry standard.  Several live briefs are delivered throughout the course.  Clients will expect you to provide work to a professional standard, teaching staff will support production and delivery.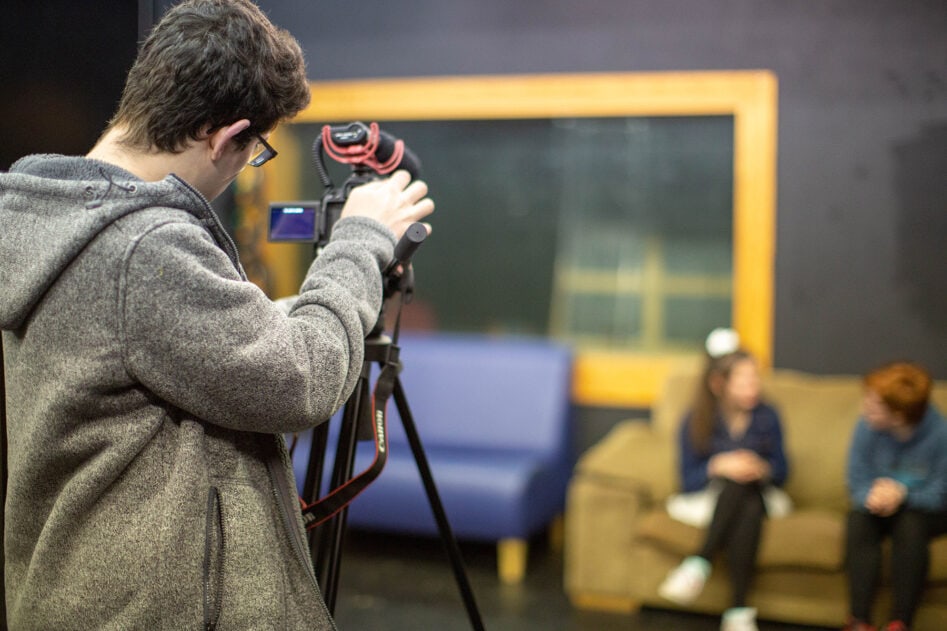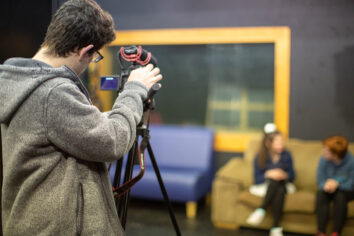 High quality teaching staff
The core staff bring a wealth of different skills and industry experience including film, television, photography, graphic design, web design, research, and archiving.
what will i learn?
We expect you to demonstrate initiative, independent inquiry, creative thinking, reflective learning, team-working, self-management, effective participation, problem solving and communication in order to reach your creative potential. The course is delivered over 14 hours per week. There is an expectation that you should devote the same amount of time to independent study outside of the classroom.
Unit 1 & Unit 2 – This will provide you with an introduction to a range of processes and skills used in creative game design sector and to the characteristics and methods of communication and research techniques associated with the theoretical backdrop to games creation.
Unit 3 – This unit has a focus on progression and asks the learners to think about their career aspirations and future job roles.  You will research potential roles and responsibilities. It will also provide you with an introduction to the investigation of both historical and contemporary context. Through a thematic approach to the subject you will research a broad range of perspectives that influence the development of ideas within creative media production.
Unit 4 – You will learn some theory! For those students who are thinking about university this is a fantastic opportunity for you to explore some of the critical perspectives you might study.  For those going into industry this is a great opportunity to explore the importance of knowing your audience.  It is through this unit you are asked to consider why media products look and sound the way they do.
Units 5, 6 and 7 – These units will allow you to develop a significant range of technical, creative, skills and workflows associated with cutting edge contemporary media design
You will learn cineamatic skills including audio, editing, filming techniques and marketing.  The projects you produce will all have an industry context.
Unit 8 – As the summative unit in the first year of the two-year qualification, will provide you with a measure of self-directed learning in the completion of a substantial Creative Production or Media Project. It will require you to make use of the skills, knowledge and understanding developed in all previous units to complete a creative media production project. It will provide you with a measure of self-directed learning, and an opportunity to begin to clarify your longer-term goals through their choice of an activity to explore in greater depth. You can produce a project of your choice in a medium of your choice.  In the past students have produced a short film, title sequence, music video, film marketing, website, graphic design projects, an audio book, a photographic portfolio, magazines and the list goes on.
Unit 9 & 10– This will allow you to expand your knowledge of a particular skill set or workflow and apply it to a focused project. This unit will also require students to research and critically examine the influence of historical and contemporary contexts on their own practice. The unit will enable the student to demonstrate a greater depth of understanding of their discipline and place within it
Unit 11 – This unit will give you the time and space to focus on your progression.  You will start this unit at the beginning of the second year when you start the university application process with the support of your personal tutor.  It is an opportunity to think about your fucture in a controlled and supported way.
Unit 12 – Focuses on a 'Specialist Study'.  This unit has contextual exploration at its core.  The specification is encouraging you to consider how a media products context influences it production.
Unit 13 – This unit is the culmination of all skills learnt over the 2 year course. The unit provides an opportunity for students to engage in an extended activity related to their discipline of choice. The unit will enable students to take responsibility for their learning by responding positively to the greater opportunities for individual expression and creativity afforded, and to demonstrate their achievement through proposing and realising a project which integrates the skills, knowledge and understanding acquired throughout the course.
where will it take me?
This course is designed to build up your portfolio of work that will enable you to apply to a Higher Education course or gain employment in your specialist area. Our alumni are currently studying at universities delivering the best creative courses in the country, others are working for the BBC, channel 4 and on Netflix series.
additional information
The course is assessed through the production of coursework.  You will complete a Final Major Project at the end of each year providing your grade for the year.  You will be assessed on your application of skills including research, planning production and evaluation. You will evidence your work in a published blog. The blog is also used to publicise your skills and ability.  We ask you to develop a professional persona from the onset of the course with the view that one day you will be working as an accomplished creative.
We aim to promote, and ask you to adopt, a very strong work ethic and expect learners to work for a minimum of 10 hours per week outside of class time.
Whilst we have a range of equipment available it is advisable for students to try and acquire an external hard drive in advance of the course starting.
entry requirements
The basic requirement is four GCSEs at grade 4 to include English Language or Literature at grade 4 and mathematics is preferable at a grade 4.
Do you have a question that we haven't answered so far? Talk to our admissions team. We're here Monday-Friday 8.30am-4.30pm.
What you could earn
Photographers, Audio-visual and Broadcasting Equipment Operators
Advertising and Public Relations Directors
Advertising Accounts Managers and Creative Directors
Journalists, Newspaper and Periodical Editors
Marketing and Sales Directors
Marketing Associate Professionals
Market Research Interviewers
Print Finishing and Binding Workers
Annual openings in Cornwall
11
Annual openings in Cornwall
7
Annual openings in Cornwall
7
Annual openings in Cornwall
6
Annual openings in Cornwall
110
Annual openings in Cornwall
67
Annual openings in Cornwall
10
Annual openings in Cornwall
1