BA (Hons) Applied Media will encourage you to utilise a range of different media skills to develop your own practice and portfolio. This might include areas such as creative photographic practice, film making, print publications or graphic media. The philosophy of the programme is underpinned by the concept of 360 Degree Media– this contemporary approach ensures that you are fully equipped for the 21st century media industry upon graduation. Due to the convergence of media practices and great technological changes within the industry, the course aims to bring together skills and methods of media production in relation to social, cultural, industrial, commercial and promotional environments.
The structure of the course helps you to balance an understanding of specialist knowledge and a wider awareness across media industries. You will have the opportunity to work with local organisations such as the Cornwall Museum Group or the National Trust to produce creative media products. Guest speaker visits will take place throughout the year, allowing you to discuss ideas surrounding relevant media industries with professionals who know the business. Graduates from the course have subsequently become freelancers, while others have joined local creative agencies or marketing departments. Previous students have set up a sound engineering studio, a magazine design company, a video production company and a wedding photography business while others are producing work for several print and web publications around Cornwall. Other career options could include content creator, social media management, self-shooting director/producer, marketing, magazine design, print and web design and education.
shape your identity through assessment
knowledgeable and friendly tutors
fantastic working environment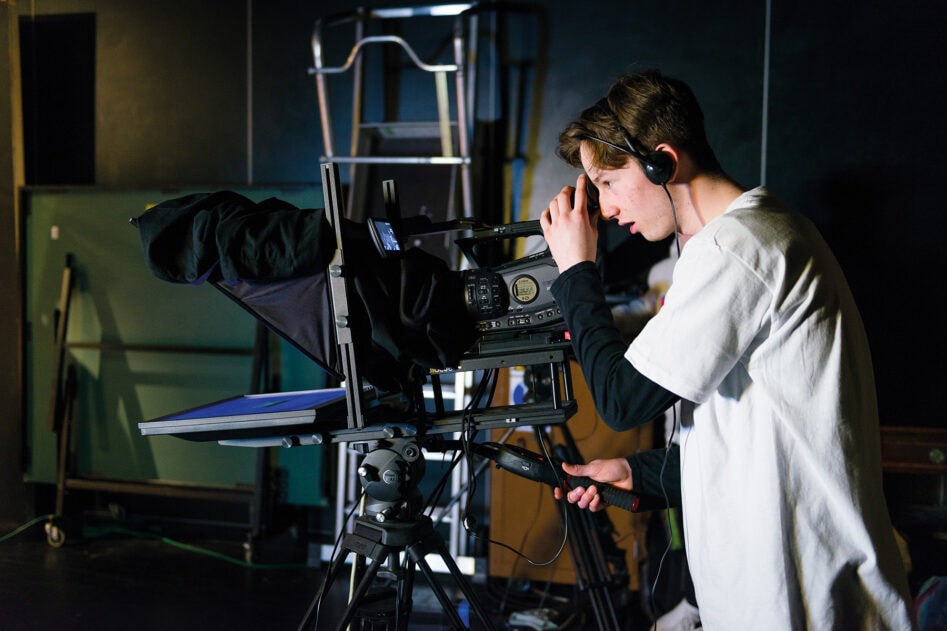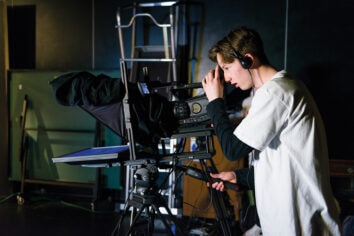 Industry standard Facilities
You will enjoy our state-of-the-art facilities and friendly campus as part of your course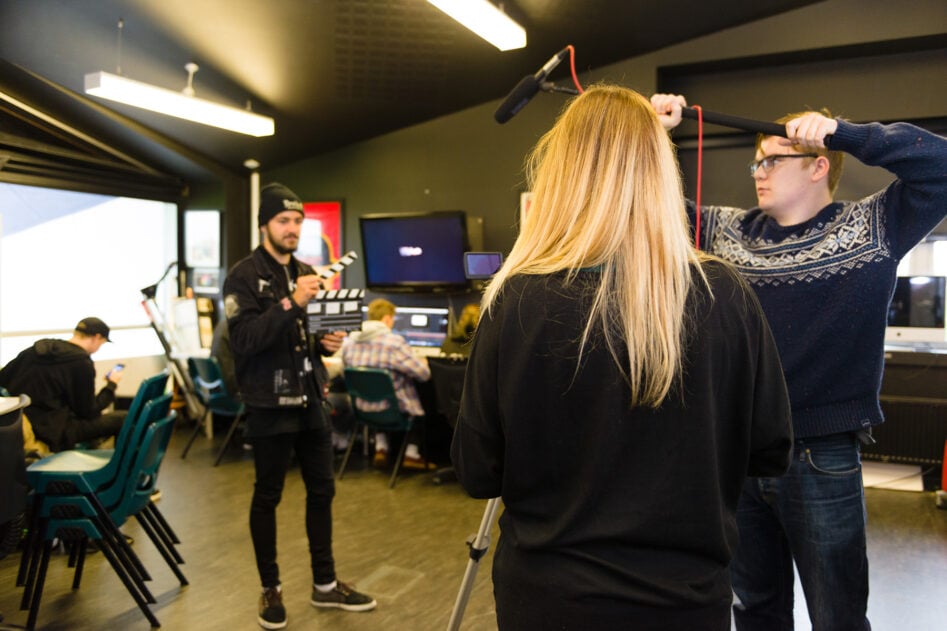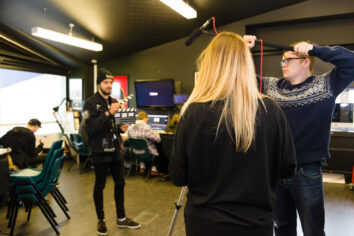 Discover your creative identity
The self-initiated final major project supports an independent approach to identifying possible ideas, initiating research and developing workable practical outcomes.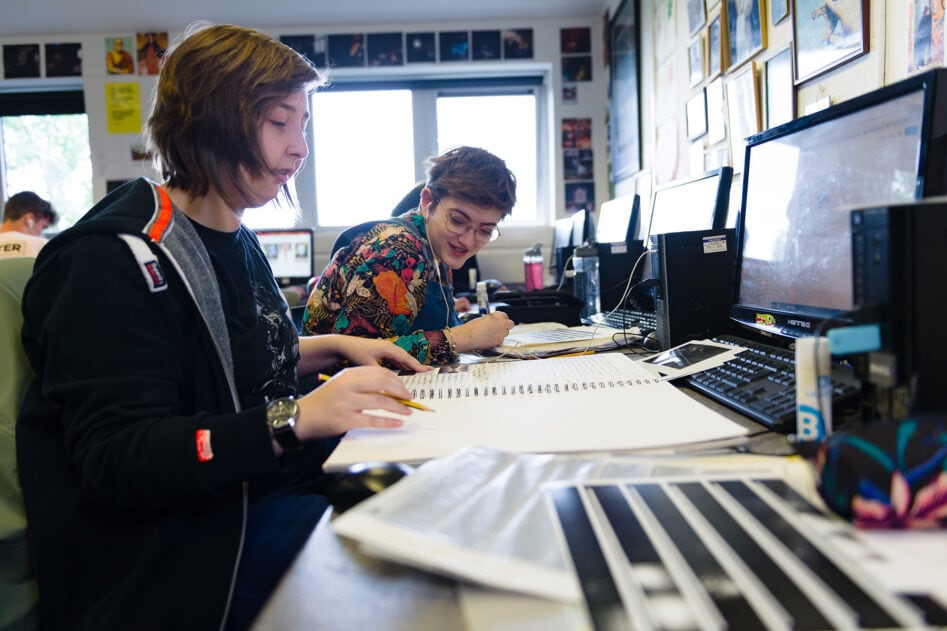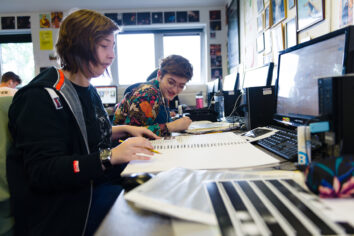 Gain All-Round Knowledge of Media
The philosophy of this programme is underpinned by the concept of '360 Degree Media'. This contemporary approach will ensure that students are fully equipped for the media industries of the twenty-first century
WHAT WILL I LEARN?
By working with a real client in the Creative Production module the students are given a real-world experience they can use in their online portfolios, which they also produce as part of the course. In the past, students have worked with The Cornwall Museums group, The National Trust, Cornwall AONB, Truro BID, The Wave Project and Hall for Cornwall. Advice is also gained via our many outside speakers who discuss their career paths, working in the relevant media industries and practical tips about self-promotion and media technologies. We also organise trips in relation to the Induction Project and the Creative Practice in a local Context module and encourage students to engage with online festivals and competitions that will aid their progress in the media industries.
The course consists of four units that balance creative practice, academic research and professional development:
Creative Production in a Local Context (Working for a local client): The focus of this module is developing a full understanding of the complexities of working with outside agencies in relation to applied media. It will allow students to use their individual knowledge, skills and media practices to create enterprising media products.
Specialist Production (Final Major Project): Students will work independently to develop a Specialist Project based on research ideas negotiated with the tutor. This module supports the exploration of creative interests in combination with the acquisition of technical skills.
Professional Practice (Including self-promotional materials): This module aims to allow students to reflect critically upon their skills and knowledge and build their confidence to progress within professional life. They will focus on the relationship between aspirations and the complexities of the media industry, generating specific self-promotional material that enhances employment possibilities.
Dissertation (5000 words): The dissertation module will give students an opportunity to appreciate the uncertainty and limits to knowledge within a range of concepts, theories and analytical methods that underpin the academic study of the visual media and photographic arts.
Read More
WHERE WILL IT TAKE ME?
Several graduates from the course have set up as freelancers or started their own businesses. Previous students have set up a sound engineering studio, a magazine design company, a video production company and a wedding photography business while others are producing work for several print and web publications around Cornwall. Others have gained employment in the media industries in the county and further afield. Recent graduates have gained employment in digital media and social media management, content creation, marketing, digital publishing, freelance film production and education.
Graduates from the BA (Hons) Applied Media may also wish to progress onto a variety of post-graduate courses such as MA in Contemporary Art Practice or Photography at Plymouth University, the MA in Photography at Plymouth College of Art, the MA in Film and Television or Photography at Falmouth University or a variety of teaching qualifications at Truro and Penwith College.
Read More
Assessment Arrangements
100% coursework based
Modules you could study:
Creative Production in Local Context
Specialist Production (project)
Professional Practice
Dissertation
Entry Requirements
If you have successfully completed a Foundation Degree or HND in Media, Photography, Television, Film Production, Animation, Advertising, Digital Visualisation or a related course you may be able to progress onto this stage.
Additional Information
UCAS CODE: P300
This course is one year full-time or two years part-time, located at the Truro Campus.
The awarding body for this course is University of Plymouth.
While it is useful to have your own equipment you can borrow cameras, and related kit, from the department to shoot your projects. We have computers equipped with the full Adobe Creative Suite in the department that students can use to produce the range of media products required by the course.
You can see work by the students on our website – https://baapmedia.wordpress.com/
Follow us on Instagram – https://www.instagram.com/ba_applied_media/
Do you have a question that we haven't answered so far? Talk to our admissions team. We're here Monday-Friday 8.30am-4.30pm.
What you could earn
Photographers, Audio-visual and Broadcasting Equipment Operators
Advertising and Public Relations Directors
Advertising Accounts Managers and Creative Directors
Journalists, Newspaper and Periodical Editors
Marketing and Sales Directors
Marketing Associate Professionals
Market Research Interviewers
Print Finishing and Binding Workers
Annual openings in Cornwall
11
Annual openings in Cornwall
7
Annual openings in Cornwall
7
Annual openings in Cornwall
6
Annual openings in Cornwall
110
Annual openings in Cornwall
67
Annual openings in Cornwall
10
Annual openings in Cornwall
1